While the name Fenway conjures up images of jersey-clad Sox fans and the stadium's Green Monster, the Boston neighborhood has a much richer history outside of baseball and sports bars. It was home to the Boston Phoenix, the famed alt-weekly newspaper that shuttered in 2013 after years of covering Beantown's music and arts scenes. The House of Blues, opened in 2009, can be found not far away on Landsdowne Street, while the Berklee College of Music is a short walk from there.
That's why The Verb Hotel, a new rock-and-roll themed lodging designed by Elkus Manfredi Architects, is an unsurprising fit in the neighborhood. Since 1959, a two-story Howard Johnson's Motor Lodge did business just yards away from the Park, and now a new group has bought it out and changed it into a 94-room establishment that features a host of memorabilia related to the Boston rock scene, with plenty of live music planned for the future.
RELATED: The 10 Best Boutique Hotels in America
"Rather than tear this thing down and put up another 150-foot high tower of residential, we decided that a lot of the history and character of the Fenway could be told in saving his 1950s building," says property developer Steve Samuels. To help tell that story, Samuels turned to Phoenix publisher Stephen Mindich, who let them poke through his archives for hotel decorations, including newspaper covers that will be displayed throughout the hotel's public spaces and rooms. Mindich then put them in touch with Phoenix contributor and archivist David Bieber, who also worked at the paper's iconic radio station WFNX for over 20 years.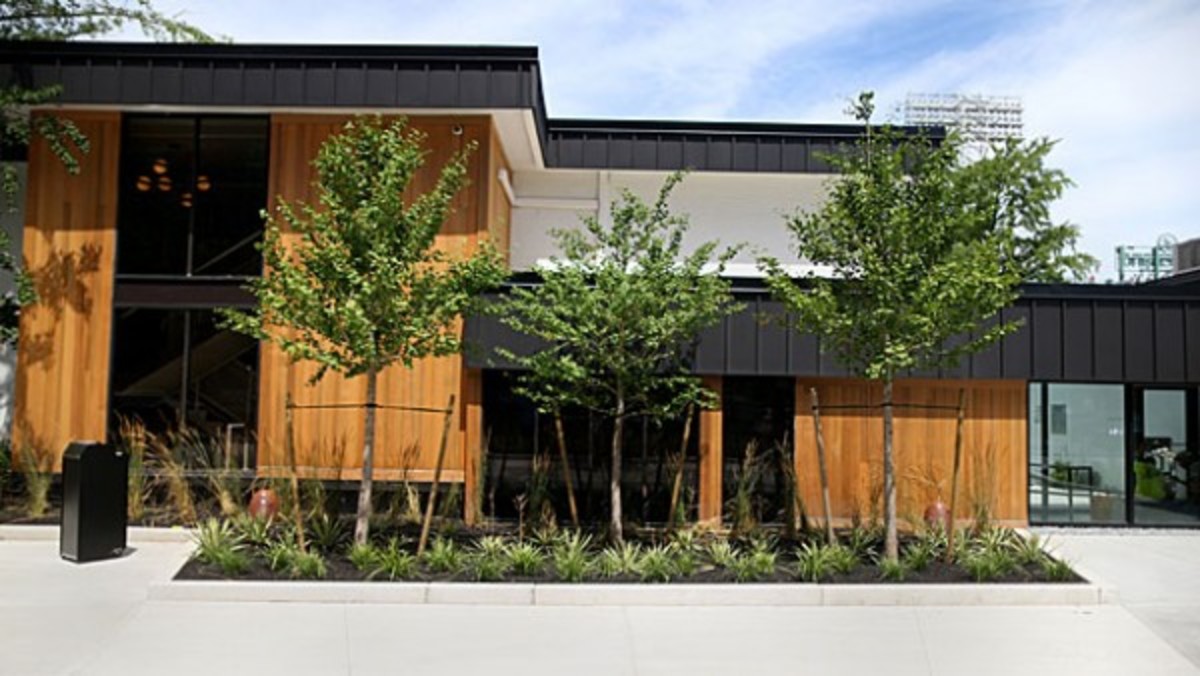 "He has this incredible collection, over 500,000 pop and rock and roll cultural memorabilia items," Samuels says. "We're going to start with some of our favorite items, the things people will be attracted to, and then every six months or so we're going to rotate the stuff. If we're lucky and people really understand this history, we'll eventually turn it into some kind of museum."
Aside from Phoenix covers, the memorabilia includes rare photos, concert posters, autographed promo records, backstage passes, booking schedules from local clubs, and much more, featuring acts like the Rolling Stones, Fleetwood Mac, the Who, as well as local legends like Aerosmith and the J. Geils Band. "Your head spins when you see it all," Samuels says.
Beginning this fall, the Verb will also have a Japanese Pub, Hojoko, from James Beard Award Winning Chef Tim Cushman, which will host live music — as will the lobby, outdoor pool area, and even sections of the roof. Don't worry if you're not a huge music buff – the Verb promises fun for casual fans, as well as the baseball crowd that's looking for something a little different. "Everywhere you turn, you're going to smile and have a little laugh," Samuels says. "It'll be a little kitschy, tongue-in-cheek, sarcastic, but it will be nothing traditional."
[More Info: The Verb opens August 1st, with rooms starting at $250 per night, theverbhotel.com]
For access to exclusive gear videos, celebrity interviews, and more, subscribe on YouTube!