In groups of two and three, we dart across the two-lane highway, careful to avoid the Fiats and Renaults speeding by, because the only thing that should get smashed today are the grapes. I'm at the winery Casanova di Neri in Montalcino, Tuscany, with about 40 other curious tourists (mostly Americans), here to understand every stage of the winemaking process. Across the road from the winery is one of the vineyards, and that's our destination. Giacomo Neri, the famed vintner, waits patiently for us to assemble, but we have other plans. We are very nearly skipping through the rows, marveling at the grapes. It's no mystery how wine is made. Nevertheless, the raw material is mesmerizing.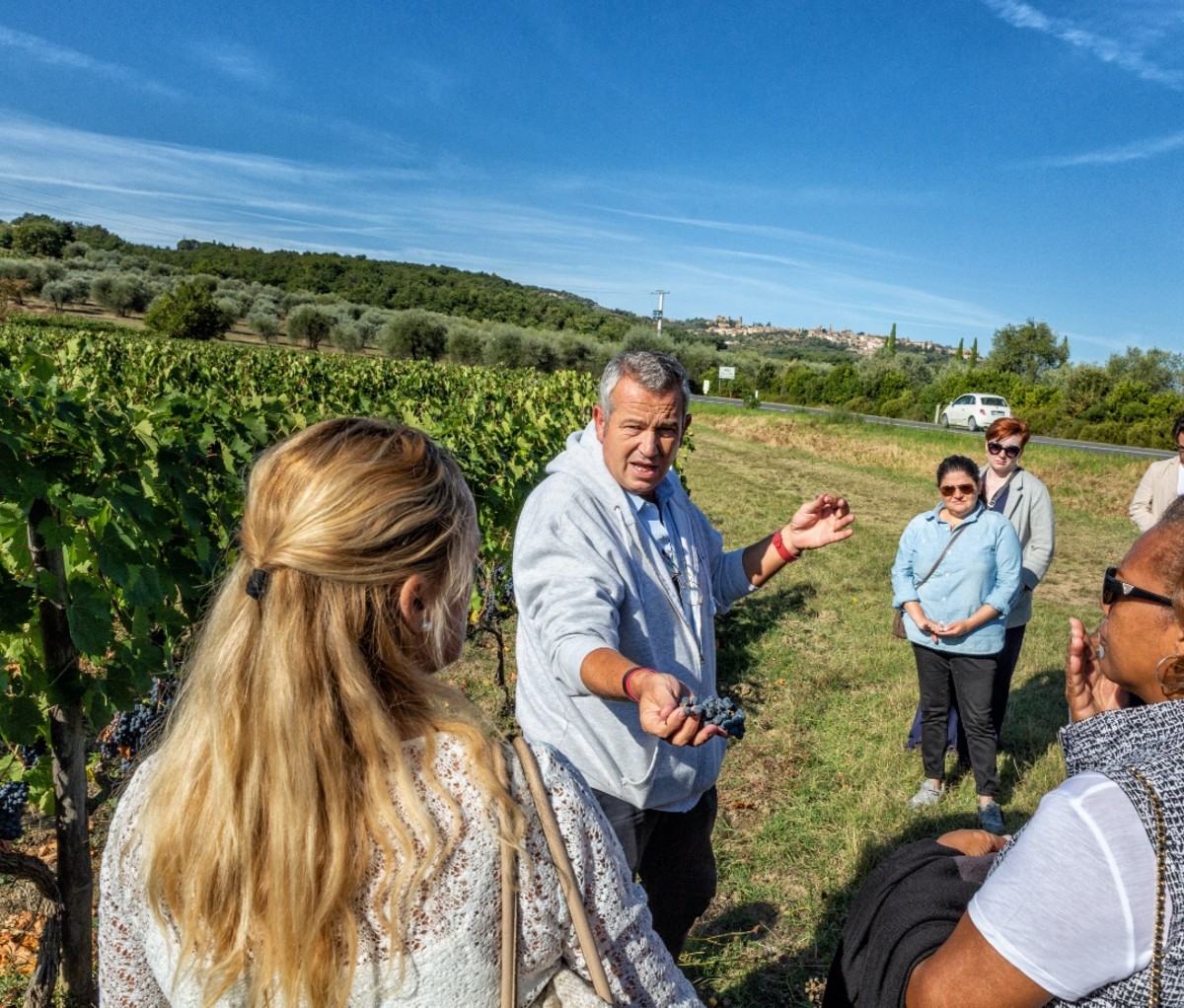 Neri finally corrals us, then picks a bunch of grapes and passes them around. They're small and dark violet with tender skin. The crunchy seeds inside are a reminder that the huge, seedless grapes we eat back home are poor imitations for these, which are—forgive the cliché—bursting with flavor. It's another way that Italy does it better. Someone pipes up, suggesting they're ready to be picked, right? Neri eats another one, pauses to chew and think, then says no, these particular vines won't reach peak sweetness for another day or two. We all eat more grapes, trying to taste what Neri is tasting. That's why we're here, after all: to make wine.
Standing near Neri is Michael Evans, the cofounder of The Vines of Mendoza, based in Argentina. The Vines is a unique winemaking community in the Uco Valley, whose members own acres of vineyard and produce their own wine—without the trouble of actually running a winery. People choose which grape varietals to plant, blend wine to their taste, choose the label art, and bottle their creations—all the fun parts of winemaking. The Vines takes care of the rest: the viticulture, barreling and aging, bottling, packaging, and dealing with U.S. customs to ship wine overseas. Some of The Vines members make enough wine for themselves and their friends. Others produce in quantities large enough to sell.
When Evans met The Vines cofounder Pablo Gimenez Riili, it was kismet. Evans had been a political operative working on Senator John Kerry's presidential campaign. When Bush was elected to a second term, Evans headed to Mendoza for some R&R. When it's winter in D.C., it's summertime south of the equator; warm weather and Argentinian malbec sounded to Evans like a fine place to brush off the political dirt. When he got there, he met up with Riili, a veteran winemaker. They shared a mutual friend—and Evans, who'd always been big into wine, wanted to learn about the area.
"I thought we'd have a cup of coffee," Evans says. "He took three days off of work and took me all over the place: into the mountains, to a farmhouse for a barbecue, we went to a disco. We hit it off like we were long-lost college roommates."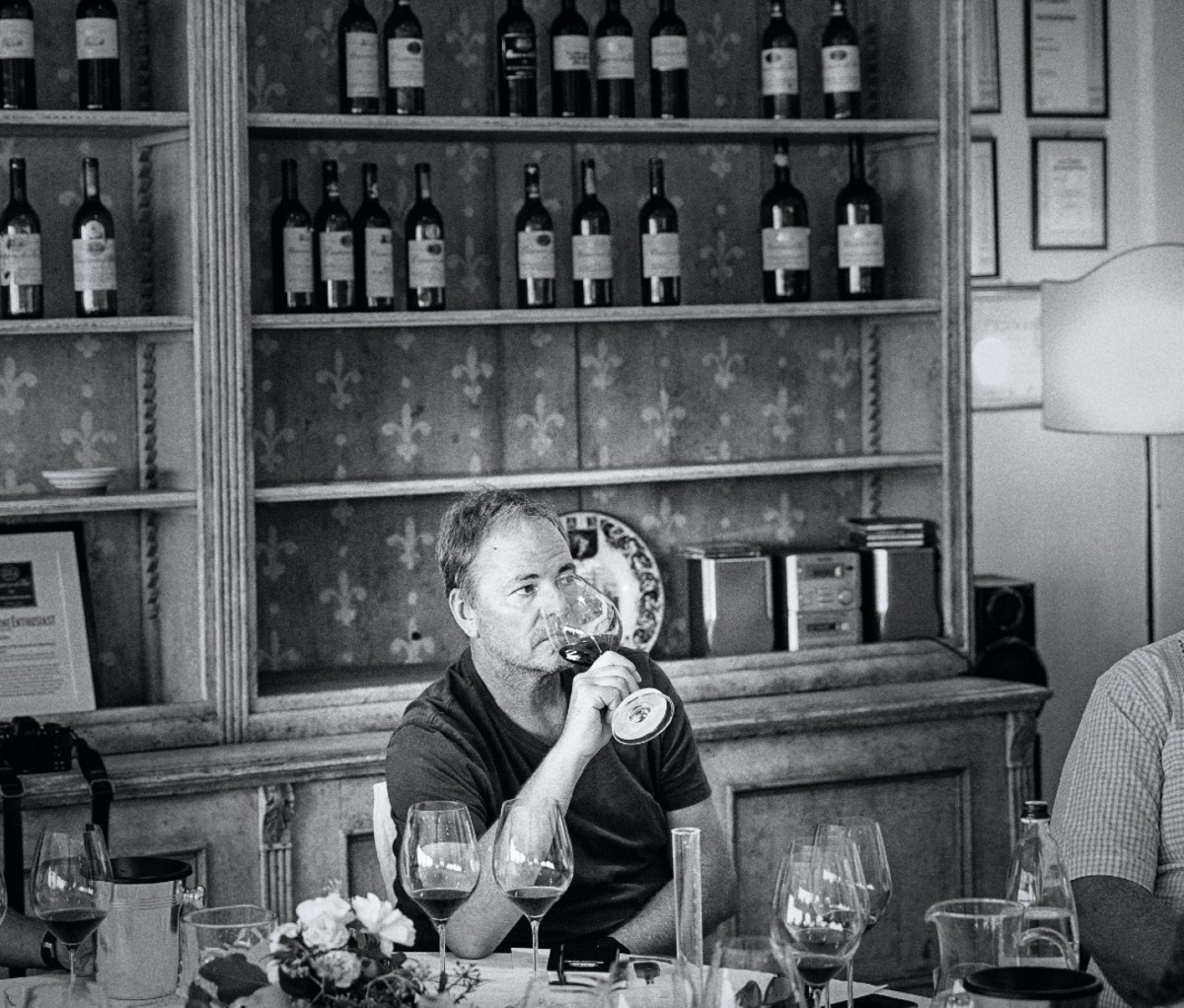 At the end of their whirlwind trip, Evans and Riili struck up a deal. Evans would buy 10 acres of land, Riili would farm it, then Evans would come back and make the wine. At home, Evans's friends found out about his plan, and they wanted in. The Vines was born. "Mendoza has the pioneering spirit that Napa had 75 years ago," Evans says. It's part of the reason he lives there to this day, with his dog, Uco.
In the 16 years since, they've created over 2,100 small-batch wines and helped hundreds of people realize their dreams of becoming weekend winemakers. But you don't have to be an oenophile to have heard of The Vines Resort & Spa, in Mendoza, a luxe property surrounded by mountains which consistently appears on lists of best retreats in the world.
"We think of The Vines as a big community tablE. it feels like a family reunion."
Those of us on that roadside in Tuscany are the first to experience his company's newest expansion: The Vines of Montalcino. Similar to Mendoza, it will give members the chance to make fine Italian wine, though the model is different. In Italy, members don't own the actual land—there's little for sale in Tuscany, anyway. Instead, The Vines partners with wineries including Casanova di Neri, and members can produce custom barrels of wine, which works out to 300 bottles. They'll come on a trip like this one to create their blend, with the help of Neri and his son, Giovanni.
Three more sites have already been added: Napa Valley, The Mosel in Germany, and Priorat in Catalonia, with eight more regions planned in the next five years, along with popups around the world—making Sauternes in France, sake in Japan, and mezcal in Mexico. The draw for members is obvious. Effectively, someone could produce different wines and spirits from around the globe: your signature malbec from Mendoza, along with a spätburgunder from Germany one year, a Priorat red blend the next, and perhaps a semi-pink wine called tbilisuri in Georgia, or a pinot from the Willamette Valley in Oregon a few years down the line. With each vintage, you hone your tastes and develop your style of winemaking.
That's the nuts and bolts of it. The reason Evans and Riili invited me to Montalcino was to experience what it's like to be part of The Vines. (I likely would not have made it here on my own given the $125,000 global membership fee and buy-in of $125,000 in Argentina.) It doesn't have to involve group participation; members can travel to these locations on their own schedule, spending time blending wine and planning future vintages with experts (The Vines will create a local itinerary). But for those willing to do something a little daring, and go on a group trip with strangers, they're rewarded.
"We think of The Vines as a big community table," Evans says. "When we're together, it feels like a family reunion."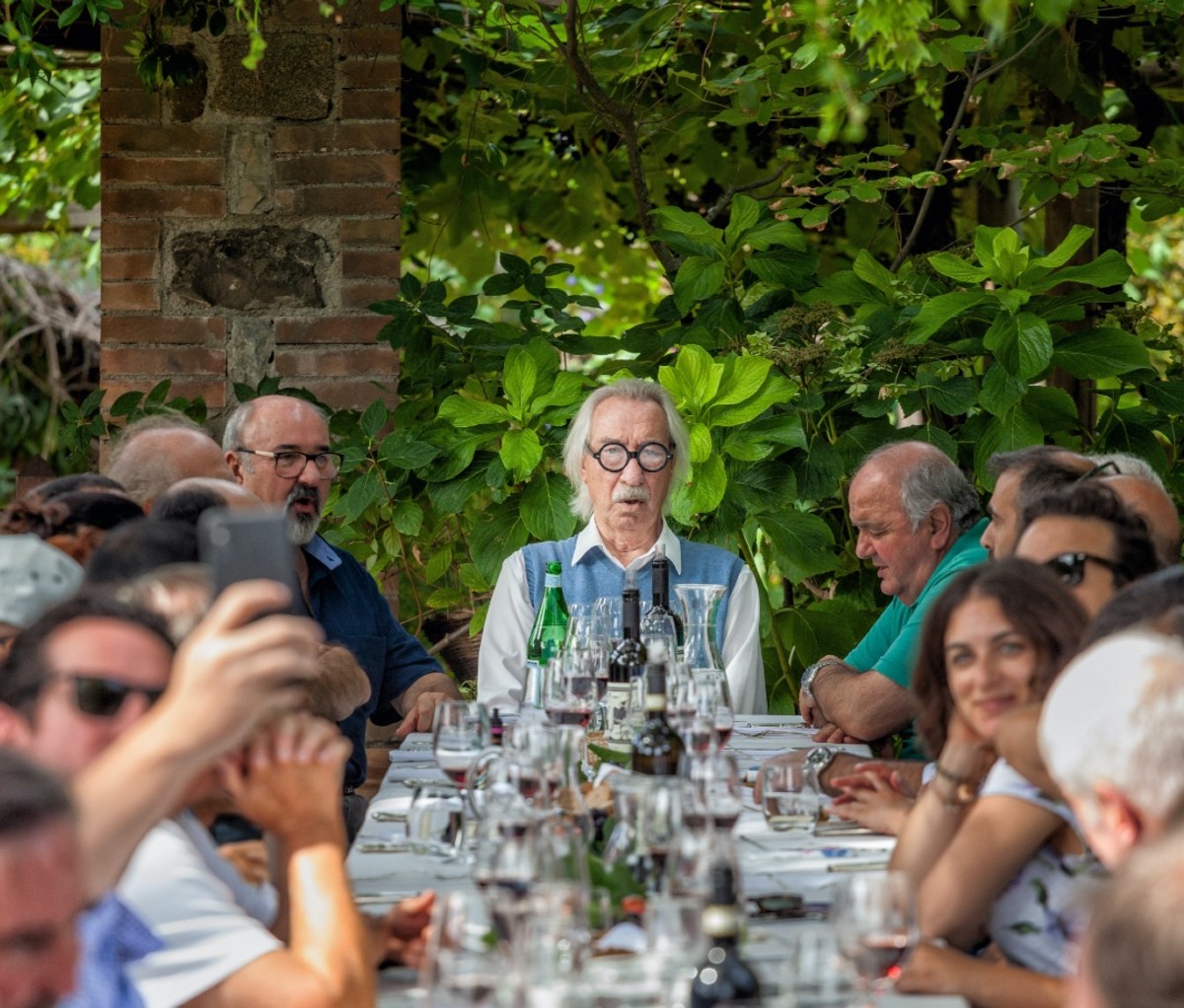 Of course, these days, anything done together sounds foreign and exciting. And that is all the more reason to take those opportunities when they're again available. Making wine and drinking it are communal activities— was the lesson driven home over and over again. Later that day, after Neri led us through a tasting of the '12, '13, and '14 Brunello di Montalcino vintages, we drove 20 minutes to Castello di Argiano, owned by Giuseppe Maria Sesti—namesake of the Sesti winery. There we had lunch at a long table draped with white linen between the castle and the guest house. Sesti is a relatively small producer of brunello, and the wines are very highly prized. At one end of the table was a group of traditional folk singers, of which Giuseppe is a member, who performed throughout the meal. Elisa Sesti now runs the winery, and she spoke about how her father—who'd studied astronomy—began rehabbing the abandoned 13th-century castle in 1991, the year he planted his own vines. And the brunello flowed, of course.
You can't pull together that kind of experience from a travel guidebook. In fact, the reason we were was because of John Voigtmann, who's working with The Vines on its Montalcino expansion. A former VP of International Marketing at Sony, John relocated to Pienza and opened La Bandita Townhouse, a boutique hotel and restaurant in Pienza. Just after moving to the area, he was on a drive and got turned around. He pulled up the gravel road to the Sesti estate, and Giuseppe and Elisa invited him to stay for lunch. They became fast friends. He even got married there. A navigational error was the reason we were sitting there that day.
"It's not about the place, and I'm not sure it's about the wine," Evans says. "During that weekend in Tuscany, few of those people had ever met, but it seemed like we all knew each other for years. No one looked at their phone, no one asked where the other person worked. You have to be a little crazy to do this, but the connections we create with people are deep—and we make great wines and we love it."
Of course, the global pandemic has put a wrench in things. Until the travel restrictions lift, The Vines is conducting a series of virtual tasting and educational programming—such as a label-making master class with legendary painter and muralist Cey Adams, and cooking class with Argentine chef Francis Mallmann. And if you think about it, a year or two is not that long in grape years. It takes three years for newly planted vines to grow enough to harvest. And The Vines members, like all winemakers, plan for the long-term.
On the trip, I met Alison Fogg Carlson. She's been growing wine in Mendoza since 2015. Carlson makes a chardonnay and malbec under the name La Niebla, which is Spanish for fog—her family name. She looks at her plot of land and the wine it produces as something she can do with her two daughters, and one day give to them. Alison is extraordinary, a force. British by birth, Alison grew up living in Mexico, Zambia, Brazil, Iraq, Colombia, and Canada, owing to her father's job. Now, she splits her time between San Francisco and London, and wrote a book called Walking in Grace, a book of photography, stories, and poetry documenting the lives of former gang members. I learned all of this in the last row of a passenger van that was taking us to an outdoor dinner in a piazza.
The Vines is, yes, about making wine. And wine is storytelling—all the people who have a hand in making it, and the history of the land that produces the grapes. I'm not sure I would've met Alison if it weren't for the trip, and we remain close friends and plan to travel together, hopefully someday soon. It was kismet.
For access to exclusive gear videos, celebrity interviews, and more, subscribe on YouTube!