Travel
Dominic West's Toughest Role Yet: Lord of the Manor
At Glin Castle, the legends stretch back eight centuries, and are by turns bloody, lusty, and downright farcical. In 1569, Thomas FitzGerald, the 15th Knight of Glin, was captured by rivals and beheaded in Limerick. Two centuries later, the 24th Knight, the so-called "Knight of the Ladies," stashed a mistress in each of the estate's three Gothic outbuildings and fathered numerous illegitimate children. And then there's John Fraunceis Eyre, 25th Knight of Glin, better known as "The Cracked Knight"—best known for the time he rode his horse upstairs to the bedroom when it was time to turn in for the night.
"The poor fellow, he fell off his horse a few times, and banged his head, so he was a bit… off," Dominic West says. We're standing in a light-drenched foyer at the base of that very staircase, which somehow survived the knight's abuse. West loves all these legends, but holds the Cracked Knight especially dear. "It's just the most romantic thing," he says. "The whole thing is a kind of fantasy."
West is English, not Irish, and is best known for a pair of characters who are American—Jimmy McNulty, the hard-drinking, self-destructive Baltimore homicide cop on HBO's The Wire; and Noah Solloway, the New York novelist and feckless adulterer on Showtime's The Affair. A splendid, centuries-old castle in Ireland is not the first place you'd expect to find him.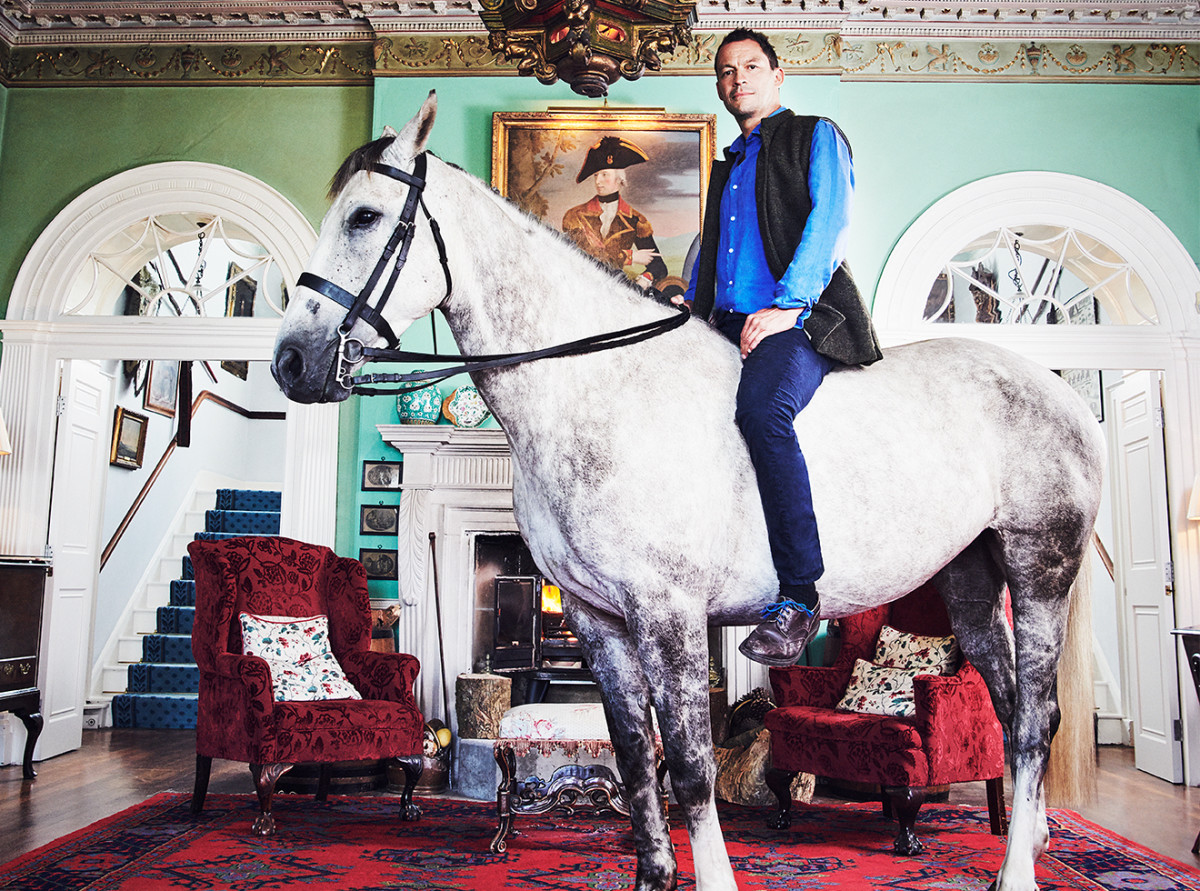 But thanks to a serendipitous set of circumstances, the actor has become the de facto lord of Glin Castle—guardian not only of its stories, but also of the entire estate itself, a 20,000-square-foot Georgian mansion looming over the Shannon River in County Limerick near Ireland's west coast. Credit for this goes West's wife, Catherine Fitzgerald. She's a respected landscape architect in London—and the eldest daughter of Desmond FitzGerald, the 29th Knight of Glin. She grew up in the castle and for the past decade, she, West, and their four children have returned here to spend nearly all of their holidays.
Desmond died in 2011. And because he left no male heirs, the title, which dates back to the Norman invasion of Ireland in the 12th century, died with him and responsibility for the estate fell into limbo. "The question was, 'Who is going to take this over,'" West says. "We sort of took flight and said, "Oh, God, let's not." Catherine's two sisters felt similarly and so in 2015, Glin Castle was put on the market, at an asking price of $7.1 million. It sat there for more than two years and West and Fitzgerald dreaded that someone would actually buy it. "The idea of selling was heartbreaking, especially for Catherine—this place is her soul," West says. "Fortunately, no one wanted it."
And so last year, in what has to be the least-likely side hustle in Hollywood, the couple decided to take it over themselves. They intend to turn it into a hotel, perhaps with a restaurant attached, aimed at groups and retreats eager for an authentic experience of Ireland.
As an outsider to the Fitzgerald clan, West will never be a Knight of Glin. Nonetheless, future generations might remember him as "The Reluctant Innkeeper." Or perhaps "The Husband." "Throughout history, people have come along and poured lots of money into these places," West says. "It looks like I'm the latest—I suddenly realize, to my horror."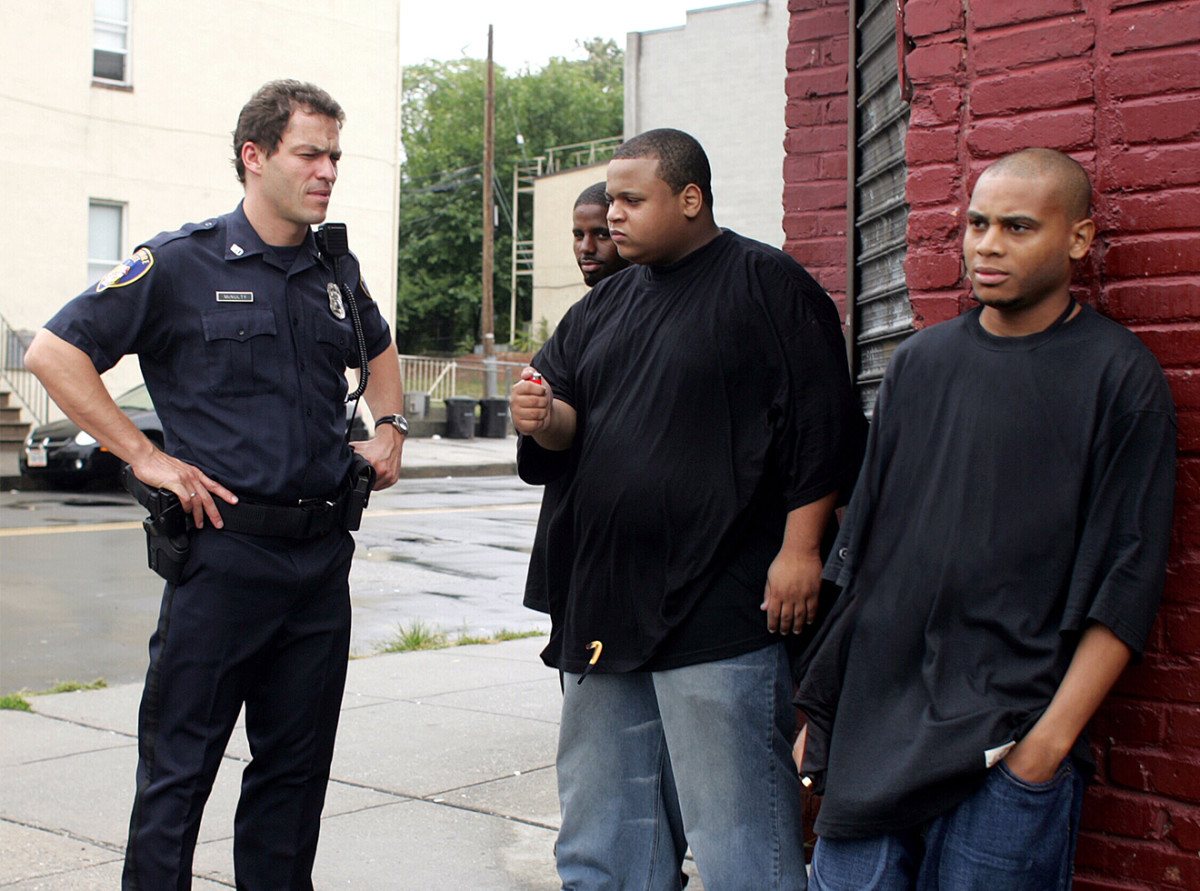 Glin, population 577, is a speck of a village located just off a scenic and precariously narrow country road that winds along the south bank of the Shannon. How small is it? When I arrive and head to Wallace's Bar & Food for dinner, the waitress apologizes, explaining that it had been a surprisingly busy Tuesday and the kitchen is "out of food." There's a convenience store, a couple of guesthouses, three pubs, and not much else.
But cross under the giant stone arch that marks the entrance to Glin Castle, and you enter a different world altogether. I drive up the thickly wooded drive that winds uphill to the front entrance and get out to take a look. What can you say? It's a castle: Sprawling and stately, with imposing, pebbIed limestone walls topped with battlements and extending three stories skyward. It's set atop a gently sloping hill, with a breathtaking view across the Shannon into the verdant hills and pastures of County Clare.
West, dressed in blue canvas jeans an old, striped button-down, frayed at the shoulders and elbows, comes out and introduces himself. "Let's have a look around," he says, and suggests we head uphill into the castle's gardens and woods.
"When I grow old and mad, I'll be in here as a little attraction," West tells me. "They'll say, 'That guy used to be on a show called The Wire. And unfortunately, he's gone quite, quite mad."
West is known for playing a certain kind of character—the handsome, charismatic narcissist, the man of appetites who, however well intentioned, cannot get out of his own way. These are men with shifty eyes and wolfish smiles; men with schemes. You might be drawn to Jimmy McNulty or Noah Solloway, but you'd be a fool to trust them. "He's not afraid to let a character be complicated," says Sarah Treem, co-creator and showrunner of The Affair. "There's a flawed humanity that he seems to understand inherently."
Offscreen West projects a different vibe. His dark brown eyes are inquisitive; his broad smile, which seems to split his face in two, is warm and engaging. He speaks in the deep tones of a trained British stage actor, is polite to a fault, and laughs loudly and often, generally at jokes made at his own expense.
He's had a busy year. He recently wrapped up the fourth season of The Affair and will see two major projects land over the next few months. In October, he makes his debut as a big-screen leading man opposite Keira Knightley in Colette, a biopic about the eponymous turn-of- the-century French novelist. That'll be followed early next year by a turn as Jean Valjean in a six-part BBC-Masterpiece PBS adaptation of Victor Hugo's Les Miserables. After that, it's back to the States for The Affair's fifth and final season.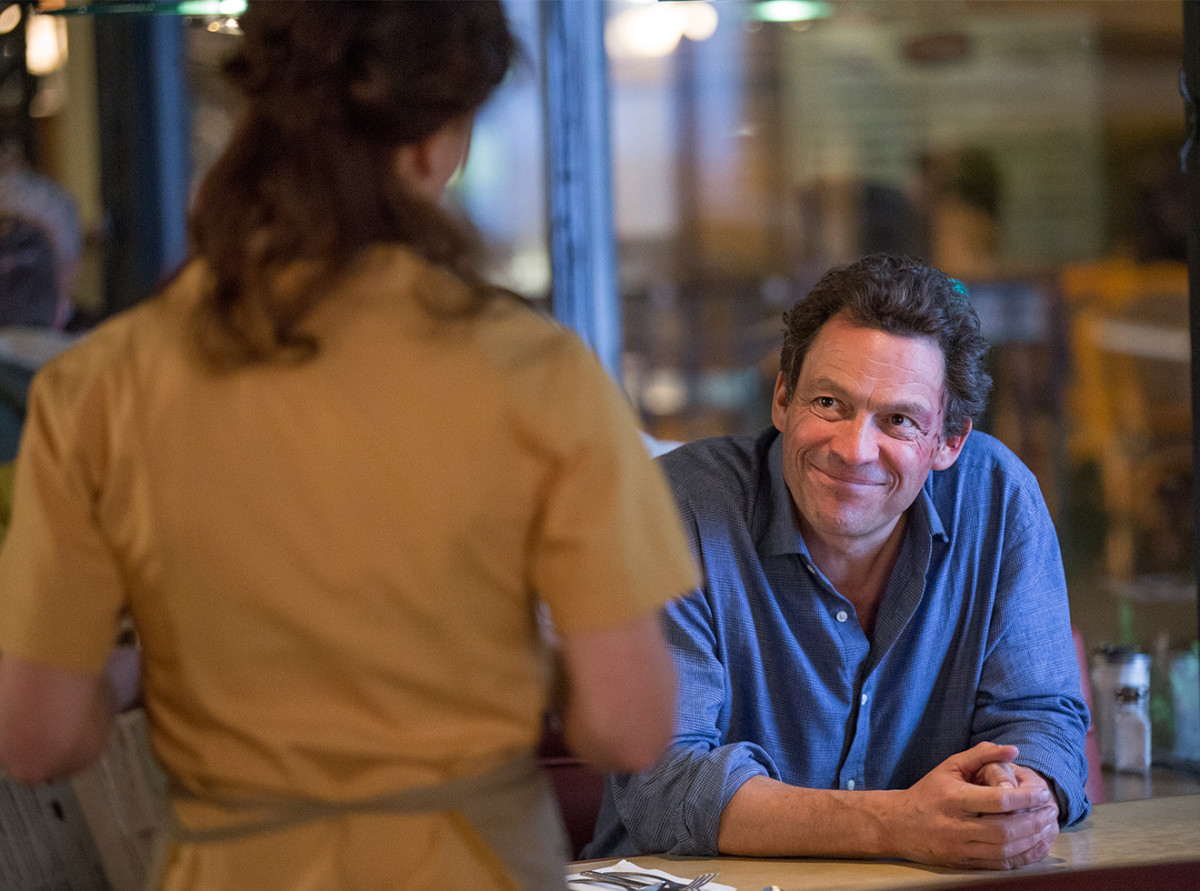 So this summer is a welcome break, a time to relax at the castle with the family. "The kids have come here so much now that it's very much part of their lives," he tells me, guiding me through the castle's enormous, walled kitchen garden, where Catherine has planted kale, lettuce, artichokes, asparagus, and potatoes. "It's so different from our life in London— they're playing football with kids who are dairy farmers. When they come here, there's a notion of community and family and the important things in life."
He pauses for a moment. "We like to bring them here—to the castle—to give them a taste of the simple life," he says, then bursts into laughter.
West first visited Glin to attend Catherine's 21st birthday party. They'd met at Trinity College in Dublin, and West was intrigued. He was no stranger to privilege. He grew up in Sheffield, in England's industrial midlands, where his father had a successful business manufacturing bus shelters, and attended the prestigious Eton Academy. But what he experienced at Glin was something else entirely. "There was this ancient castle, and these three beautiful blonde princesses who lived in it," he says, referring to Catherine and her sisters. "It was ludicrous. I fell hopelessly in love."
But their relationship only lasted a few months. West graduated, spent a year knocking about an Argentinean horse ranch, and moved to London to continue his acting studies and start his career. He began with theater roles, eventually picking up whatever movie gigs came his way—a photographer in Spice World, a Naboo palace guard in Star Wars Episode 1: The Phantom Menace, the posh British boyfriend of people like Julia Roberts and Sandra Bullock. Then in 2002 he scored the role of McNulty in The Wire, which consumed his life for the next five years. "It's probably the best-quality thing I've done," he says. "I owe everything to it."
Along the way, West met a woman named Polly Astor and had a daughter, Martha, who is currently in college. Fitzgerald married and divorced. In 2005, the two reconnected in London, rekindled their romance, and 10 years ago were married at Glin Castle, with a number of West's co-stars from The Wire in attendance. The Irish Independent newspaper described the event as "a weekend that Glin will never forget."
West had embraced his status as Glin's favorite son, drinking at O'Shaunessey's down in the village, participating in the annual swim across the Shannon, and hopping astride a horse each fall to join the North Kerry Harriers for their annual foxhunt. "You never actually get the fox," he says. "It's really just a day out in the woods. And a way to humiliate me."
"You have to live with these characters for an extended period of time. It shrinks your soul. I'd love to do more good guys."
West has become a kind of amateur scholar of the place. The castle, he explains, is something of an anomaly. Many similar old estates were owned by British aristocrats and as a result were either confiscated or burned down by Republicans during the Irish Revolution. Others were broken into smaller pieces and sold off over the years. Glin is one of the few properties in Ireland occupied by the same family for so many centuries.
Our walk takes us deeper into the woods, the winding path landing us before a small stone structure, with three arched windows, shadowed beneath a great mass of trees and shrouded in vines. It looks like a kind of hermit's lair. We duck our heads to step inside; it's cool and dark. "When I grow old and mad, I'll be in here as a little attraction," West says. "They'll say, 'That guy used to be on a show called The Wire. And unfortunately, he's gone quite, quite mad."
It could happen. After all, managing a centuries-old castle—the place dates back to the 1780s; the original Glin Castle was razed by the armies of Queen Elizabeth I in the early 1600s— is no simple task. The castle has 15 bedrooms, a ballroom, a dining room, a smoking room, and a library. There are nearly 400 acres of gardens, woods, and fields, more than half of which are taken up by a working dairy farm, which was deeply in debt when West and Fitzgerald took over. "That's the first thing we had to sort out," he says, adding that the place costs upwards of $150,000 a year to maintain. "We have to make money."
This won't be the first time the castle has opened its doors to visitors. In the 1970s, the family earned extra income by renting out the entire place to wealthy visitors including a Getty heiress and Mick Jagger and Marianne Faithfull. And for much of the 1990s and early 2000s, a wing of the house was set aside as a country inn. West and Fitzgerald have already seen some success, renting the place for a gathering of food bloggers hosted by the French cookbook author and restaurateur Mimi Thorisson, a wedding, and an American family reunion.
We emerge into a clearing at the top of a hill and stop for a moment, gazing out at a vast manicured lawn dotted with formal hedges and the Shannon River, glittering in the sunlight beyond. As I gawk West notices something on the ground. "Look, there's two euro," he says. Pocketing the coin, he flashes a grin. "Every little bit."
Fortunately, West has not yet abandoned his day job. In fact, with Colette, the actor could be poised to make a major leap from the small to the large screen. The film tells the story of Sidonie-Gabrielle Colette, who went on to become France's most famous female author and, later, a feminist icon. West portrays her husband, the much-older Henry Gauthier-Villars, aka "Willy," a popular author and critic who pushed his wife to write, only to take credit for her wildly successful stories. The dandy alpha-male of Paris's Belle Epoque literary world, Willy drinks excessively, lies constantly, sleeps with prostitutes, and spends money— earned thanks to Colette's stories—faster than it comes in. At one point, he locks his wife in a room, forcing her to produce pages.
The film is eerily attuned to today's #MeToo moment. Yet if Willy is monstrous, in West's portrayal, he is never an outright monster. "He definitely brings sympathy to the devil," the film's director, Wash Westmoreland, says. "Dominic has this ability to play characters who behave despicably, yet still elicit a degree of sympathy." I ask Westmoreland what he makes of West new role as keeper of Glin Castle, and the director laughs. "I'm sure he's wearing his grandeur with a wink," he says. "And I'm he'll have lots of stories to tell about his heating bills."
By now, West and I have moved inside the castle itself. His father-in-law was an expert in Irish art and architectural history who served for many years as the Irish representative of the London auction house Christie's, and it shows. The ornate rooms I do visit are filled with historic artifacts, paintings, furniture, and china. Grand chandeliers hang from intricate, Georgian ceilings and oversized oil paintings of various Knights of Glin cover the walls. Passing the Cracked Knight's infamous staircase, I notice an absurdly large set of mounted antlers mounted above a doorway. "That's an Irish elk," West says. "They're extinct, but you still see them. They dig them out of the peat bogs. You have to have an elk. It's part of the theme."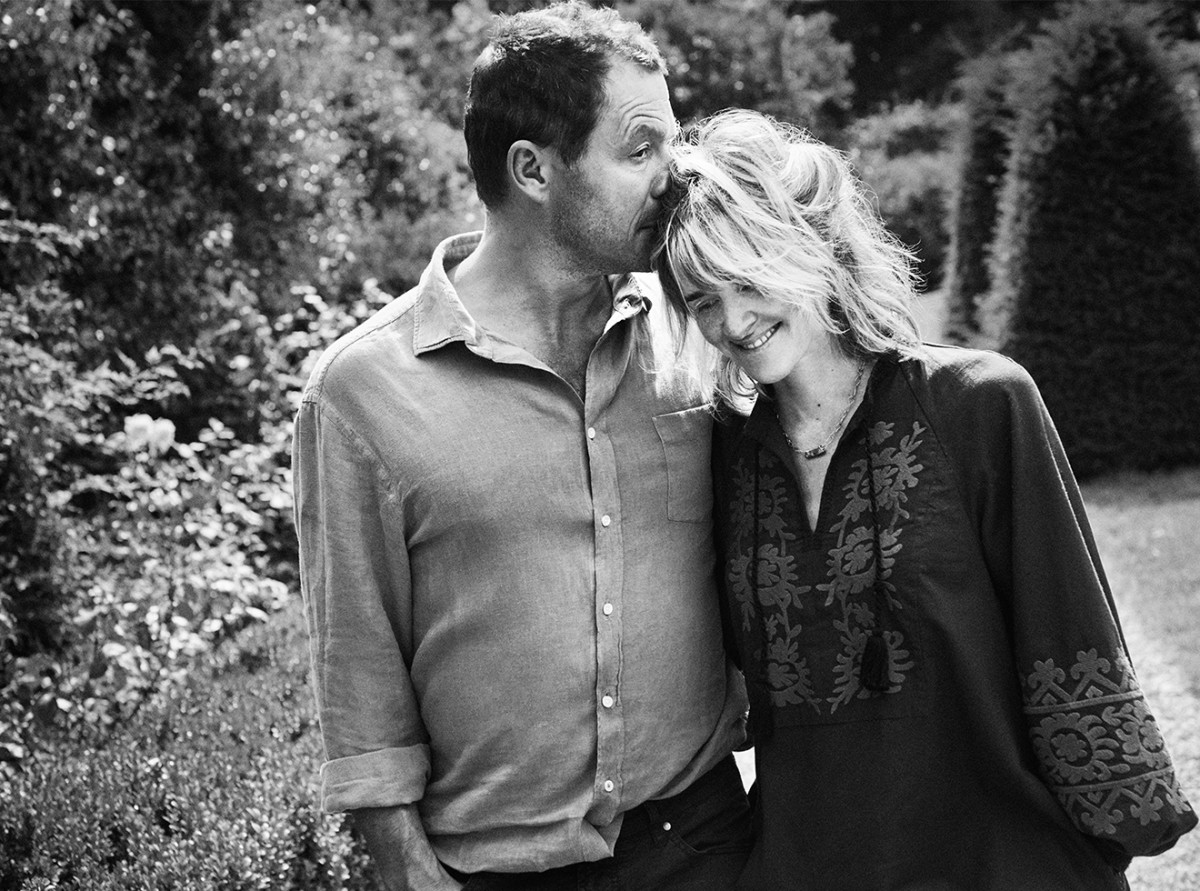 We sit down in a sunny sitting room. I ask West why he thinks he keeps getting cast as such unlikeable characters. He sinks deep into a bright yellow armchair and gives the matter some thought. "I think I must have some look… I don't know," he says. "I suppose I get a lot of parts where I play villains, characters that are hard to like. I try to bring some kind of humanity, see where the villainy comes from. If a villain is sympathetic, he is much more interesting."
But playing these kinds of men can be trying. West recalls one year in which he did nothing but heavies—McNulty, Iago in Othello, the notorious British serial killer Fred West, "and some other asshole." "You have to live with these characters for an extended period of time. It's limiting. It shrinks your soul slightly. Life is too short." That's why he enjoyed the chance to play Jean Valjean, the hero of Les Mis—a character who is essentially the opposite of the men Wes usually plays. "He's a sort of proto-superhero who never stops saving lives, saving kids, overcoming his own flaws to do good," West says. "I'd love to do more good guys."
We've been talking for awhile now and West apologizes, telling me that he needs to excuse himself for some meetings and a photo shoot with an Irish magazine. We wander over to the castle's cluttered kitchen, so he can introduce me to Catherine. Considering all the work he's doing, and the risks, he is taking, I ask if he ever feels like an unofficial Knight of Glin himself.
West laughs, then tells a story about his eldest son Senan, who is 10. "There's this children's TV show called Mike the Knight, and he loved it," West says. "So one day, I told him, 'Listen, forget about Mike the Knight. You could be the knight. Think about it: 'I'm the Knight of Glin!'"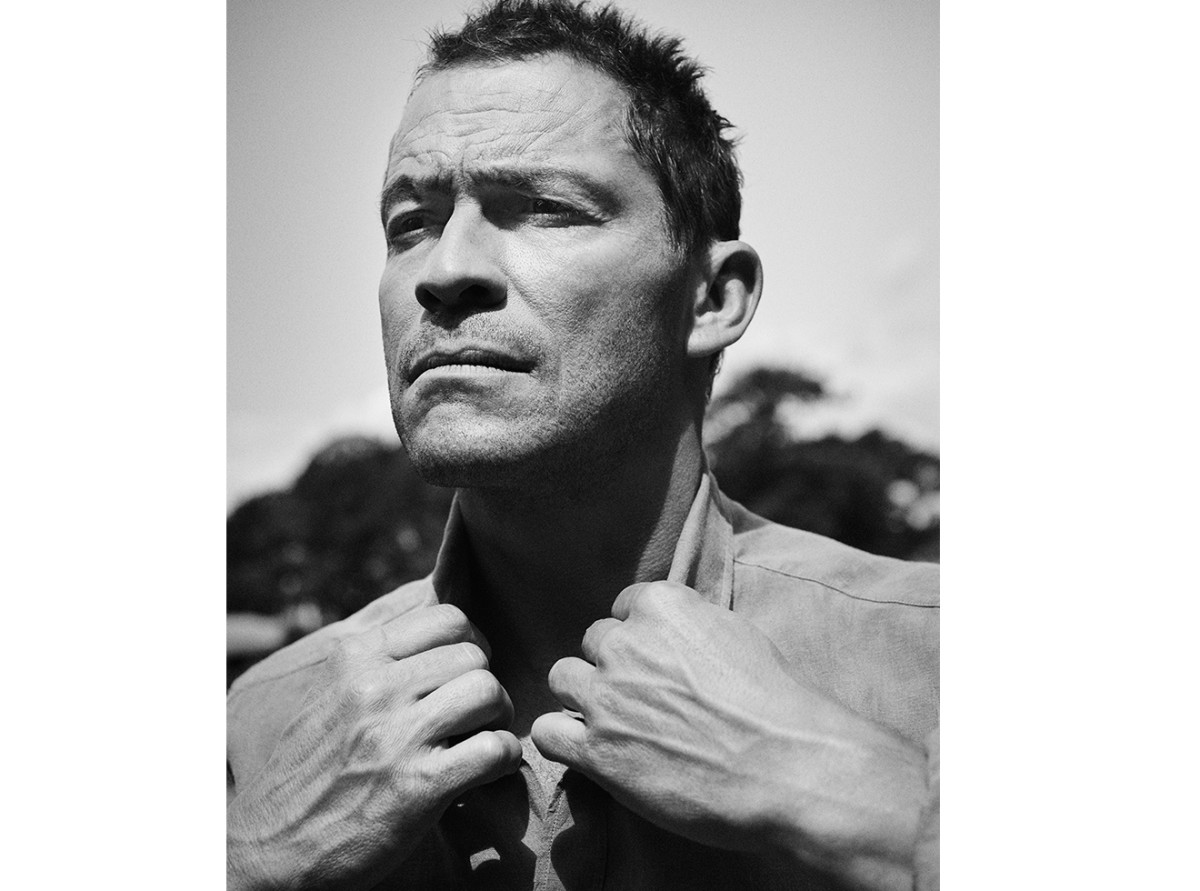 "It's cool; it's a good title," West says. "I mean, it gets people into bed. The chicks will dig it."
In the kitchen—cluttered and lived in, its long farmhouse table covered with mugs and cereal bowls—we find Catherine and her sister Honor, who is visiting with her young son from Los Angeles, sipping cups of tea. A nanny is helping Senan get ready for his Irish football practice; their 12year-old daughter Dora walks in wearing a wetsuit, ready to head off for a sailing lesson. West takes stock of the chaos, a bemused smile on his face. "It's berserk," he says. "Just wonderful. Amazing."
What was like to grow up here, I ask FitzGerald. "Well, it was amazing," she says. "We went to the village school and then we'd come back here to this magical domain. But our little way of life is dead—there's not that many left who were brought up like us."
I ask if she thinks her husband has what it takes to be an innkeeper and she laughs. "I'm sure he'd rather be going on holiday in, I don't know, Corfu or something," she says. "But he knows that I love it so much and he sees that it's such an amazing thing for the children, and all the history. I think he's just taken."
For access to exclusive gear videos, celebrity interviews, and more, subscribe on YouTube!