At the highest point of Vancouver's Lion's Gate Bridge, Vanessa Voss signals for a stop. We park our bikes and take stock of the vistas: to the west, the Georgia Strait, dotted with sailboats and container ships; behind us, the skyscrapers of Vancouver's city center towering over the waterfront; at the bridge's end, our destination — the North Shore Mountains, covered in dense forests of hemlock and Douglas fir. No question about it: Vancouver is displaying its best self.
I met Voss two days earlier, after checking in at the Fairmont Pacific Rim, where she runs a free-bike program for guests. Her official title is bike butler, which says a lot about Vancouver. (Where else, I wondered, is bike butler an actual career?) When I asked her for suggestions about where to ride, Voss, an avid racer, offered to spend her day off accompanying me into the hinterlands. I'd heard that Vancouver was friendly, but this was next-level hospitality. It was also pure Vancouver in action: Like so many locals, Voss wasn't about to waste a chance to get out of the city and into the wild. "That's the way we do it here," she told me.
Fourteen miles of desperately-hanging-on-to-Voss's-wheel later, we arrive at Deep Cove, a tucked-away paradise off Burrard Inlet, a major waterway (think San Francisco Bay or the Hudson River) separating the city of Vancouver from British Columbia's mainland interior. Paddleboarders and kayakers navigate the serene waters. Voss points out a popular hiking route to a lookout called Quarry Rock. We grab some snacks at Honey's Doughnuts & Goodies, a local institution, and chat up some amiable firefighters. The rural bliss is difficult to comprehend: We are not even 20 miles from the center of Canada's third-largest metro area, with a population of 2.4 million.
Among Canadians, Vancouver is akin to what California once was for Americans: laid-back, physically gorgeous, and welcoming to freethinkers, dreamers, and rebels seeking to reinvent themselves. In the 1990s, hundreds of thousands of mostly upper-class Hong Kong Chinese, fearful of an imminent communist takeover, put their own spin on that vibe, taking advantage of Canada's relatively lax immigration policies and transforming Vancouver into the most Asian city in North America.
My first afternoon in town, I head to the Craft Beer Market in Olympic Village, developed to house athletes during the 2010 Winter Games. Set in an enormous 1930s salt warehouse, the beer market offers 140 taps of craft brews. My companion is Lance Berelowitz, an urban planner and author of Dream City: Vancouver and the Global Imagination, As I sip a pint of Fat Tug IPA, Berelowitz explains that since the 1970s, Vancouver has had a reputation as the archetypal "smart" city, with an approach to urban design that has come to be known as Vancouverism. Berelowitz checks off the key points: no freeways breaking up the core city and few clusters of big-box superstores clogging its arteries. And there's a pronounced emphasis on expansive public space and sight lines — turn a corner in Vancouver and you'll probably see the ocean or mountains, or both — and dedicated bikeways and pedestrian paths skirt every beach. "What we sell is a lifestyle," Berelowitz tells me. "A highly desirable, healthy, easy, and very safe lifestyle."
Vancouver's success in attracting newcomers has bred something deeply interesting: a collision of classic 21st-century post-hippie values (Vancouver is green! Organic! Bike-friendly!) with Asian traditions. This is most obvious in the domain of food. The city justifiably boasts the best Chinese food outside China (and maybe the best sushi outside Japan) and is naturally home to a vast amount of cross-cultural foodie experimentation.
This commingling is best captured by a visit to the Richmond Night Market, a festival of food and hubbub in a Chinese neighborhood near the airport. Richmond is not a Chinatown; it's full-bore China. The market includes hundreds of stalls offering every possible variation of Chinese street food and retail knickknacks like cellphone chargers. It's part Blade Runner, part Portlandia. At one stall I gobble down spicy squid on a stick; at another I devour a "spinach and kale, bacon and bonito torched-soy-salmon" taco. The shoulder-to-shoulder crowd looks to be 90 percent ethnically Asian, but stop to listen and at least half speak in perfectly accented Canadian English.
That's new Vancouver. The next day, at the University of British Columbia's Museum of Anthropology, I experience old — really old — Vancouver, wandering around the museum's acclaimed collection of elaborate totem poles, some looming 50 feet tall. These were created by the First Nations people who started settling here 10,000 years ago. I crane my neck to gawk at one masterpiece, admiring the carved image of a bear with a frog in its mouth, surrounded by wolves as I ponder a Vancouver that existed long before seawalls or skyscrapers or soy-salmon tacos.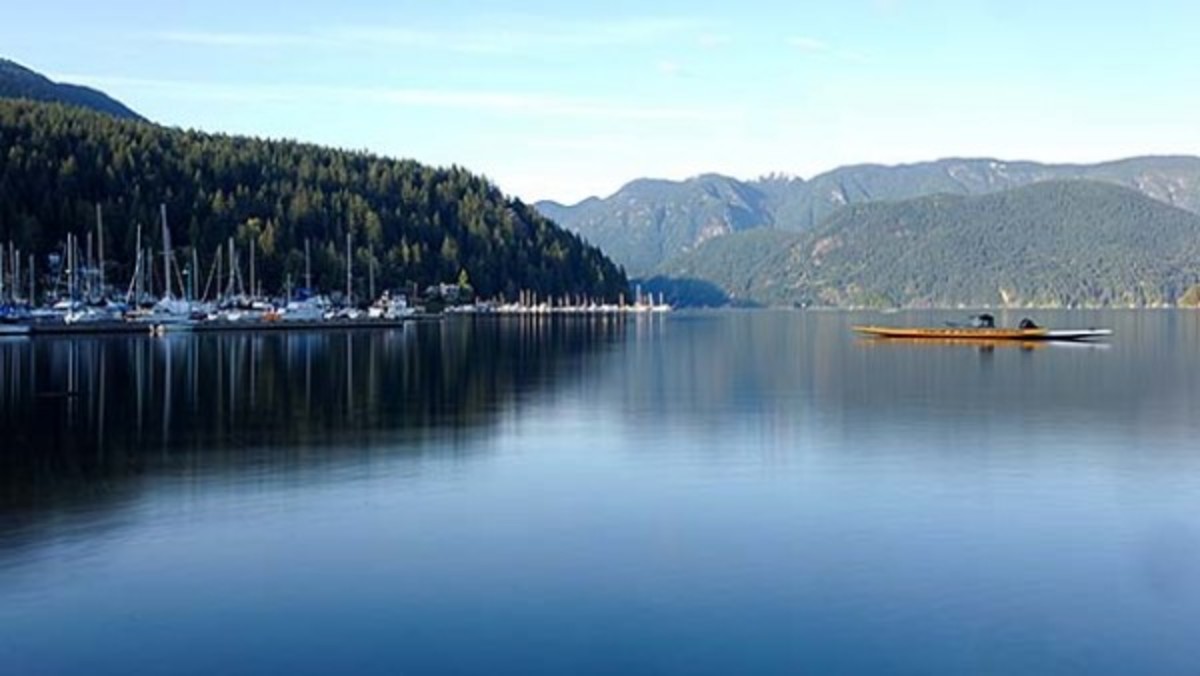 The age-old fecundity of Vancouver's mountains, ocean, and forests continues to work its spell, even on the newest inhabitants. Earlier that day I headed to 49th Parallel, a cafe and bakery in the Kitsilano neighborhood. This once was the center of hippie Vancouver; now the head shops and record stores are flanked by upscale restaurants and fancy boutiques. I was with Curtis Luk, an up-and-coming chef who just launched his first restaurant, Mission. But rather than tap his deep Chinese roots, he's focusing on his newer ones. "I'm really inspired by the ingredients around here," Luk says. That makes sense to me: The more I eat, the more I find that my best bet for a superb meal is to indulge in the natural bounty of the region. The local kusshi oysters at Rodney's Oyster House are the best I've ever slurped. Following Luk's urging, I track down some spot prawns, trap-caught in the Georgia Strait and available only a few weeks a year, at the Blue Water Café. The shrimp are so sweet and luscious you could eat their heads whole.
Vancouver begs you to gobble up the local seafood and guzzle the local beer, to sail its waters and explore the nearby mountains. That California dream, that West Coast quest, has always been about grasping the good life, a life that maximizes access to the great outdoors and attention to in-the-moment bliss. Vancouver delivers that dream with a jolt of Asian spice. It is a potent combination.
Where to Stay
Where to Eat
Don't Leave Without…
Where to Rent Gear
For access to exclusive gear videos, celebrity interviews, and more, subscribe on YouTube!