When it comes to planning a trip to Vienna, you go for classical music by evening, or afternoon swims in the Danube. You get wurstel and chase it with beer or Riesling, and ponder the Klimts and rose gardens you took in earlier. Life is damn good in Vienna. Here's where to stay and where to go for the ultimate four-day weekend.
Where to Stay in Vienna
You'll hear people refer to "the ring" constantly. Look at a map of central Vienna. You'll see there's a distinct circle beneath the Danube (which is part of it). This is the city center ("Innere Stadt"). It's a good target when planning your accommodations. Find one inside or just outside the perimeter. There are plenty of public transit options, but it's also an ideal location because you can walk nearly everywhere of importance.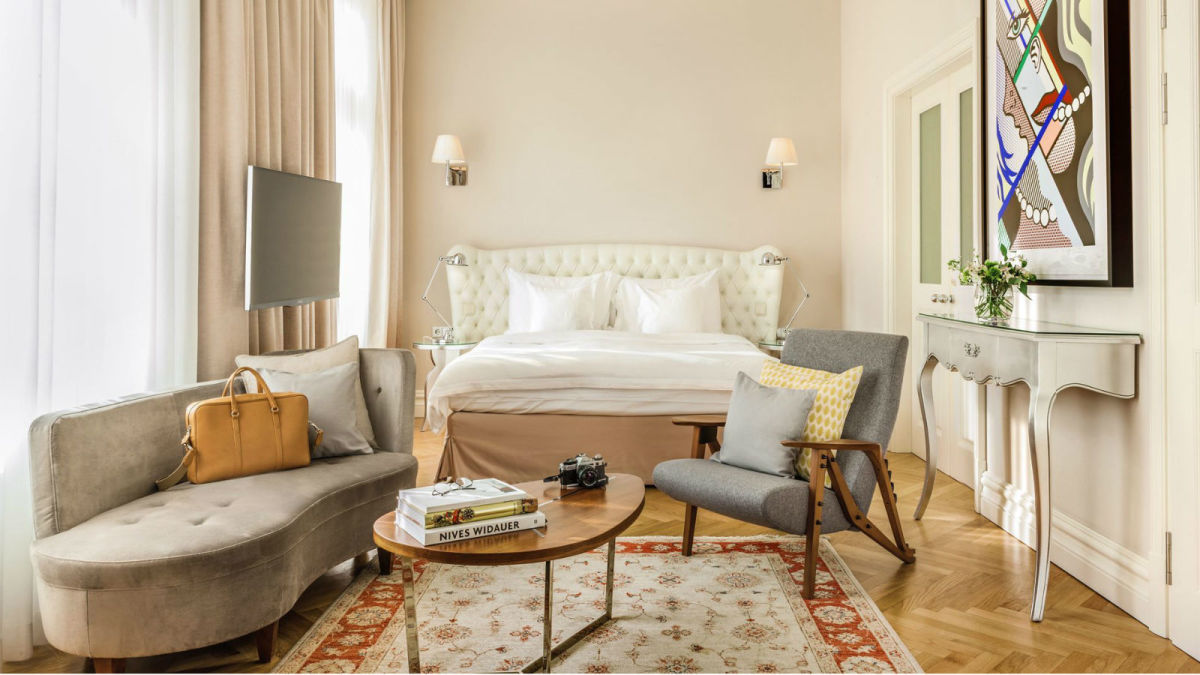 For couples
Hotel Sans Souci Wien
Design meets luxury at the elegant yet trendy Sans Souci, located one block southwest of the ring in the Museumquartier (another neighborhood you'll spend lots of time in, because of its density of, you guessed it, museums). Spend an afternoon in the 450 square-meter spa, or cool off in the lap pool. I like how "clean" the entire hotel feels—and not in the requisite hygienic sense of the word, because *of course* it's clean. Rather, it just feels sophisticated without having to try too hard. Sans Souci emphasizes sophisticated details with little pomp, thus it's very Viennese and satisfyingly relaxing.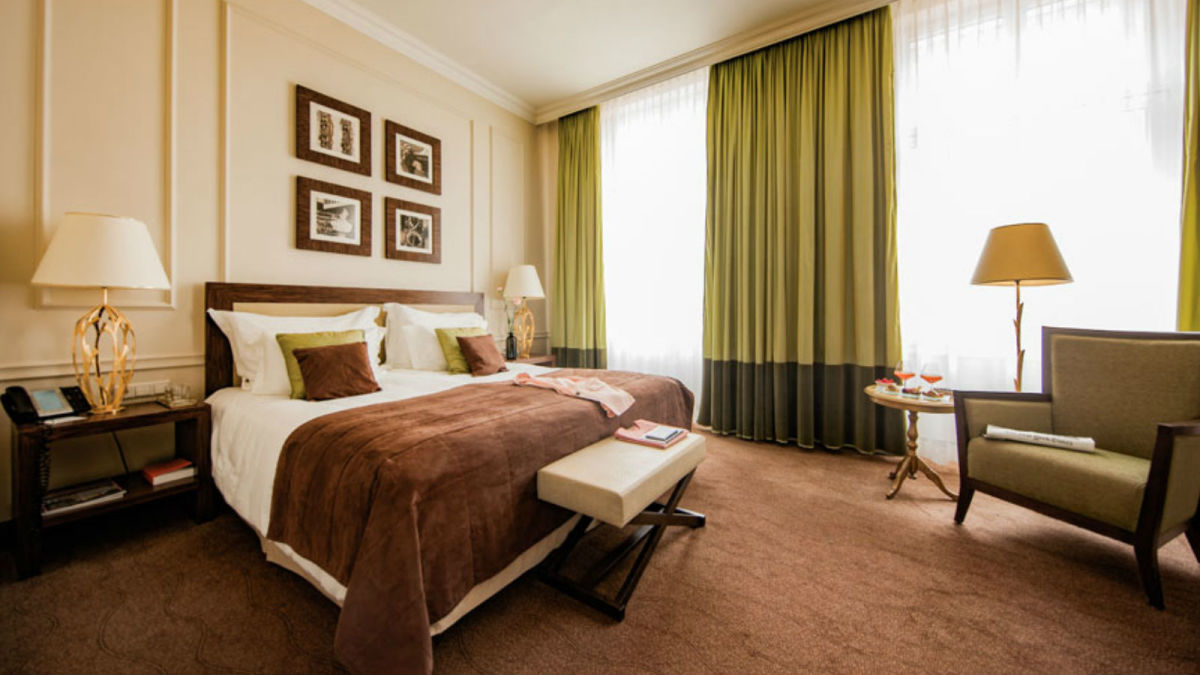 For Business or Pleasure:
The Ring Hotel by Relais & Chateaux
The Ring Hotel is located right on the ring (at the southern tip)—go figure. Its modern décor evokes tranquility—exactly what you want before a day of business meetings, or after a riotous evening (which can happen in Vienna, too). It's stately inside and out and, like Sans Souci, hits the right tone for the city you're calling 'home' for the weekend.
What to Do in Vienna
If you plan to hit lots of tourist sites and take public transit often
You can pick up a Vienna City Card at your hotel or a tourist kiosk (Albertinaplatz, the airport, or the main train station). It's good for 24, 48, or 72 hours of travel on public transit, plus offers loads of discounts and free passes to various attractions around town. (Prices are a reasonable €14-25, based on the duration of need.)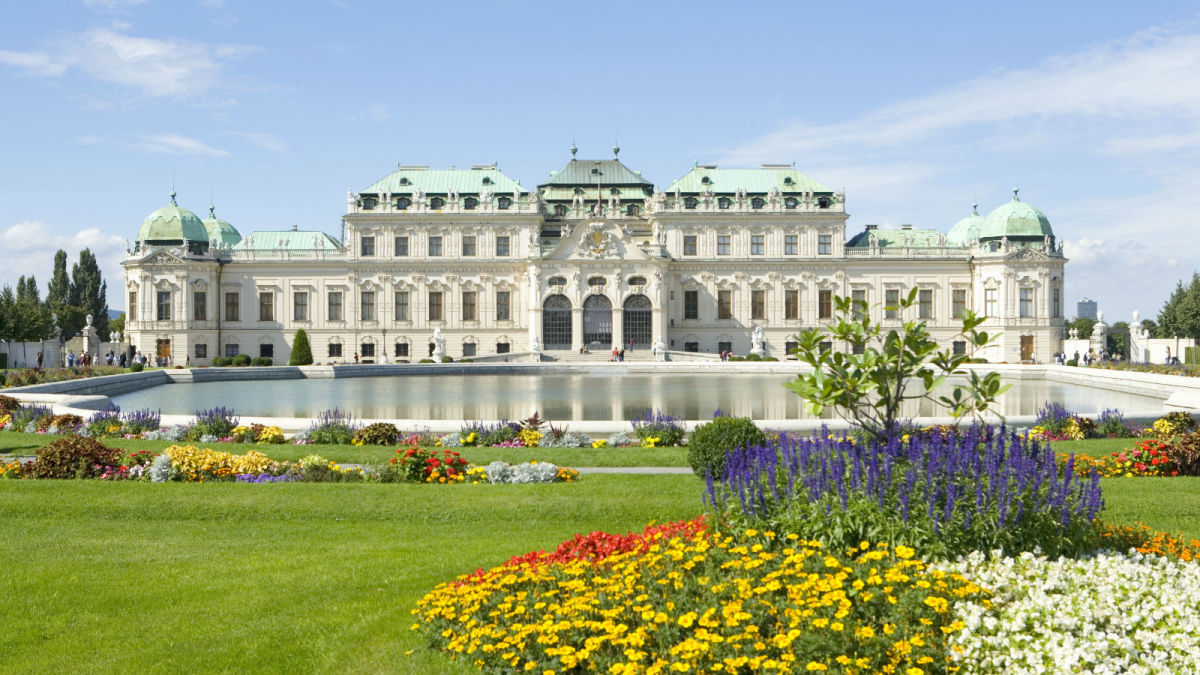 Museums
Kunst Haus Wien – Museum Hundertwasser
This quirky museum was designed by—and houses the works of—Austrian artist and architect Friedensreich Hundertwasser. You'll notice his signature flair for the irregular. It's reflected in the façade, as well as all of his artwork.
Albertina
From photo exhibitions to Picassos, Albertina houses the city's most impressive art collection. It's at the southern end of the Hofburg Imperial Palace.
Kunsthistorisches Museum 
The domed building, with its marble and stucco interiors, is as impressive as the painted portrait gallery it showcases.
Leopold Museum
Explore this modern collection featuring Austrian artists like Gustav Klimt and Egon Schiele.
Palaces (and a cathedral, too)
Schönbrunn Palace
This was once a summer residence for royals. It boasts nearly 1,500 rooms (yes, quaint). It's between the palace and the majestic grounds, so you could spend a few hours here on an Austrian anthropological deep dive.
Hofburg Palace
This stunner is home to the Austrian president and the former imperial residence. You can tour the imperial apartments and check out the royal silver collection.
Belvedere Palace
This Baroque palace sits on massive, fountain-dotted grounds, and houses a permanent gallery of Austrian art.
St. Stephen's Cathedral
You can't overlook this massive, 12th-century gothic church, which sits right in the center of the ring.
Concerts
Vienna is classical music—it's where Beethoven, Mozart, and Strauss thrived. So, while you might hit the clubs in Berlin or the public baths in Budapest, you owe it to yourself, and the masters, to attend something grandiose this weekend. Check the calendars of the four most popular venues, and book ahead: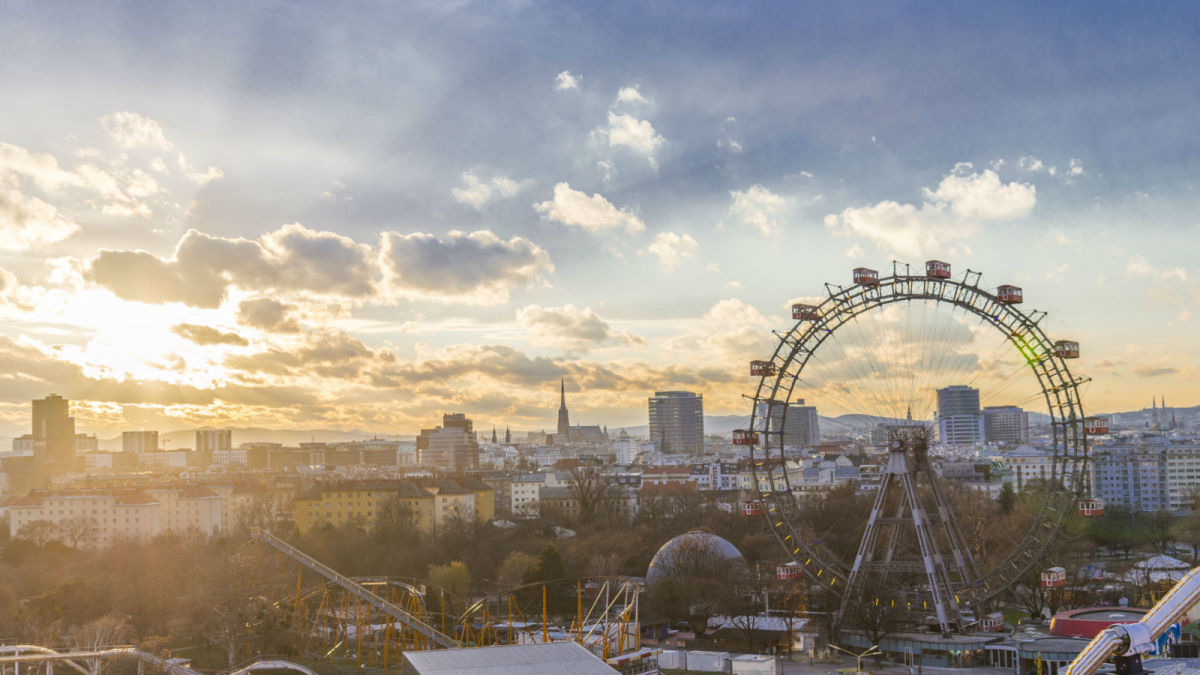 Recreation
Stadtpark: "City Park" is a 28-acre park with dozens of sculptures, a concert hall, and spa (the Kursalon Hübner), complete with sprawling riverside fields to relax in.
Prater: If you're familiar with the inner-city theme park in Vienna, well, then you're familiar with Prater. It's a giant park that also houses a colossal biergarten: Schweizerhaus. Stop for a beer, stay for the Ferris wheel.
Volksgarten: Take a relaxing stroll in this well-manicured rose and bush garden.
Danau Park: Also known as Danube Park, this sprawling space is the site of the Donauturm needle that towers 250m above the city.
Augarten: Amble amongst flowers and rows of trees as you look for one of the city's enormous flakturms, an unsightly war remnant that served as an air raid shelter. (There are three around the city, one of which now houses an aquarium.)
Donauinsel: This is an island in the Danube; you can swim from here, right in the river. (Vienna is that clean, yes.)
Lagerwiese Romaplatz: Another place to take a dip in the Danube, or have a skate in winter.
Therme Wien Day Spa and Waterpark: Bring the kids, or ditch them and head to the 15-and-older area for a little spa R&R.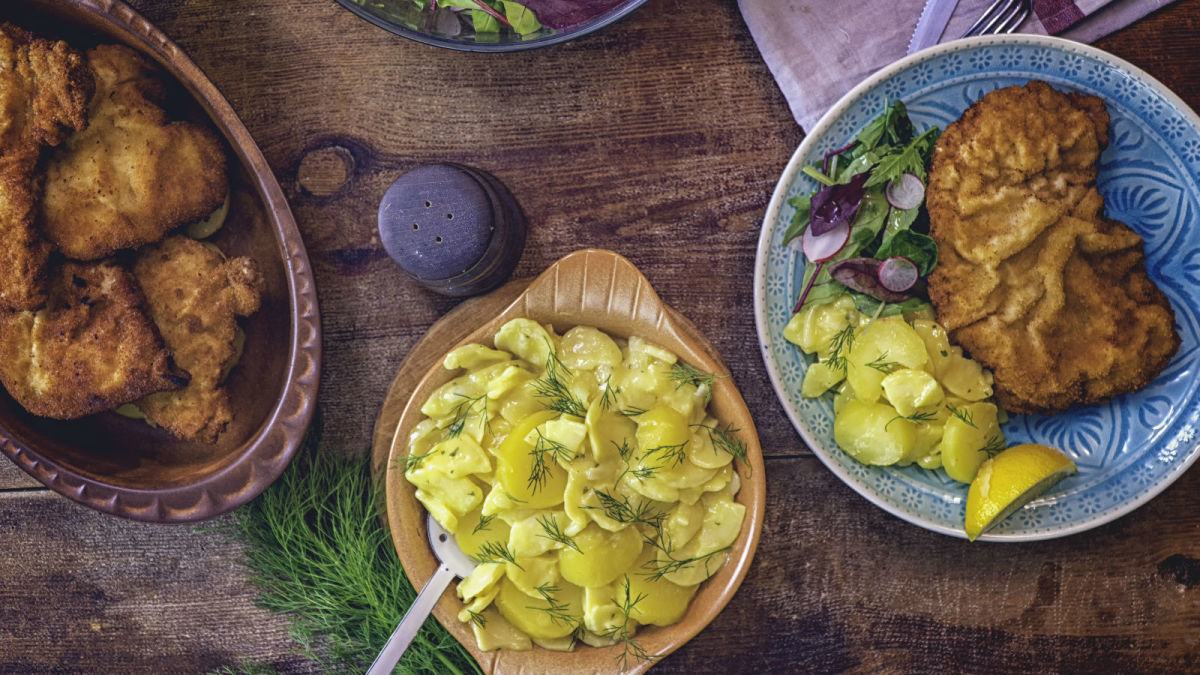 Where to Eat and Drink in Vienna
Cafe Europa: Part cafe, part bar, part basement nightclub. Come eat and drink with Vienna's hipster crowd for whatever kind of night you have planned.
Schnitzelwirt: As the locals put it, this is a great place to not only have authentic Austrian food (we're talking massive portions of schnitzel and quality, cheap beer), but an authentic Austrian dining experience, too. That's to say smoky ambience and grumpy table service. You'll get a kick out of it.
Fischerbräu: Big biergarten and cozy interior, plus delicious Austrian cuisine.
Gastwirstschaft Wratschko: A dark, pub-like place that's plenty lively in the evening. Come get your schnitzel fix.
Disco Volante: Because if you have a hankering for pizza, it should be damn good pizza.
Cafe Benno: A more traditional bar, popular with the university crowd. Come in winter to play trivia and bingo, or sing karaoke with the boisterous co-eds.
Naschmarkt: A staple street market, alive with flower or produce vendors by day, and diners or nightcappers after dark. It's worth passing through, even if you're just doing that.
Heuriger Sirbu: Vienna's many wine gardens are called 'heurigers', and this one is a secret gem. It's located along a nature trail, and is your reward after a hike. (Take a bus to Kahlenberg for expansive city views, then hike down to town, where you'll pass a bunch of heurigers, which also serve food. Sirbu is among them, and favored by the locals.)
Schweizerhaus: The aforementioned biergarten in Prater. It's a bit touristy, but still a must. Order the stelze (pig knuckle) with your beer.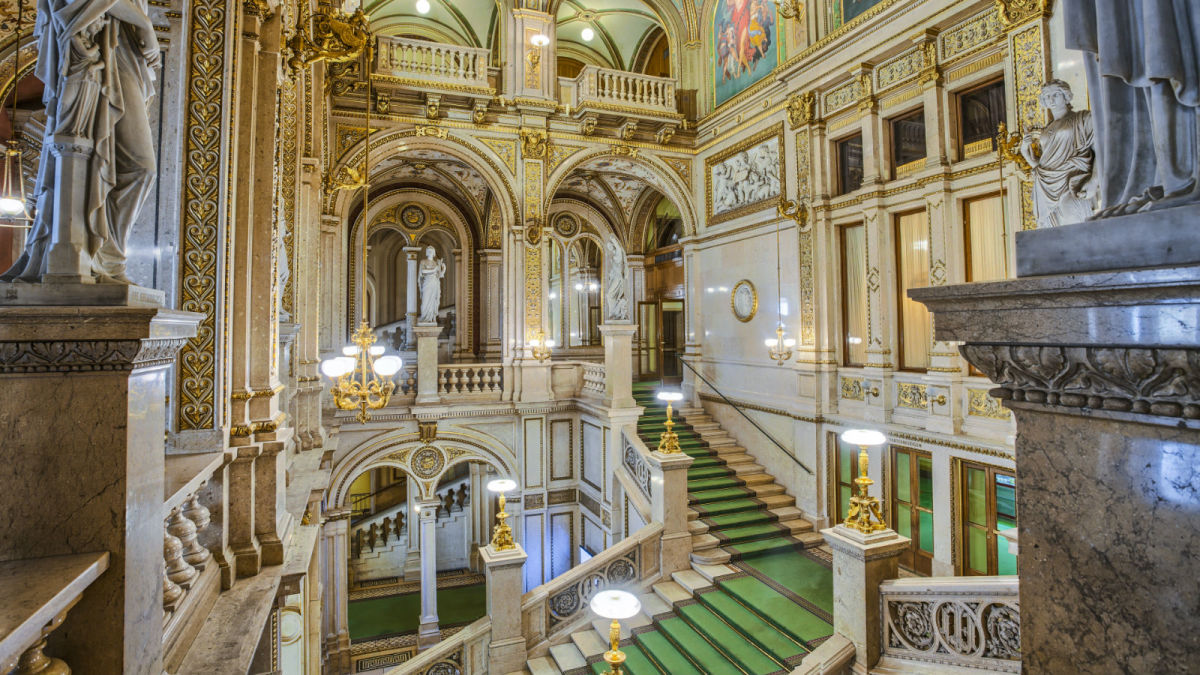 Brunch in Yppenplatz: Yppenplayz is "the" neighborhood these days, its character coming from the diverse immigrants and young hipsters who occupy the area. Come here for a weekend brunch, targeting the Italian Dellago or Turkish An-Do.
Museumquartier: At night, Museumquartier is bustling with people—students, locals, tourists—and is the perfect place to post up with a beer. You might see live music or just some quality people watching. It's the best area to pre-game too, if you've got a big night ahead.
Donaukanal: Another great "neighborhood" to wind down or warm up with drinks. This one has tons of riverside bars, plus lively crowds.
Street / Counter Food
You already knew you have to get a wurstel, the classic Viennese sausage (eat your heart out, wiener dog). The best ones come from street vendors, like Leo Wurstestand or Bitzinger Wurstelstand Albertina  Any legit vendor like those two will also sell killer brezn (pretzels) and semmel (that is, a fresh Kaiser roll, which is famous in Vienna too). Lastly, it wouldn't be Europe without a proper döner feast midday or late at night, and the best one is a nod to a nearby city: Get your much-hyped kebabs at Berliner Döner.
Day Trips from Vienna
Wachau and Krems Vineyards: An hour by car or three by train, these are the two regions that give Austria its famous Grüner Veltliner and Riesling wines. So book a tour and head west of the city if you want to sample these delicious dry whites from the source.
Hiking in the Alps: All right, so implying that you can go "hiking in the Alps" might be a little ambitious for a day trip. But, technically, it is feasible, since the mountains sweep across southern Austria. Consider either Rax-Reichenau or Semmering for a beautiful, scenic escape from the city. They're a couple hours by train each way, so be warned that it's a literal and figurative trek.
For access to exclusive gear videos, celebrity interviews, and more, subscribe on YouTube!