Travel
Want to Explore Puerto Rico Like a Local? Visit the Cordillera Central Mountains
When it comes to planning a trip to Puerto Rico, people tend to focus on the beaches, Old San Juan, or El Yunque National Forest. That means they're missing out on its magnificent, rugged interior: the Cordillera Central Mountains. Indeed, if you reserve some time to explore inland, you'll discover another Puerto Rico brimming with stunning tropical scenery, delicious cuisine, and a whole different vibe.
Known as La Cordillera Central, Puerto Rico's mountainous core runs across the island from east to west. Tropical forests carpet valleys and flank ridge top roads that connect over a dozen municipalities. It's a place of natural beauty, coffee haciendas, and tradition. If you're on the island at Christmas time, the mountains are where you need to go to experience a true Puerto Rican holiday season. Wanna try the local moonshine too? Look no further.

Where to Stay and What to Do
Cayey
The town of Cayey is a quick 40-minute drive from San Juan Airport, but a world apart. Your first stop here will likely be the recently renovated town plaza. Along with a carousel for the kids, the large square features replicas of the skeletons found when excavating in front of the town's central church. A sculpture and a new band shell here celebrate the work of Ramón Frade, a realist painter and native son of Cayey. The adjacent Casa Histórica de la Música Cayeyana is both a museum to the town's rich musical heritage and a performance space for musicians. It's not uncommon here for folks to walk in from the street, grab an instrument, and join a local performance.
Ciales
Winding roads through thick tropical forests lead to the town of Ciales—a historic Spanish settlement back when gold fever was in full swing in the surrounding hills. Take a walk on the Paseo Lineal Juan Antonio Corretjer, dedicated to the poet and pro-independence activist. If you want a more intense activity, visit Flying Coconut, an organic farm owned by the Helmuth family. The farm offers some great moderate hiking trails, as well as over 40 climbing routes on the surrounding limestone cliffs for the more intrepid.
Courtesy of El Pretexto
El Pretexto
Puerto Rico is still rebuilding infrastructure after 2017's devastating Hurricane Maria. Some of these mountain towns lost electricity for upwards of an entire year after the storm. Crystal Díaz experienced first-hand how a hurricane can uproot one's life. The local entrepreneur was about to open El Pretexto—perched high in the mountains above Cayey—when Maria suddenly hit. In one day, the culinary farm/lodge had lost its deck and all its power amidst a grove of uprooted trees which opened a southern view (and wind tunnel) all the way to the ocean. When heavy gusts roll across the mountain top, you can hear them coming like a subway train, notes Díaz. "I have a view now, but we don't have our forest," says the resilient El Petexto proprietor. To replace it, she has now planted grapefruit, soursop, and guava trees—along with 500 coffee plants—surrounding two peaceful villas on the property.
Another nearby option for larger family groups is the neighboring Hacienda Negrón resort, which offers comfy apartments as well as camping down by the riverside—with easy access to a pool, bar, and restaurant.
Toro Negro State Forest
Climb the observation tower to score one of Puerto Rico's best views at beautiful Toro Negro. The picturesque, pond-dotted state forest offers camping spots and includes the highest cloud forest in Puerto Rico.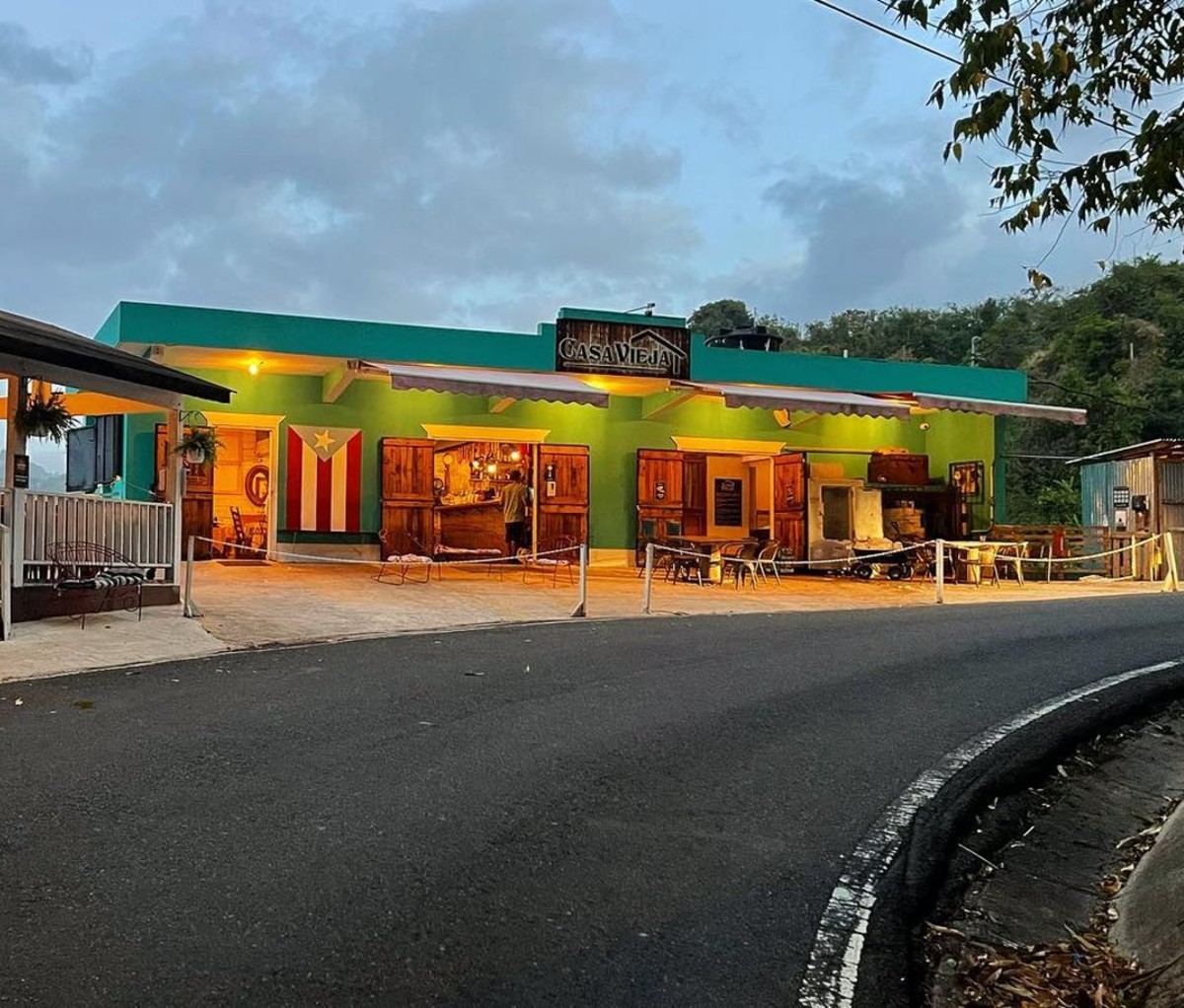 Where to Eat and Drink
The Pork Highway
Outside the town of Cayey, you'll find Puerto Rico's La Ruta del Lechón (aptly named "Pork Highway"). Two solid miles of Route 184 are lined with lechoneras—cafeteria-style restaurants specializing in whole roasted pork and chicken. Click-bait signs featuring a superhero pig will let you know if you're eating certified Puerto Rican pork.
A favorite feast-stop among many here is Lechonera El Mojito. Try the roasted pork with crispy skin along with sides like rice and pigeon peas, tostones (fried plantains), mofongo (another plantain-based side), and chicharrones-style pork or chicken loaded with garlic. If you can't spot El Mojito, don't fret. There are only 71 other lechoneras in Puerto Rico to try.
Chinchorros
As you drive further, you'll see several open-air hangouts dotting roads that snake through the mountains—many of them typified by a single sign for Medalla Light (Puerto Rico's favorite beer) hanging by the door. Known as chinchorros, these are the perfect spots to grab a cold beer and cheap local snacks like fritters and empanadillas. On weekends, you'll see buses ferrying locals hopping from chinchorro to chinchorro.
Casa Vieja
Located outside of Ciales, this bright blue-green chinchorro (the above photo) is something truly special. It's worth stopping here to grab a Medalla Light or, better yet, a ginger mojito you won't forget for a long time. Grab a seat inside and listen to some live music, or head outside for sweeping views of the tropical valleys below. Hungry? Try Casa Vieja's special morcilla (blood sausage) and pastelillos (turnovers).
Museo del Café de Puerto Rico
The Museo del Café de Puerto Rico (Puerto Rico Coffee Museum) features exhibits that recount the island's history of coffee production including antique mills, coffee bags, and written records. It's also a production site where Pedro Maldonado Ramírez and his family roast, bag, and ship Café Don Pello coffee. During the pandemic, Maldonado Ramirez opened a café onsite where visitors can grab a coffee or espresso. There's just something special about a cup of joe that comes directly from the surrounding mountains.
Courtesy of Cooking at El Pretexto
El Pretexto
Back at El Pretexto, Crystal Diaz will insist she's not a chef and El Pretexto isn't a restaurant. In fact, she'll say this repeatedly right up to the moment she serves you an amazing breakfast or—if you wisely book dinner here—halibut escabeche, fresh yam puree, and breadfruit tostones. At the end of an incredible meal, maybe Diaz will be kind enough to give you some pitorro (Puerto Rican moonshine). It's the perfect finish to another unforgettable Puerto Rican evening way up in the mountains.