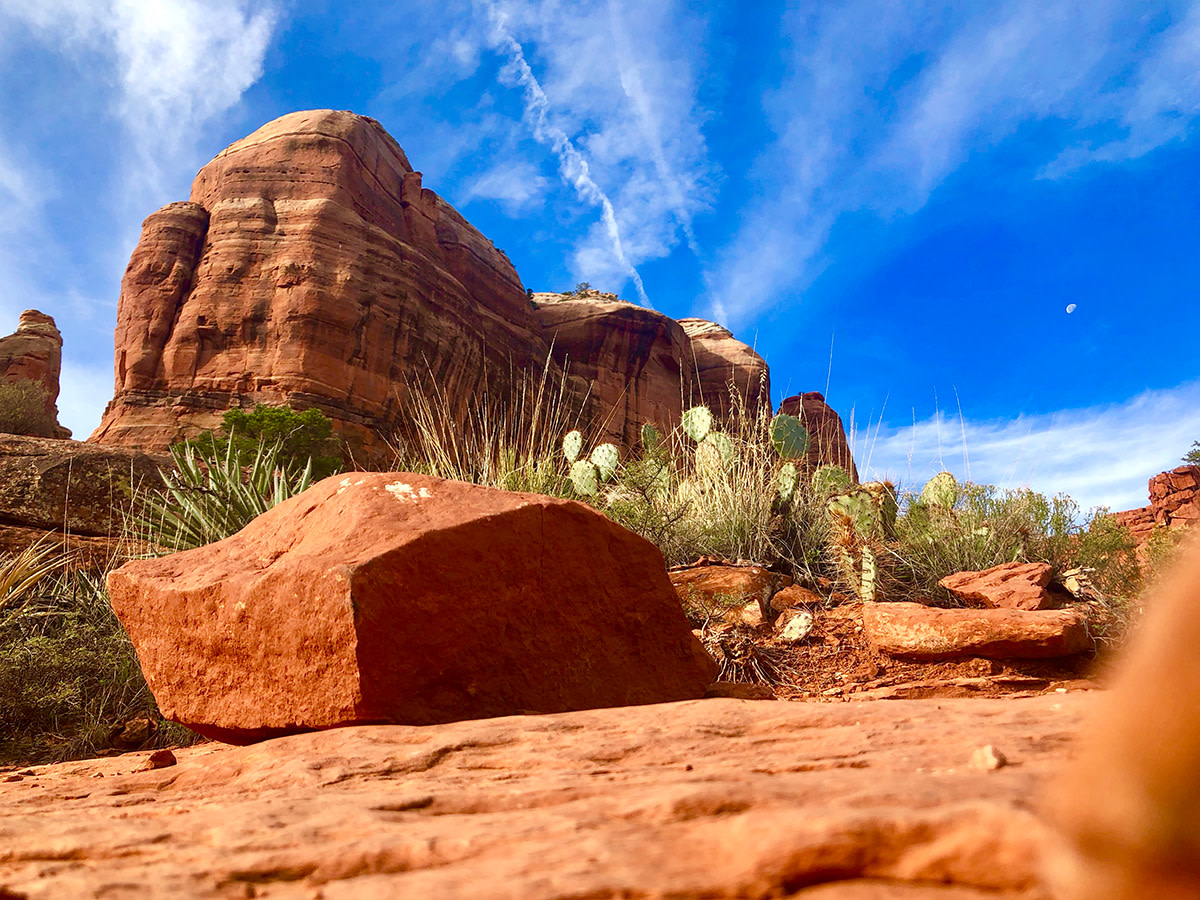 The southwest is often associated with high temps, dry climate and well, tumbleweeds, thanks to Hollywood.
Arizona is a state that you may have glanced over a time or two, but deep in its northern reaches, about 30 miles shy of Flagstaff and encircled by the Coconino National Forest, you'll find Sedona. Sure, this is the desert (the Upper Sonoran, to be exact), but it's so much more than barren landscape.
Here's why this naturally beautiful adventure haven should be your next weekend getaway.
Getting There
Driving into Sedona on the I-17 fills one with a sense of wonder. Cacti tower like trees, and densely populate the sandy hills for miles. Out of nowhere, majestic red rock formations reveal themselves mid-way along the two-hour, 120-mile drive from Phoenix, unveiling what's in store once you enter the heart of Sedona.
Phoenix is the closest major hub and an easy jumping off point for your Sedona getaway. Flagstaff Pulliam Airport is also an option, offering limited flights from Phoenix, and landing you a 40-mile drive away from Sedona through the insanely scenic Oak Creek Canyon.
Where to Stay
Sedona is chock-full of places to stay, that range from cozy inns, modern boutique hotels and a whole bunch of eclectic, homey Airbnb options. Staying in Uptown Sedona will place you closer to Oak Canyon, state parks and campgrounds, while staying south of the town center means closer access to some well-recognized spots like Bell Rock.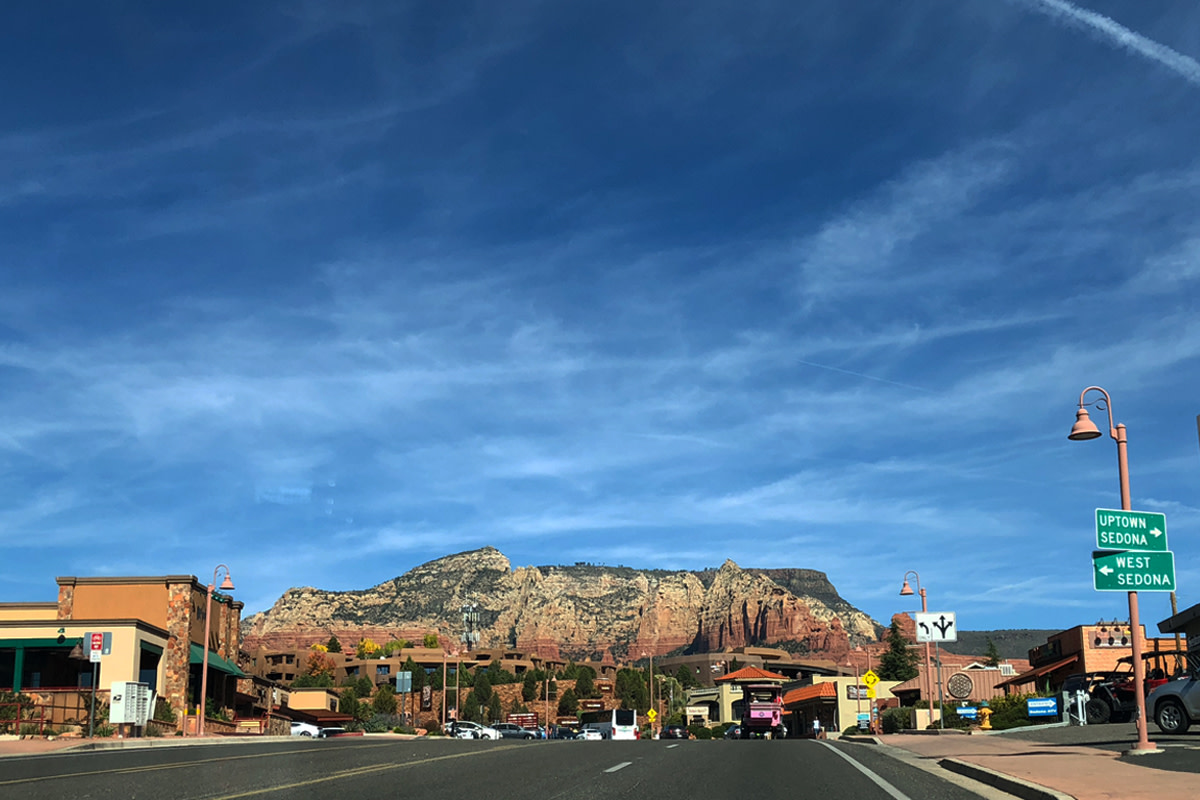 Getting Around
Navigating the 18 square miles that is Sedona proper can be done by car, bike and (for many parts of the town) by foot. You'll need a car if you're looking to explore outside of town – a vast landscape of sky-high rock formations, interconnected trails and miles upon miles of wild terrain to explore.
While some hotels and private lodging offer complimentary bikes, you may want to look into a rental. Depending which side of town you are staying on, Over The Edge bike shop on Route 89-A near the Sedona Airport has some great options, as does Bikes and Beans on Route 179 – and you can fuel up with a cup of coffee, too.
Here's how to maximize a full weekend in Sedona:
Friday
7 p.m. – Mosey into town from Phoenix and set up camp for the weekend. Take it easy with a mellow dinner and ease your way into the elevated altitude (drinks and cardio catch up with you faster here at 4,350 feet). Turn in early and get a full night's sleep in preparation for the busy schedule that lays ahead.
Saturday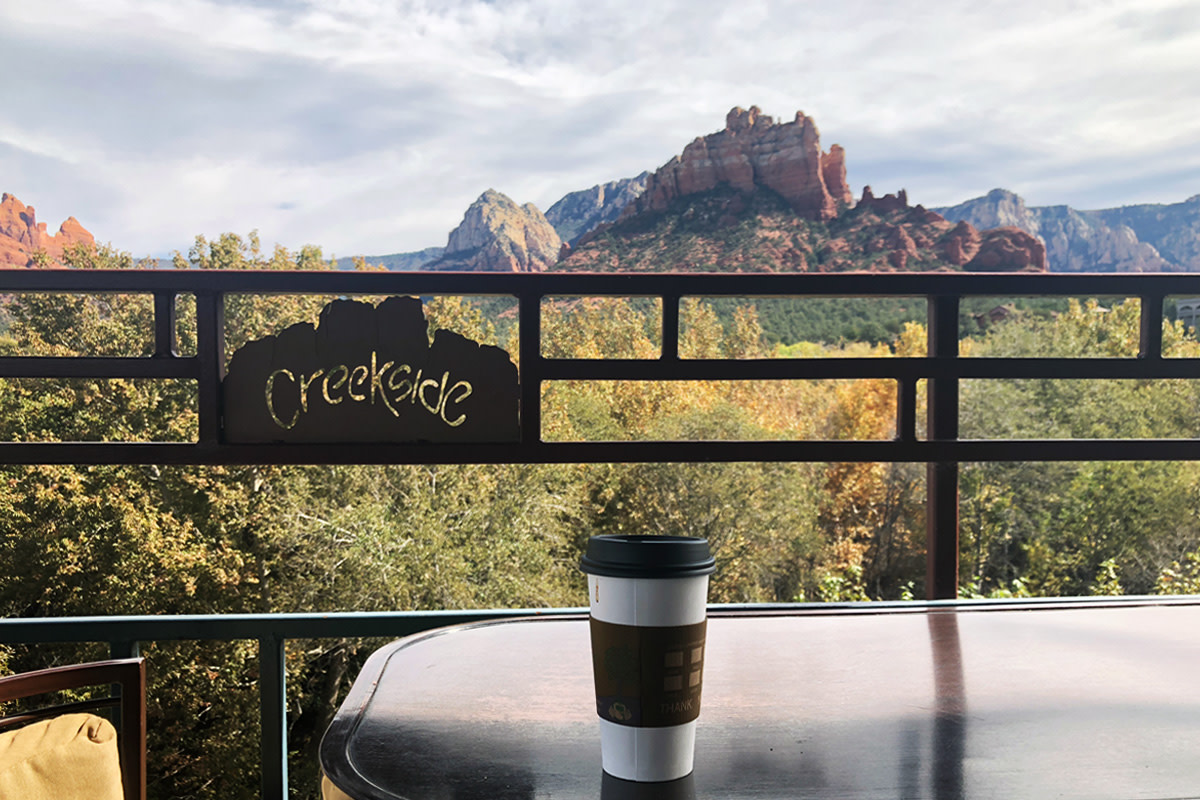 7 a.m. – Grab a cup of coffee, a homemade pastry, breakfast sandwich or avocado toast at Creekside Coffee and Bakery and pause for a few minutes to enjoy the view from their expansive windows and seated patio, directly overlooking the red rocks.
8 a.m. – To break in your legs and adjust to the elevation, start off with an easy hike. Sedona View Trail starts at the top of Airport Road. Park here, where you'll find a gorgeous overlook of the entire town and surrounding landscape. The easy 2-mile round trip trail winds its way down to what's called "The Saddle," a contemplative area also known as one of several potent energy vortexes in Sedona.
Make the quick scramble up Summit Trail – a big rock formation that reveals sweeping 360-degree views of Sedona at the top, including unobstructed vistas of Cathedral Rock and Bell Rock. Respect the quiet zone here – many people spend time in silence taking it all in (turn your phone to silent and keep your voices at the appropriate volume).
Know before you go: If you do this hike earlier in the day, your parking pass will get you free re-entry to come back later to enjoy the sunset from this peak vantage point.
10:30 a.m. – Get back onto Route 89-A and hang a left to head toward West Sedona and Boynton Canyon. Along Dry Creek Road, you may feel like your eyes are playing tricks on you, as the red rocks seem to jump out at you around every bend. It's not an optical illusion, you really are that close to these massive pre-historic sediment structures. Get out-of-this-world glimpses of Capitol Butte, Chimney Rock, Coffee Pot Rock and of course the famous Boynton Canyon, as you wind your way toward Boynton Canyon trail head.
Here you'll find parking – but you'll need to purchase a day or weekend Red Rock Pass to access areas within the Coconino National Forest. Passes are $5 for the day or $15 for a week and can be used at national land all over Sedona. Vending machines are set up at many of these locations (including here at Boynton Canyon trailhead), allowing you to buy your pass quickly and get out on the trails.
From here, hike out to Boynton Spire (another spot considered to be a strong energy field), only about .15 miles from the trailhead, an easy walk along the canyon floor with some shady areas and lots of flora and fauna to take in.
12 p.m. – Head back into town, it's time to eat lunch. Tortas de Fuego is known for its no-frills authentic Mexican fare. You won't be disappointed in their serving sizes (or their prices). Grab the pickled carrots, onions, and garlic from the fresh salsa bar (they are quite possibly the best we've ever tried). Meals are served with whole roasted jalapeño peppers – tasty, but be warned, the heat catches up with you.
1:30 p.m. – Make your way over to Uptown Sedona. It's just a few miles away (but know that traffic tends to slow down along 89-A in this area, so build some extra time into your schedule for the possibility). This less-than-one-mile stretch heading north toward Oak Creek Canyon represents the original town of Sedona, which was settled back in the early 1900s, and the kitschy shops, restaurants and art surrounding it only helps illustrate this aesthetic. Take your time browsing through some of the mystical crystal shops, and indulge in some sensory pleasures at Red Rock Apothecary.
4:30 p.m. – Head back to home base and reset for dinner.
6 p.m. – Dinner is at The Hudson Sedona, one of only a few establishments in the area that stay open past dinnertime. This place tends to fill up so you may want to call ahead for a reservation, especially if you are headed there with a larger group. If you're flexible and feeling social, sit at the massive wrap-around bar and enjoy your meal while meeting and greeting some of the locals. Stay a while, or even until closing (that's an early 9 p.m.) Sedona-ites don't stay up late.
9 p.m. – If you haven't already worn out your legs for the day, walk back from dinner and enjoy the stars – Sedona is recognized as an International Dark Sky community and you will soon discover why. Retire back to your room or rental and settle down for some shut-eye. Tomorrow's going to be a jam-packed day.
Sunday
7 a.m. – Sedona is renowned for its connection to the metaphysical world and recognized mainly for its highly-concentrated, spiritually healing energy, which is thought to emanate from the red rocks themselves. Whether or not you put stock in the idea, this small town is the perfect place to take a yoga class (take your pick of one of its many studios). Get into the swing of the day and stretch out those muscles you worked while hiking.
8:30 a.m. – Land yourself a seat outside at Pump House Station and prepare for one of the freshest, tastiest breakfasts you've ever had. You may have to wait (lines are known to form out the door) but the walk-up counter moves fast and once you get your plate delivered, you won't be sorry you came here. Enjoy your meal over the sounds of Oak Creek, which runs directly through this establishment's backyard. If there's time, pop in next door at the Sedona Center for the New Age, an intriguing treasure trove of all things "spiritual" and a wealth of knowledge on tours and other goings-on around town, or peruse the many arts shops and galleries nearby.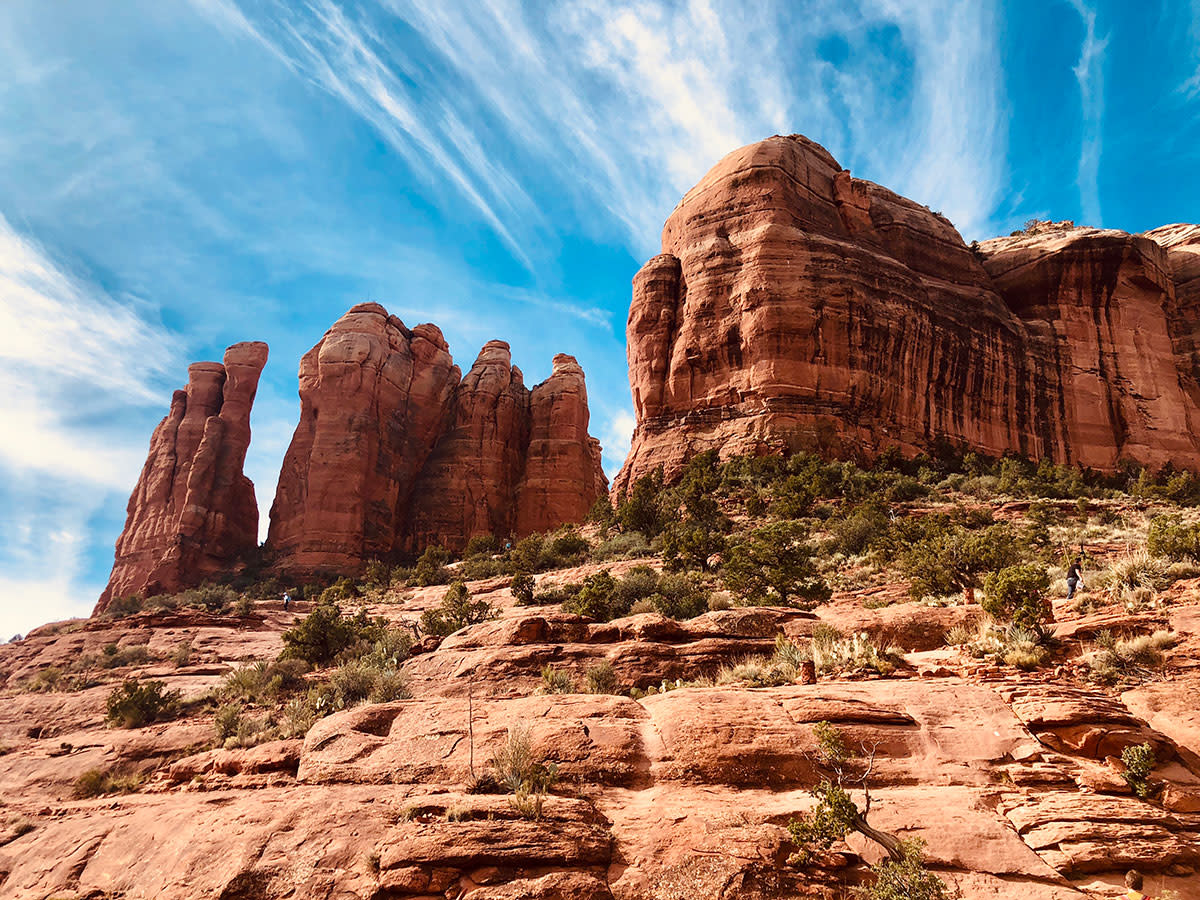 9:45 a.m. – Head toward Southern Sedona and get moving. Today, set your sights on Cathedral Rock, a popular, short-yet-somewhat-steep climb up this massive rock formation. Park at Cathedral Rock trailhead (you'll need your Red Rocks parking pass here, too) about a mile down Back O'Beyond Road, and head straight up the trail.
It's 1 mile out and back, but don't let that fool you – you'll be climbing up 551 feet in elevation. This trail is relatively difficult, mainly on a section about halfway up where you have to hoist yourself up along a rock crevasse. If you can make it past this steep incline, you only have a little less than .30 miles to go before you hit the end of the trail and are awarded with some amazing south and north facing views. Cathedral Rock is also known as a highly-charged energy location – and you'll feel your mood and spirit soar as you wrap up this quick (but highly fulfilling) expedition.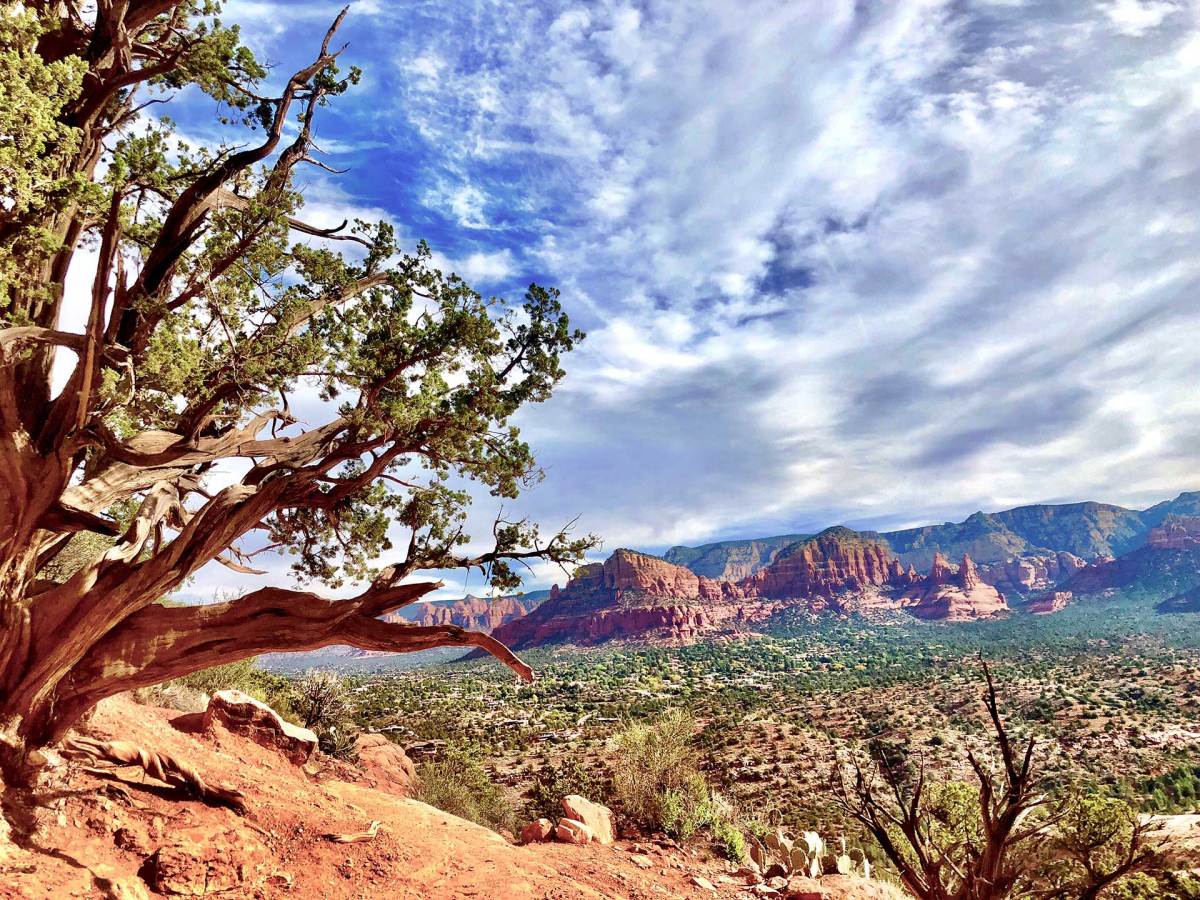 11:30 a.m. – Savor that post-workout high for a few more minutes as you cool down, and then hop back in the car and head north on Highway 179, and follow it as it turns into Route 89-A. Make a quick pit stop at Manzanita Market and stock up on some groceries for a picnic lunch and drinks just slightly off the beaten path.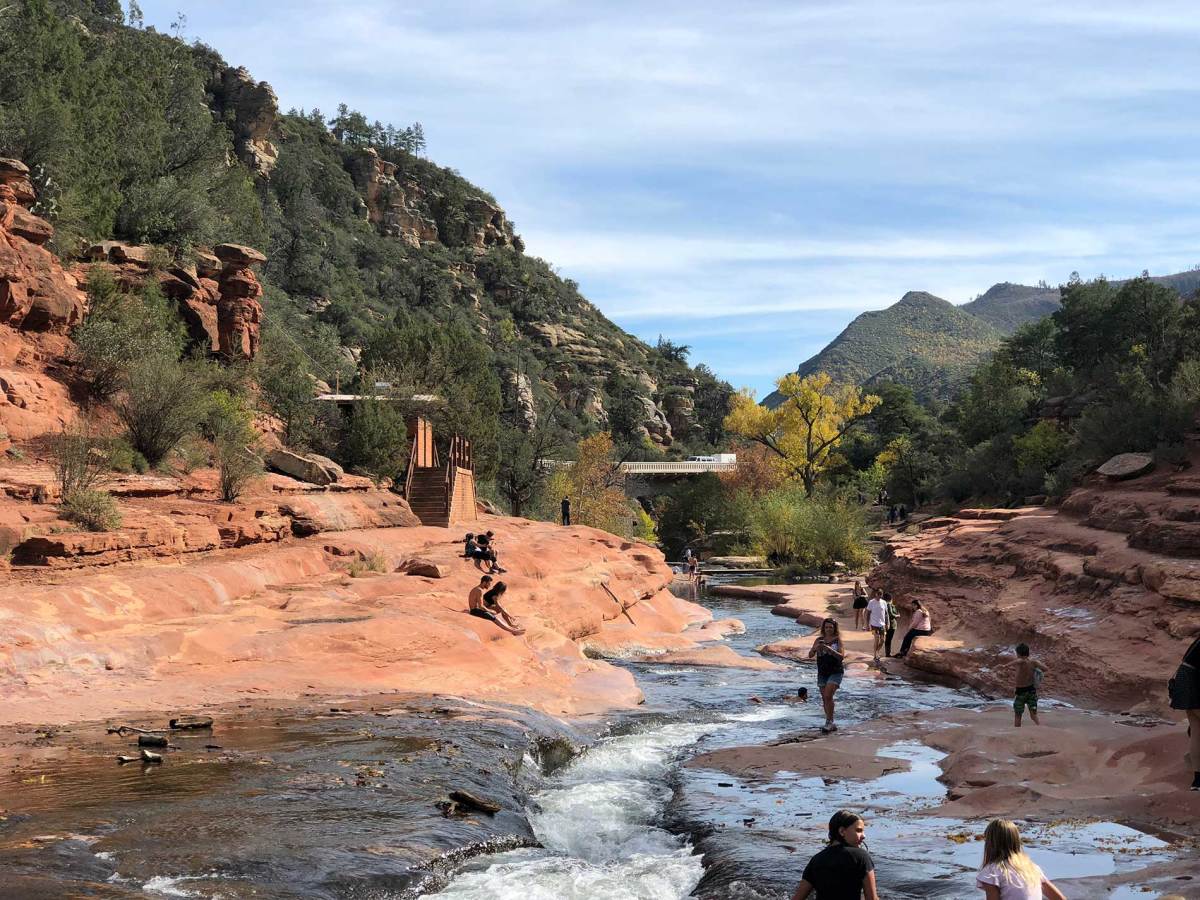 12 p.m. – Arrive 7 miles north at Slide Rock State Park. You'll need to purchase a State Park pass (ranging from $10-$20 per car) at the entrance, but nothing beats the cool creek water on your toes (or whole body, depending on how daring you are) on a hot Sedona day. The long, smooth rocks that line the creek make the perfect place to take a dip and entertain the kids. It's a quick hike into the creek from the parking lot, and once you've settled in, make some sandwiches, crack open a few cold drinks and enjoy this gorgeous 43-acre historic park.
3 p.m. – Slowly make your way back into town. See about renting some bikes and taking them over to Marg's Draw or one of the many other nearby mountain bike trails.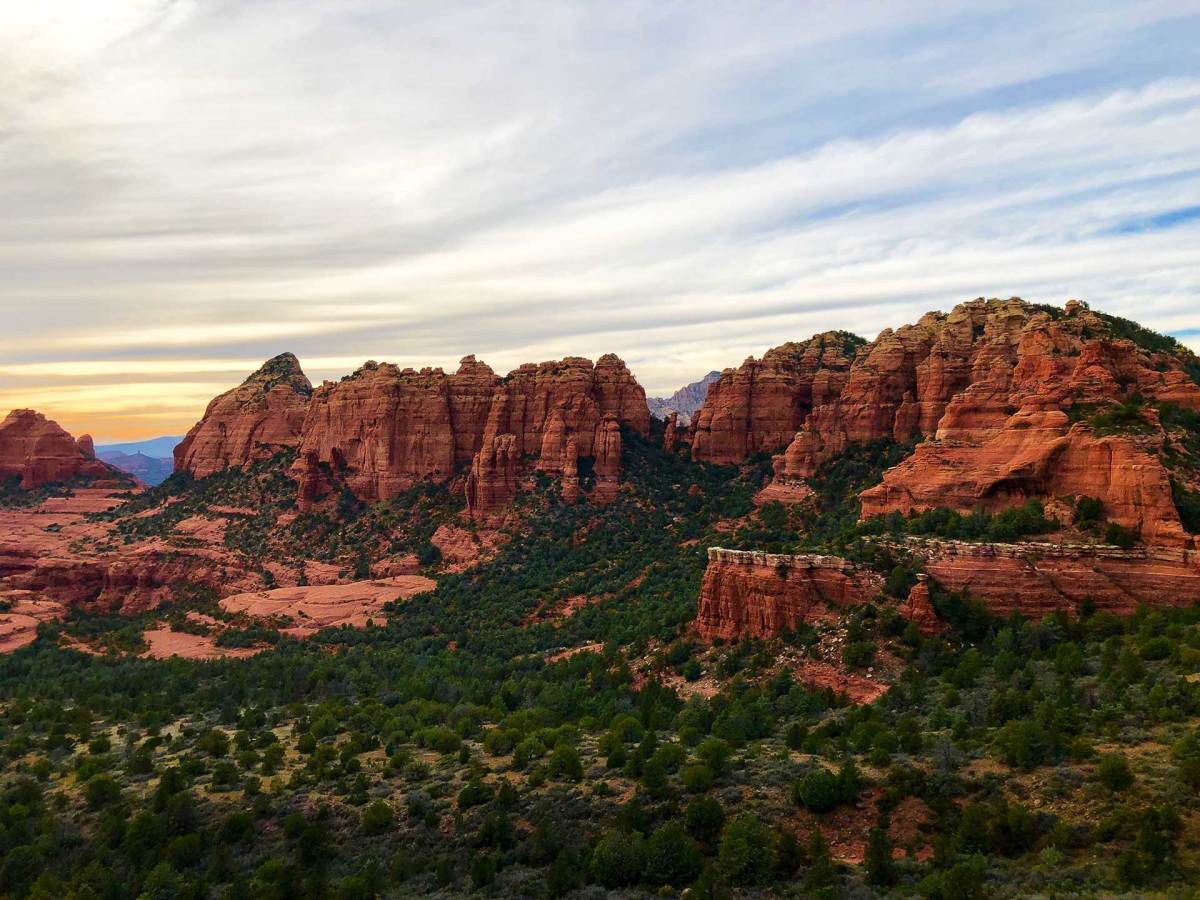 4:30 p.m. – Get ready for an off-road adventure with Pink Jeep. This company (which has been doing backcountry tours in the area since the 1950s) knows a thing or two about the history of Sedona's red rocks. Our tour took us up Schnebly Hill Road, onto a rugged dirt trail (this was actually the only road between Sedona and Flagstaff in the early 1900s) and then straight up some sheer cliffs. The tour ends at circular Merry-Go-Round Rock with truly amazing views of red rock formations as far as the eye can see. The sunset from this vantage point is priceless (although the tour will set you back, so check online ahead of your visit to see what deals are being offered).
6 p.m. – Your time in Sedona is coming to a close, but don't leave without soaking in one last magical meal. SaltRock, positioned inside the modern and welcoming boutique hotel Amara Sedona, offers up a thoughtful menu with attention to southwest cuisine, and a seasonal California-esque approach. Try the tacos, fresh fish and seafood, and a craft Margarita – their signature item. The whimsical-meets-minimalism decor adds to the overall culinary experience and speaks volumes to the staff's attention to detail. This is the perfect place to end your Sedona trip. Cheers to a weekend well spent.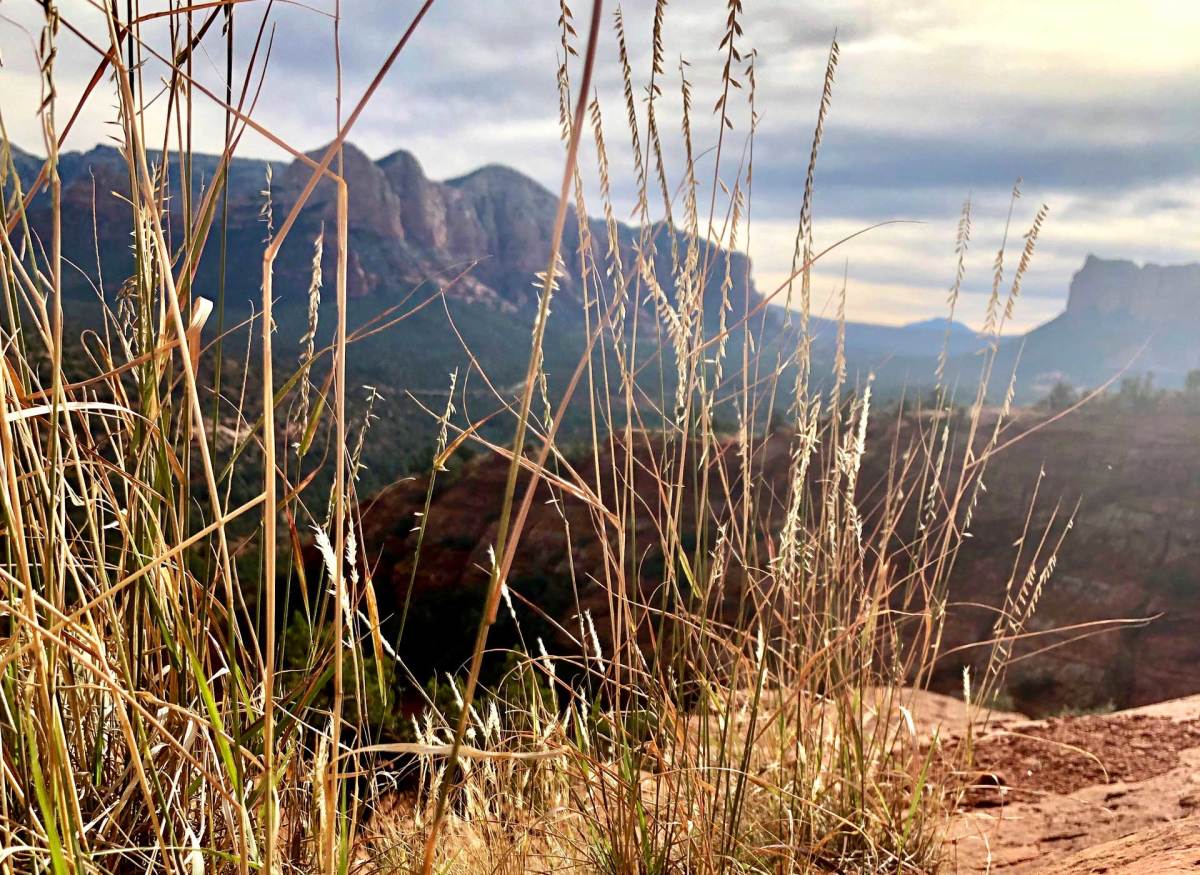 All photos by James Rodney.
For access to exclusive gear videos, celebrity interviews, and more, subscribe on YouTube!