The best way to see the Acropolis, I learned late one evening in Athens, is from the rooftop bar Bios. Located in Kerameikos, a semi-industrial neighborhood not far from the city's famed ruins, it's not an easy place to classify — a screening room some nights, an art gallery others — and it's an even harder spot to find. You enter an unmarked door to a seemingly abandoned apartment building and proceed to climb three floors up a cracked marble staircase. Then, just as you're beginning to wonder about what the typical jail sentences are for trespassing in Greece, you hear sounds of life: bursts of laughter, experimental electronica, the clinking of glasses. A few steps later and you're on a terrace with tables of reclaimed wood, stools fashioned from old beer kegs, among artfully disheveled Athenians who migrate here during the balmy nights of spring and summer, chain-smoking, sipping Aperol spritzes, and taking in a panoramic view of the Acropolis — a glimpse of the city's epic past refracted through its suddenly resilient present.
"Pretty cool, right?" said Christina Kotsilelou, a designer of avant-garde furniture and art objects who, in a display of the hospitality you find all over Athens, offered to show me around. Though she was referring to the view, she might as well have been describing Athens itself, which today exudes the energy of a city eager to reclaim its groove and reinvent itself in the process. Seen for years as a B-list European capital you visited for a mandatory dose of antiquity before hopping around the country's idyllic islands, in the wake of the 2010 economic crisis and crippling austerity measures that followed, the global perception of Athens became especially bleak: riots, torched cars, a shattered city on the verge of anarchy that was best avoided altogether. While the graffiti protesting the government's freezing of salaries and raising of taxes has barely dried, the gloom of the recession has begun to lift, giving way to an optimistic, bohemian spirit that brings to mind Berlin 15 years ago. "I think what happened over the past year is our attitude has changed," Kotsilelou explained. "You can be depressed for only so long, you know? I think we're more hopeful now and have decided to start enjoying ourselves again."
It's true. There is no shortage of good times to be had in Athens these days, whether it's exploring the city's magnificent and underrated coastline or indulging in an ever-expanding (but still underground) nightlife. From Bios, for instance, we headed to Petralona, a once-sleepy residential neighborhood now home to an elegantly laid-back dining scene, where we settled in at the newly opened Holy Goat, a "punk bistro" that serves small plates like risotto made with crawfish broth, and salmon tartare drizzled with cuttlefish ink. Such spots, a rarity before the crash, are cropping up around town, offering discerning foodies a multitude of choices outside the traditional tavernas that for generations were the dominant option. On another night, I wandered into the French-inspired Osterman, in the city center, with a slick zinc bar framed by a dramatic two-story-high ceiling of pressed tin, and where a mere 40 euros gets you a three-course lunch for two, wine included. Vegetarians no longer have to confine their meals to Greek salads and spanakopita and now find refuge in places like Avocado, in the Plaka district, or IT, an airy, minimalist joint behind the regal embassies in Kolonaki, proudly built from sustainable materials, and where a store on the premises sells locally made crafts.
"The crash shook things up — in a lot of bad ways, of course, but also in good ones," John Consolas told me one afternoon while sitting in the living room of the Alice Inn, a micro bed-and-breakfast he opened not long ago that stands as testament to his theory. Located in a neoclassical mansion in Plaka, Alice's mellow vibe and eclectic vintage furnishings offer a welcome (and more affordable) counterpoint to the nearby Hotel Grande Bretagne, still the top choice of those looking for old-school European luxury, or the New Hotel, the city's premier boutique offering, which was redone three years ago. "Before, the idea of cool was kind of dated," Consolas continued. "Loud electronic music, expensive bottle service — the whole cheesy Euro thing. But people don't want that so much anymore. They're looking for something a little funky, a little different, and the best part is we're all putting in the effort to create it."
The Greeks are a nocturnal people, with even weekday dinners ending around midnight and spilling over into a frenetic bar scene that has a way of making hours tick past like seconds. As with Bios, many of the best spots are invisible from the street, and discovering them offers the added thrill of being in on a secret. At Cantina Social, hidden down an alley in Psiri lined with still-active mechanics shops, I met a group of artists who invited me to join them the next night at a bar and performance venue named Six DOGS — short for "six degrees of global separation" — which is entered through a neon-lit underground staircase that opens onto a rustic courtyard where hammocks hang from fig trees and the cocktails are mixed with care. As the late night gave way to a groggy morning, I took the advice of my new friends and made my way to detox at the Hammam Baths, a modern take on the Turkish bathhouses that have been part of the city's culture for centuries. For 45 euros, I spent an hour sweating out the toxins in the marble steam room before getting a deep-tissue rubdown that left me invigorated and ready to return to reality.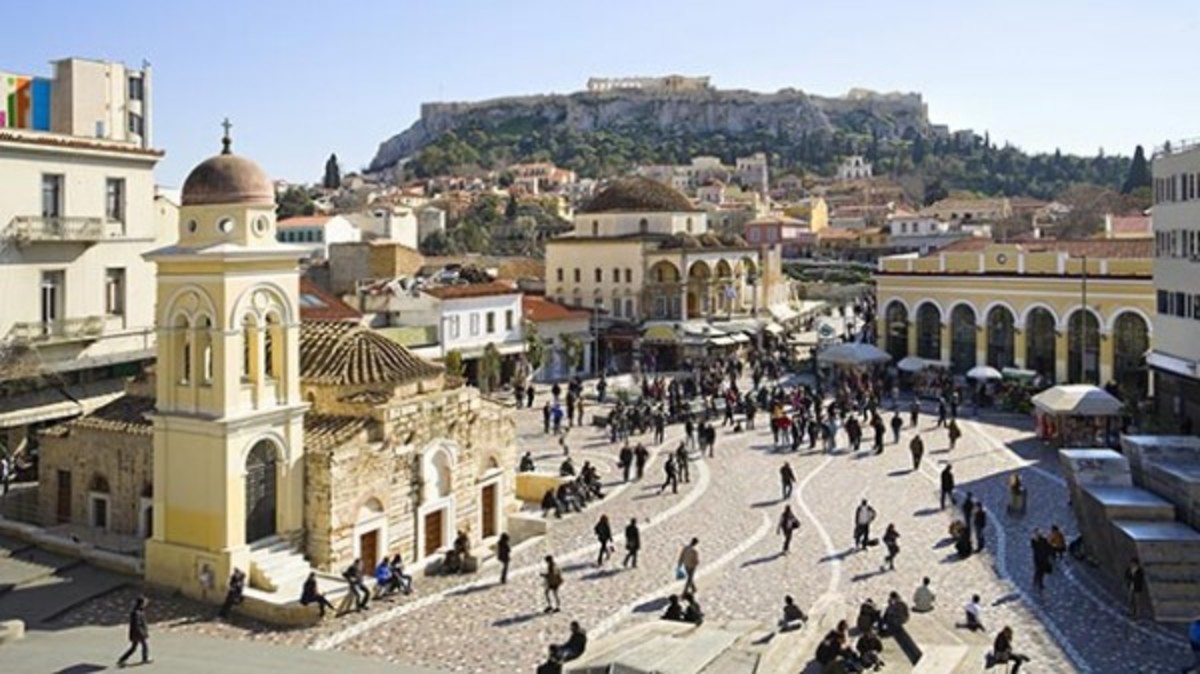 (Athens' Monastiraki Square. Photograph by Getty Images)
Well, sort of. With a population of 3.7 million, metropolitan Athens is both dense and sprawling — it's easy to forget that you are on the Mediterranean and able to get a taste of the island life without hopping a four-hour ferry. Pebbled beaches, rugged cliffs, flat cerulean waters perfect for paddleboarding — the "Athenian Riviera," a phrase locals are hoping will stick, is so preposterously beautiful that it's inexplicable that more people don't know about it. You can head out via public transportation for a day trip, settling in at Astir Beach, where 25 euros gets you a lounge chair with waiter service, or hanging in the aquamarine thermal waters of Lake Vouliagmeni, long believed to have healing powers. Most ideal, though, is to spend a few days unwinding on the coast. The Arion Resort, with its private helipad and Bentley taxi service, has for years been the choice for posh visitors and dignitaries, but the optimal place to experience Athens' current transformation is Island. Well known as a restaurant and nightclub catering to the jet set, Island recently opened C-Lounge, a casually hip breakfast and lunch spot perched on a cliff above a rocky beach. A hidden door by the entrance leads to a private villa with its own infinity pool; even less known about the property is that it started as a campground, and is still home to a bohemian community.
ALSO: Premiere Mountain Biking in the Heart of Europe

"What's crazy is that no one knows this exists, this place where the city vanishes and everything slows down," said George Forlas, Island's manager, explaining that they're planning to construct a few tents for short-term stays. "We don't want to change it too much since it's so special, but it's important to remind people that there's a lot more to this city than they realize."
The New Athens: A Primer
Where to Stay
The New Hotel
Centrally located in a modernist building from the Fifties, this has become the choicest boutique in town since being remodeled three years ago.
The Alice Inn
Funky, communal, and affordable, like staying in the home of an effortlessly hip friend.
Where to Eat
Osterman 
Grab an outdoor table at this Paris-inspired bistro and watch the barhopping crowds meander through the city's center.
The Holy Goat
The inventive small plates at this so-called punk bistro flip classic Greek cuisine on its head.
Where to Drink
Blue Bird
On Fridays, this intimate spot fills up with Athenians looking to sip craft cocktails and dance in the street.
Cantina Social
An unassuming courtyard in the midst of industrial workshops, at night it turns into one of the city's most unique bars: festive, friendly, and cool without being the least bit precious.
Yperokeanio
This semi-secret bar and taverna translates as "ocean liner," and with reason: Cocktails are served on a rooftop that has been transformed into a modernist space that gives patrons the sense of being docked in a cloud above the city. Cheap, honest Greek fare served with newfangled cocktails make this a killer spot.
Don't Leave Without . . .
Catching an Outdoor Movie 
Athens is dotted with open-air cinemas showing everything from American classics to European art-house flicks. Cine Thisio, with its ivy-covered walls and Acropolis view, is a cinema experience like no other.
Checking out the Vinyl Microstore
In Exarcheia, which has racks and racks of vinyl and is operated by a friendly team that hosts some of the best parties in town. Ask about upcoming events.
For access to exclusive gear videos, celebrity interviews, and more, subscribe on YouTube!