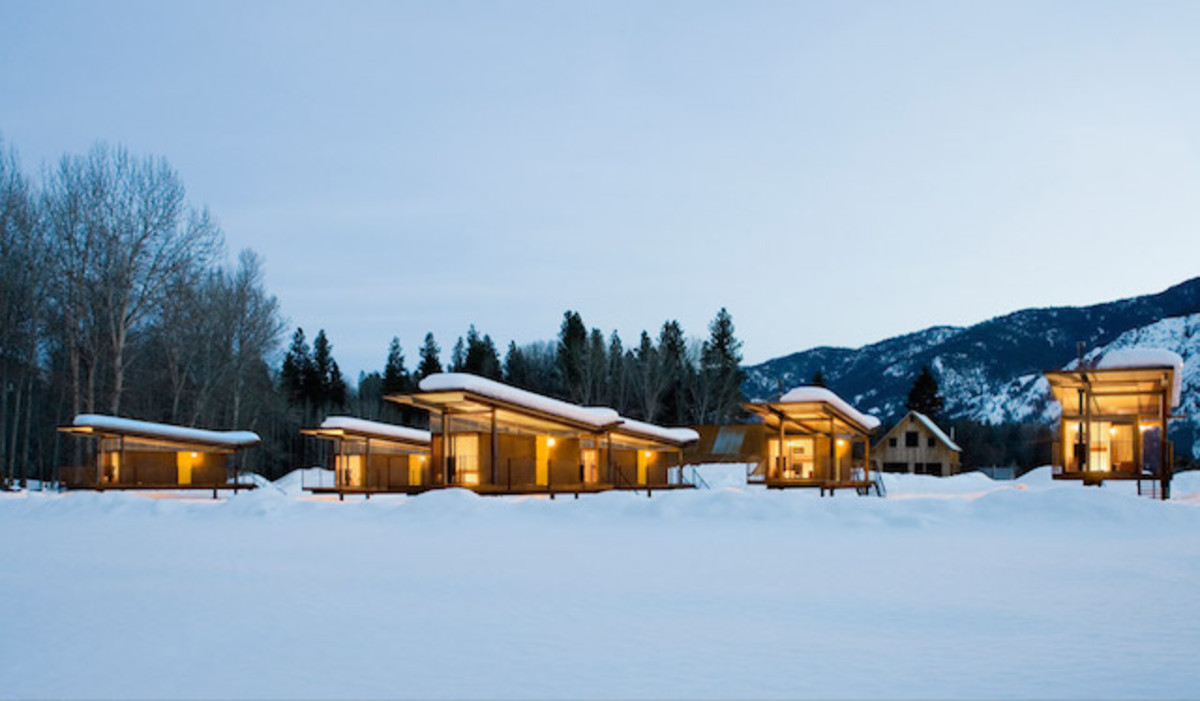 Maybe it's the season, but it seems like the perfect time to hunker down, find a remote cabin somewhere, and watch the snow pile up. Here are some of our favorites, from Finnish igloos to re-purposed huts in the North Cascades.
Rolling Huts (pictured above)
The cluster of six rolling huts, in Washington's Methow Valley, is like a neighborhood of perfectly designed tiny houses. Each one has a fireplace and faces the mountains.
<iframe src="//player.vimeo.com/video/79225355″ width="500″ height="281″ frameborder="0″ webkitallowfullscreen mozallowfullscreen allowfullscreen></iframe>
Morino Lodge
When Craig Oldring first went to Japan, 14 years ago, he was expecting to fall in love with the culture, but he didn't realize he'd be blown away by the snowboarding, too. "I was surprised when I got to Hakuba and saw snowfall like I'd never seen back in Canada—and we're talking BC West Coast—and the kind of terrain I'd expected to see in Alaska, not Japan. The place was epic and empty," he says. He stayed, and, because he couldn't just ride all the time, opened the laid back Morino Lodge. The lodge is a short walk from the Happo gondola and close to the famous Monkey Onsen, where snow monkeys hang out near the hot springs.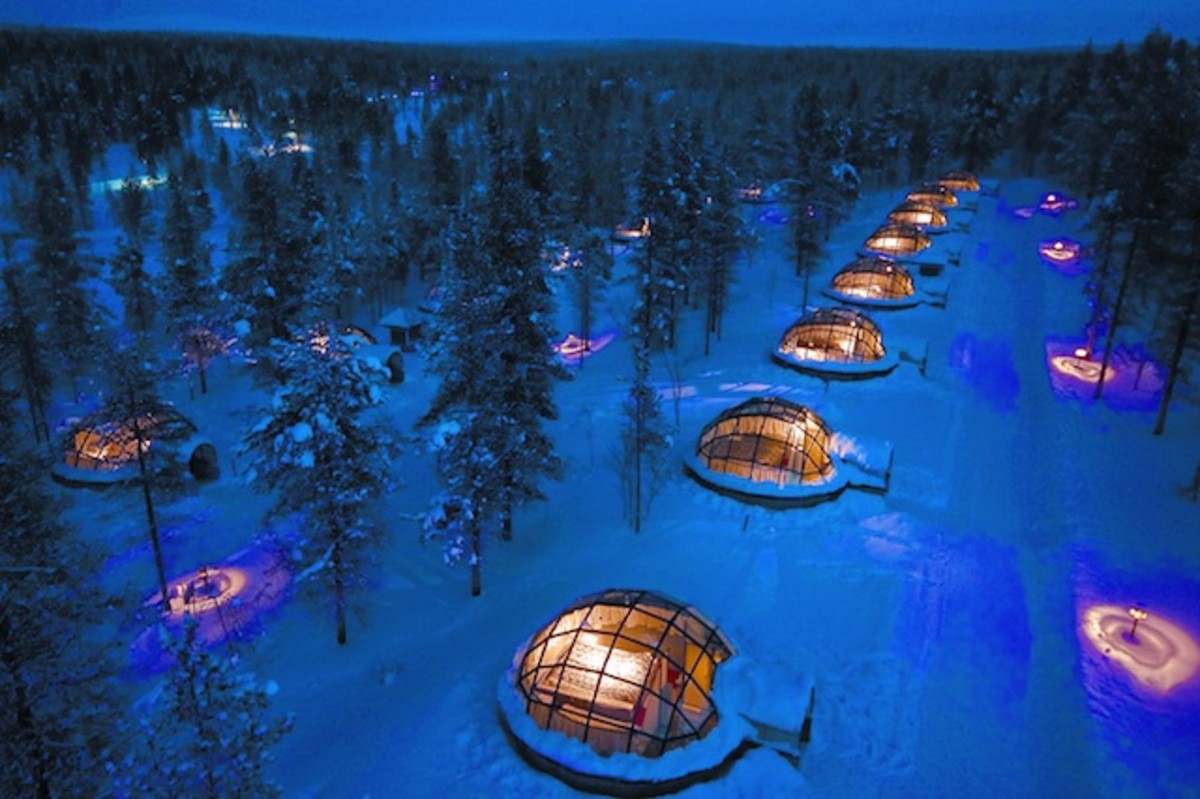 Glass Igloos
The glass igloos at Finland's Kakslauttanen Resort are breathtaking for a lot of reasons, but the most notable one might be the view of the Northern Lights. Lie on your back and watch them go off all night.
<iframe width="640″ height="360″ src="//www.youtube.com/embed/UrgFttILoWw?rel=0″ frameborder="0″ allowfullscreen></iframe>
Refugio Frey
It's summer in the southern hemisphere when it's winter up here, but in July the snow around Argentina's remote Refugio Frey will stack up, and skiers and riders will come from all around to get into the Patagonian backcountry. The hutkeepers will never turn anyone away, and lots of nights dinner turns into a rowdy sing-along.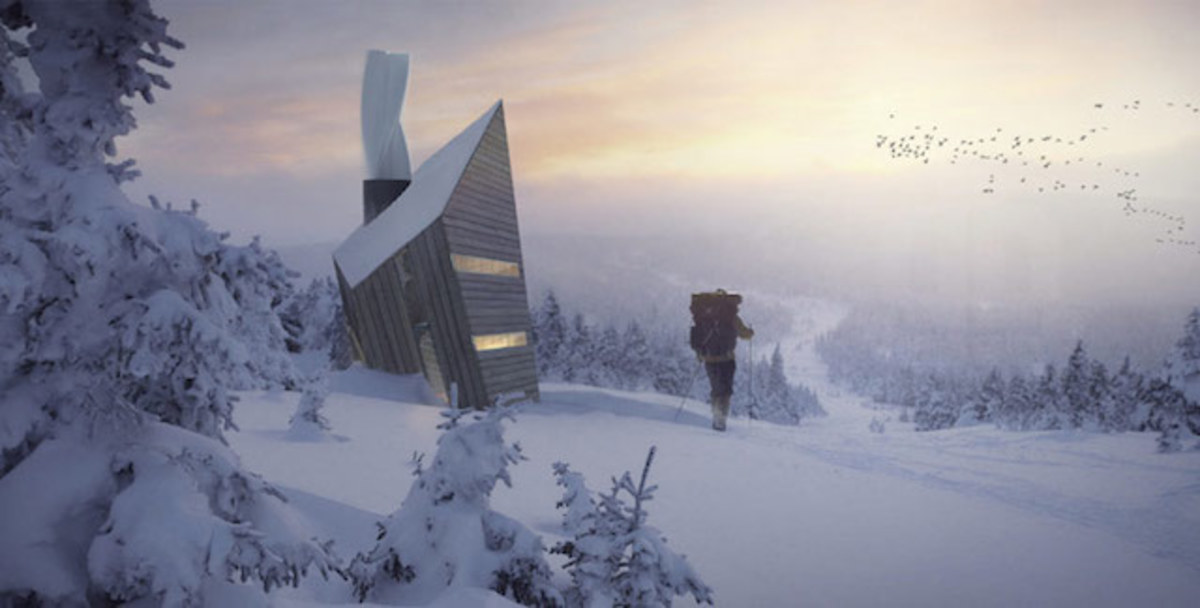 Huba Mountain Shelter
You could have your own tiny Huba Mountain Shelter placed wherever you want it. Dreamed up by a pair of industrial designers, the hut is built to provide shelter above 1,000 meters. It sleeps four, is lit by LEDs, and can be airlifted in to anywhere.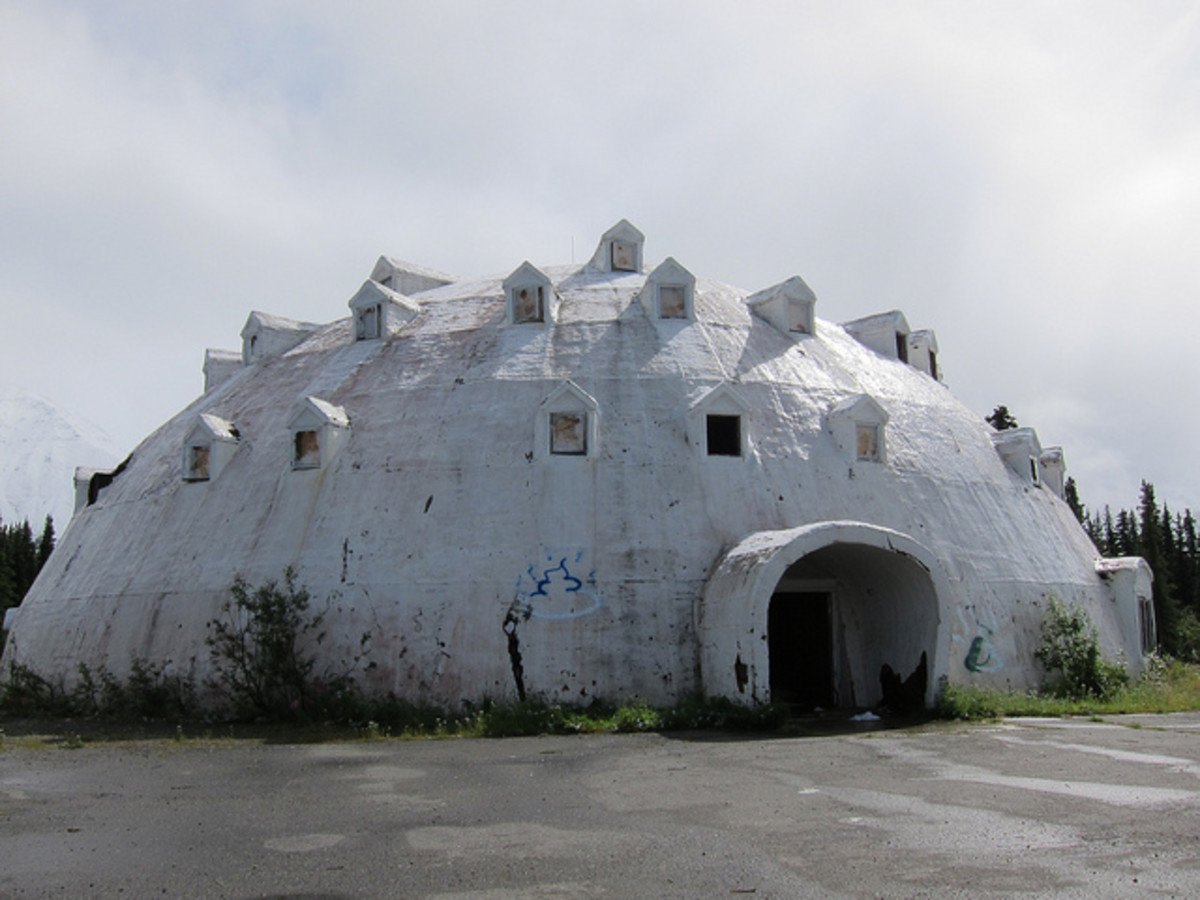 Alaskan Ice Lodge
It might not be the kind of place you want to shack up, but the abandoned dome of Igloo City, on the George Parks Highway, 180 miles out of Anchorage, Alaska, is an interesting (and slightly creepy) homage to the Alaskan wilderness of the '70s.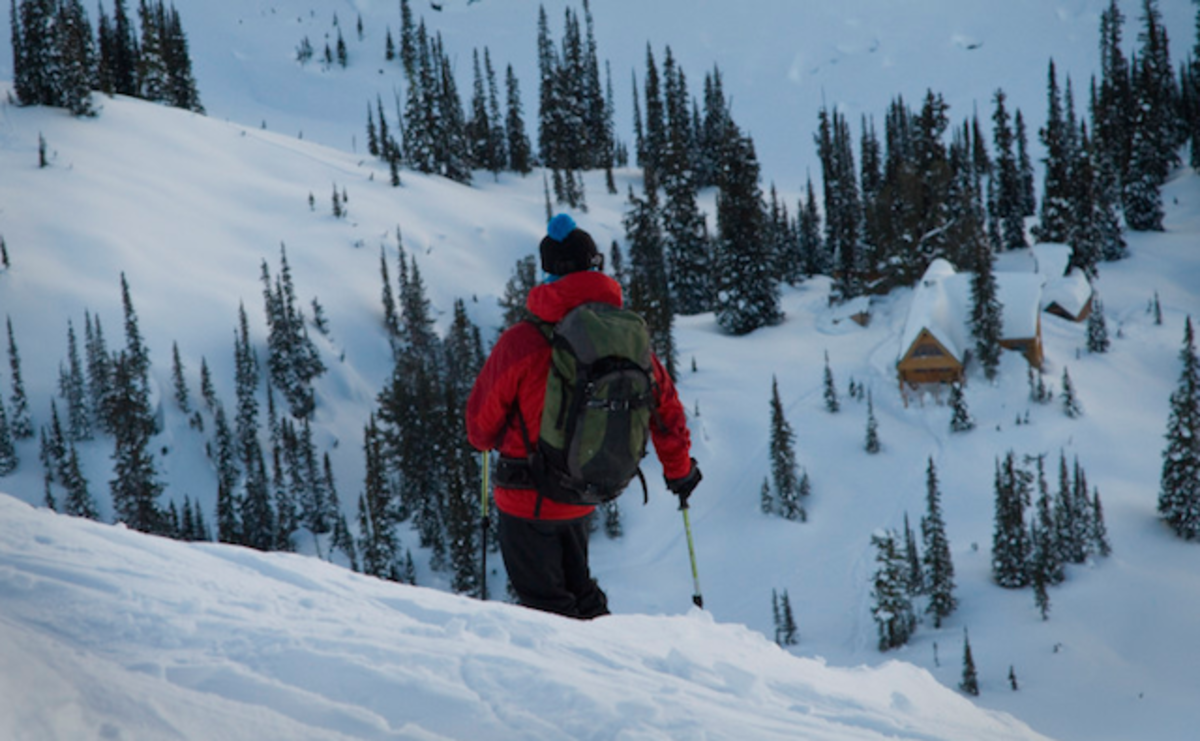 Fairy Meadows Hut
You have to take a helicopter in to the Alpine Club of Canada's Bill Putnum Hut, in Fairy Meadows, British Columbia, but from the hut, the mountains shoot straight up and you can access miles of skiable steeps and chutes. Take your pick of the kind of terrain you want to ski, from pillow lines to mellow pow shots to four big basins of full-on couloirs. You can ski long lines right back to the hut and its wood-fired sauna. Guaranteed ski lines, solitude, and sauna beers.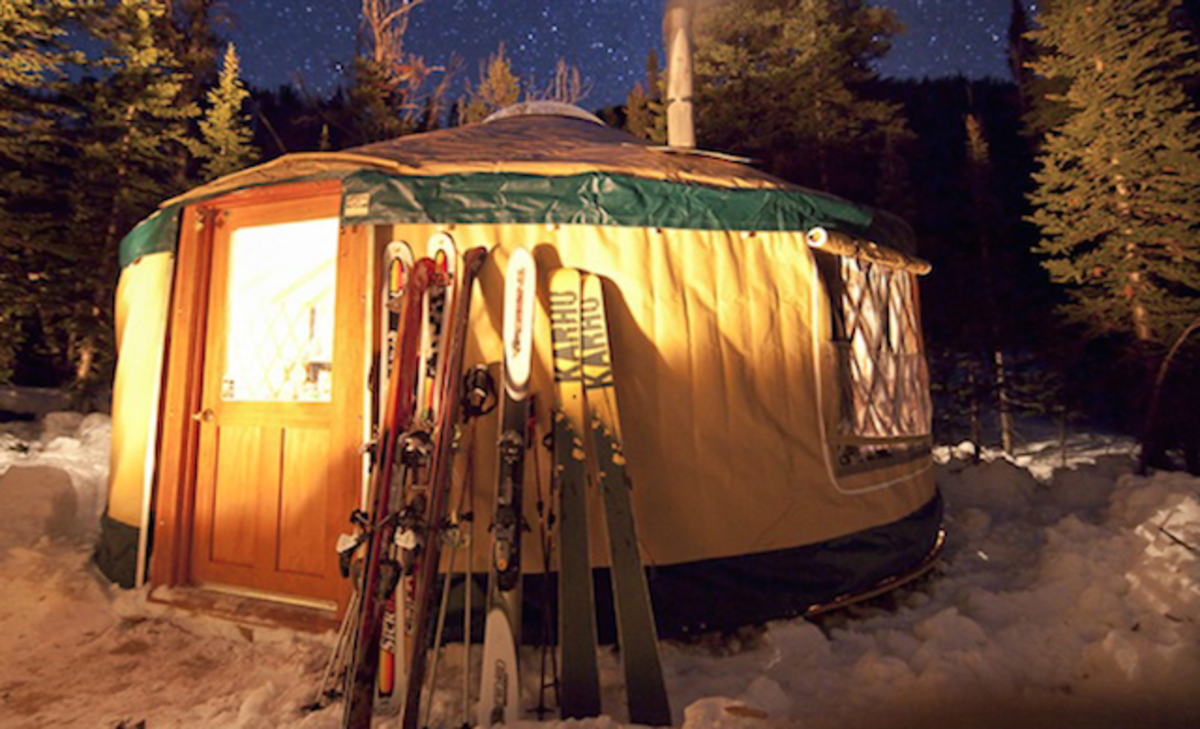 Bell Lake Yurt
It's not a cabin per se, but deep in the Tobacco Root Mountains, outside of Bozeman, Montana, Bell Lake Yurt gets you access to 14,000 acres of terrain that no one else will be skiing or riding. The yurt itself has a full kitchen, wood stove, and stocked bookshelf.
<iframe width="640″ height="360″ src="//www.youtube.com/embed/6ONLyd2gmV8?rel=0″ frameborder="0″ allowfullscreen></iframe>
The Hemloft
Joel Allen secretly built the Hemloft on public land near Whistler, British Columbia. The floating egg-shaped treehouse is just big enough for two people.
More from GrindTV
Snowboarder takes 500-foot avalanche ride
The most important ski area in America is in your backyard
The case for travel medical insurance
For access to exclusive gear videos, celebrity interviews, and more, subscribe on YouTube!