If you are an adventure-seeking hiker who has no problem with acrophobia and you are sure-footed, then challenging five of the world's most dangerous hiking trails might be appealing, even upon learning one trail is referred to as the Hike of Death.
They are steep, scary, spine tingling, and treacherous, but very much captivating.
Mind you, there may be several others that are more dangerous, but these five hiking trails certainly rank right up there in difficulty. Clearly, none can be considered a walk in the park. They are definitely not for the faint of heart. See for yourself:
1. Mt. Huashan Cliffside Plank Path, China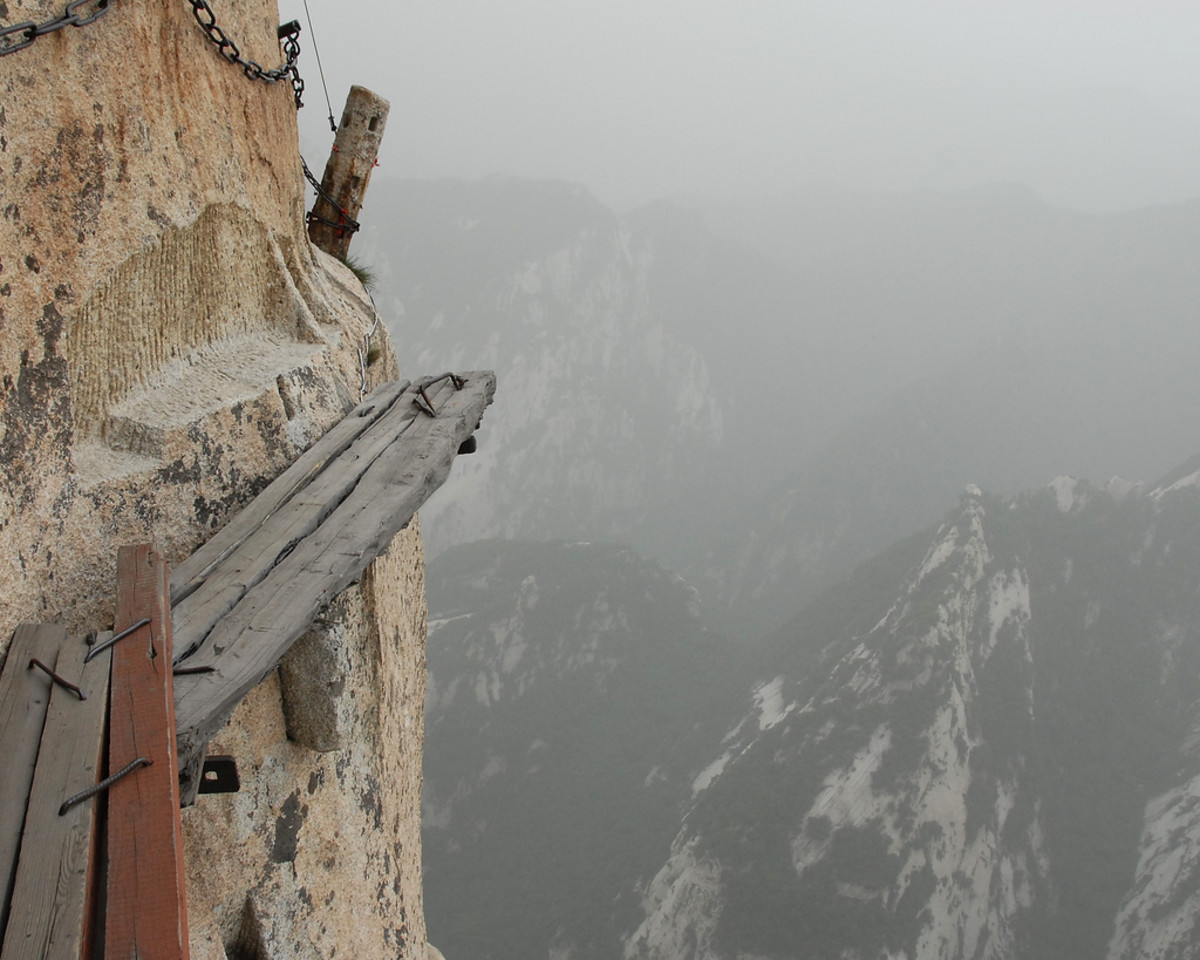 Robin Esrock, an adventure travel writer from British Columbia, received a photograph of a harrowing cliffside trail in an email. Curiosity piqued, he had to experience it for himself.
"I'm here specifically to see if that picture is true and I can assure you that picture is true," Esrock says on his YouTube video of the cliffside plank path on Mt. Huashan in China.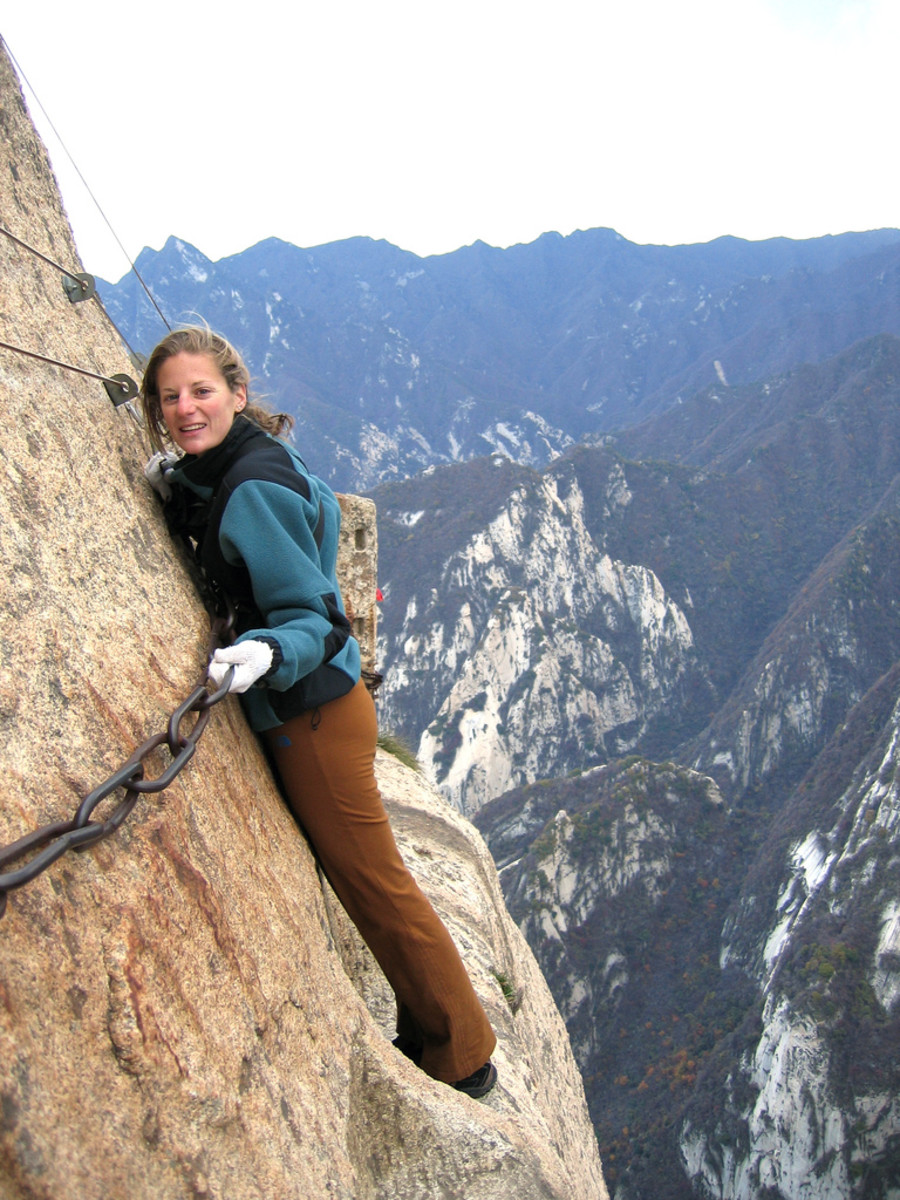 Often labeled as the most dangerous hike in the world, the breath-taking cliffside plank path has wooden boards bolted into the side of a sheer cliff. Located near the top of the South Peak of Mt. Huashan, the path is said to be a couple hundred feet long and 2,000 feet down. Just getting to the plank path is challenging with many vertical climbing steps.
The 7,070-foot South Peak has religious history dating back centuries and features a temple at the top. It is a two-hour bus ride from Xian, China, and is near the city of Huayin.
A concessionaire at the entrance to the cliffside plank path offers safety harnesses to clip into a guide wire, but one brave soul traversed the daunting path without one, despite the obvious danger.
Figo Fromagio, that one brave soul, detailed the hike up in Part 1 and Part 2, and posted video of his scary crossing sans safety harness:
2. El Caminito del Rey, Spain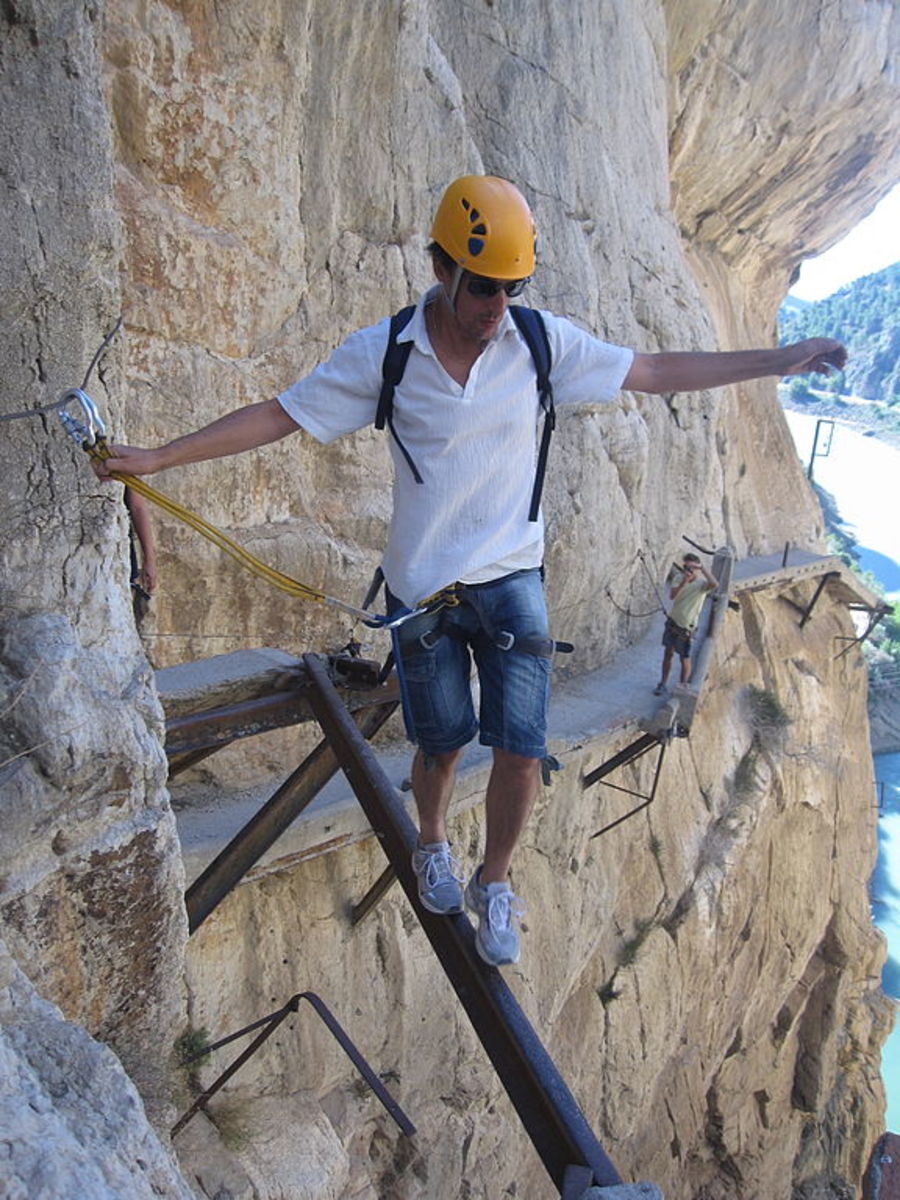 El Caminito del Rey means King's little pathway. It's also referred to as Camino del Rey, or King's pathway, and, like Mt. Huashan cliffside plank path, has been called the world's most dangerous hike.
Construction of this trail began in 1901 and was finished in 1905. It was built because workers at the hydroelectric power plants of Chorro Falls and Gaitanejo Falls needed a walkway to cross between the falls and provide transport of materials.
The trail is 3 feet, 3 inches wide and rises more than 350 feet above the river, though it sure looks higher.
Its name was established in 1921 when King Alfonso XIII crossed the walkway to inaugurate the dam Conde del Guadalhorce. It's doubtful he'd use the trail today.
Like things that are more than 100 years old and not maintained, the route has fallen into disrepair and is reportedly off limits, but the government began a restoration project this year.
German trekker Daniel Ahnen, who traversed the trail without clipping into a safety guidewire, shot this dramatic video:
3. Taghia, Morocco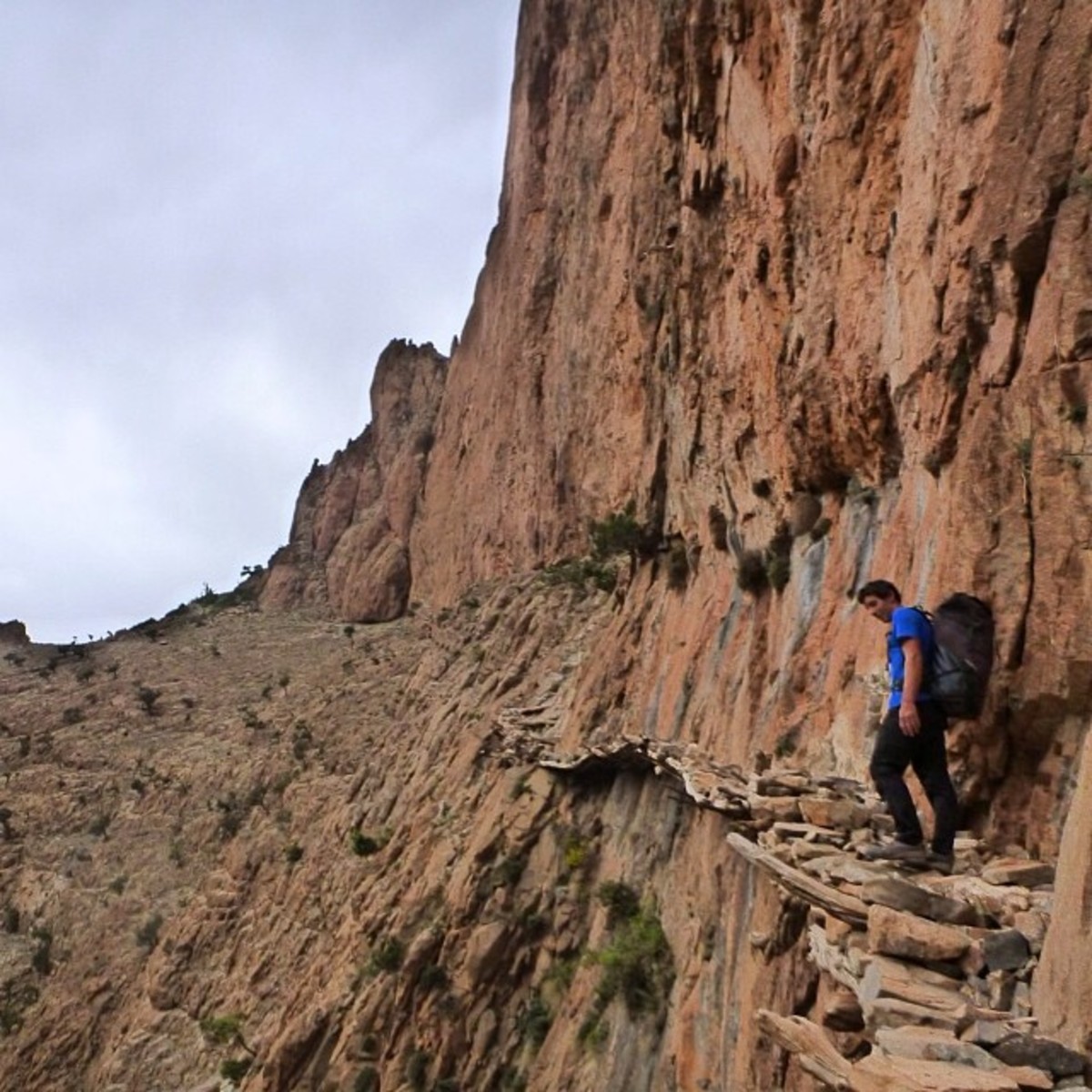 In May, famed solo climber Alex Honnold posted a photo of himself on Facebook on a tenuous trail in Morocco and wrote, "Still my favorite trail in Taghia!! Can't beat Berber stonework." Uh, sure.
A Newsweek story in 2013 described Tahia, Morocco, as the Yosemite of North Africa, only without the people. Whereas Yosemite gets 4 million visitors annually, Taghia, a remote village in the High Atlas mountains, sees 500 visitors annually, if that.
"For trekkers, the mountains and canyons are unforgiving and steep," Newsweek's Alex Lowther wrote. "Water is scarce up high. Trails are often exposed to great heights, where a wrong step could mean a big, bouncing, rag-doll fall. This far into the mountains, accidents, even minor ones, can be serious. For climbers there is very little that is easy; you should be experienced leading long routes rated 5.10 and above to enjoy yourself."
Kristoffer Erickson of Atlas Cultural Adventures lives in nearby Zawiya Ahansal and often guides groups on the Taghia hiking trail, "given how spectacular it is."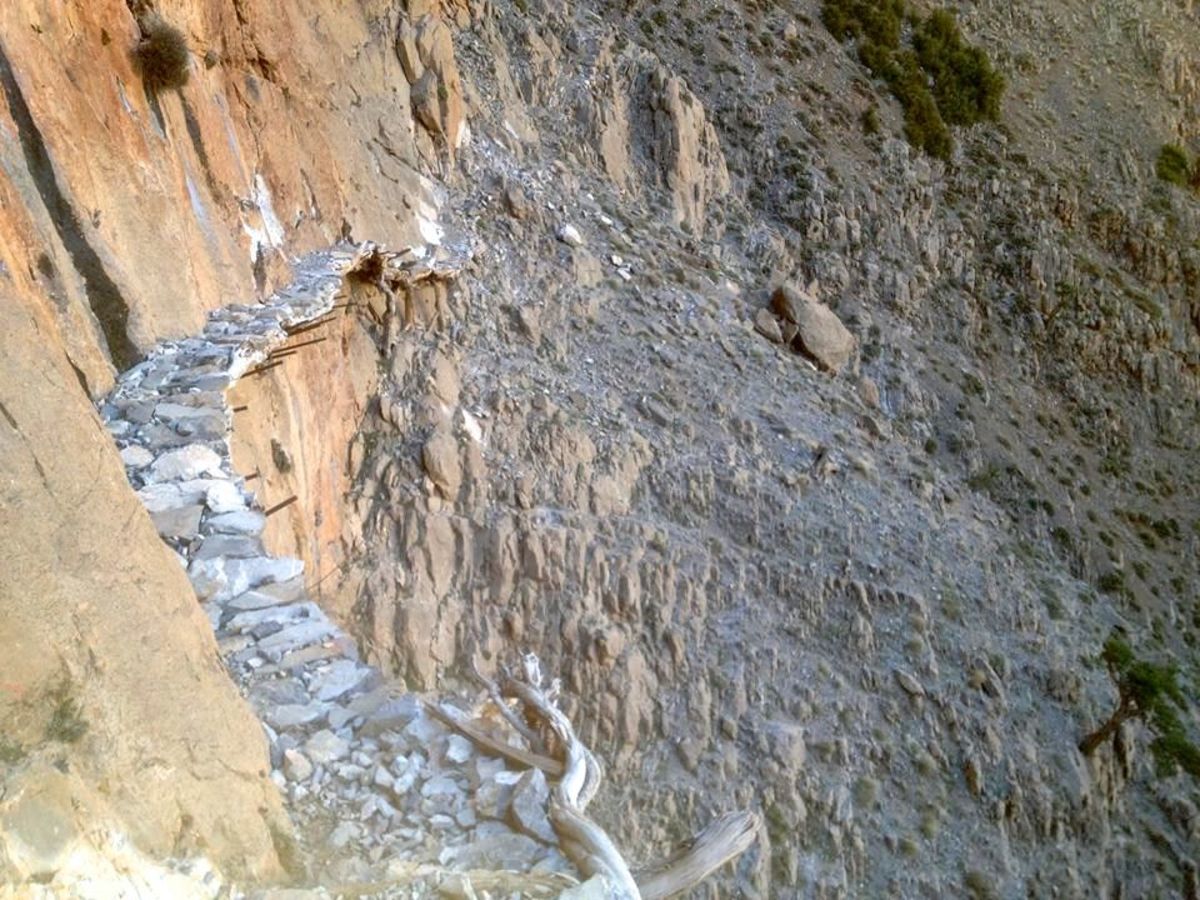 "This trail has been an evolving trail for the last ten years," Erickson told GrindTV Outdoor in an email. "Originally there was some oak and juniper logs jammed into cracks and various stones stacks to ascend sections. The French Alpine Club added some cables in the spring of 2006. Myself and some other North Face athletes added sections of chains to the trail in the fall of 2006 and during that time a local man by the name of Said started the direct crossing, which you can see in Alex's image. A tour du force given the work involved to do this mostly by hand.
"The trail is part of a large circumnavigation of the mountain Oujdad. There are a few high pastoral regions that were the original reason for the trail being created. The canyon below is cut off by waterfalls in several places and the walls towering above are at times rising 800m [2,600 feet]. This small trail slices through a very unique section of the canyon to create a passage. Unfortunately prior to the trail having the safety work done several shepherds died due to slips on the steep and unforgiving ground."
4. Maroon Bells, Colorado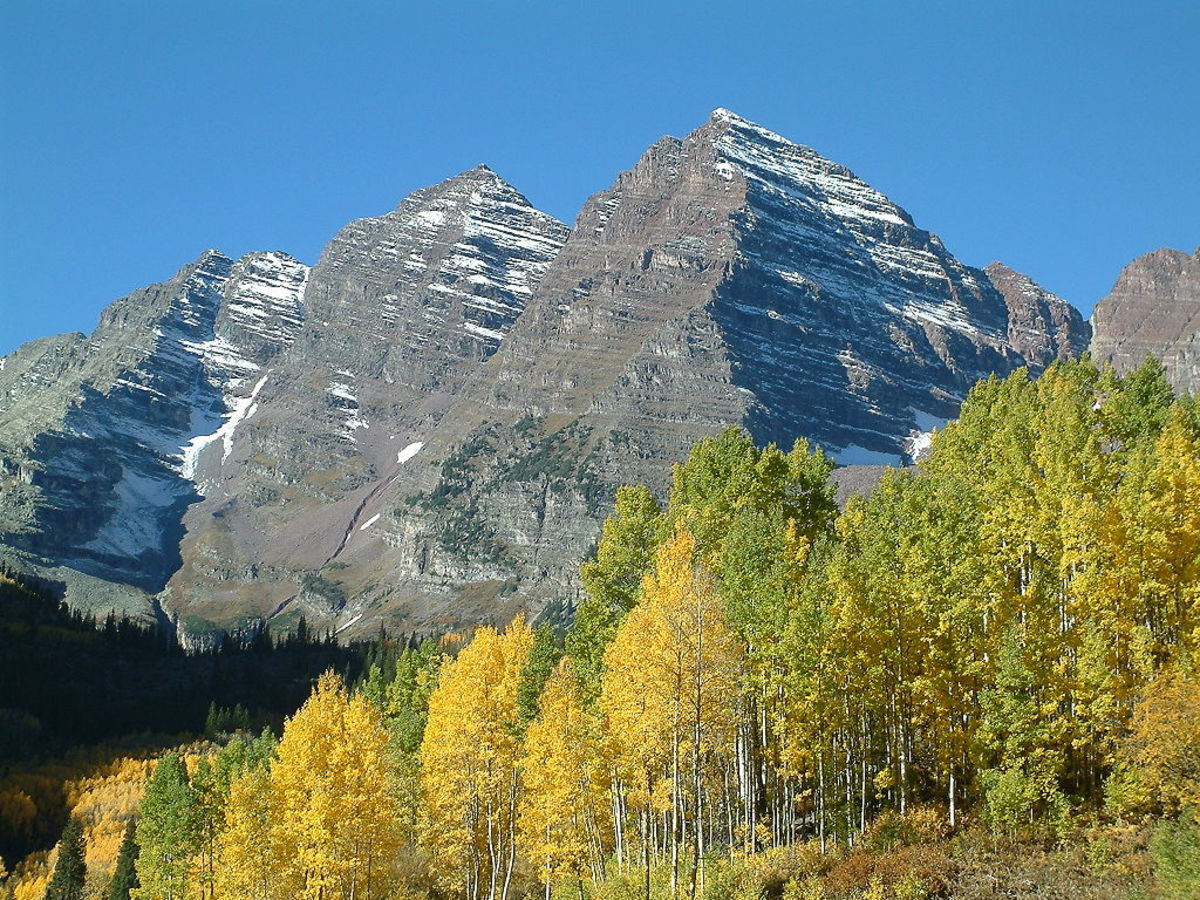 The Maroon Bells, made up of Maroon Peak (14,156 feet) and North Maroon Peak (14,014 feet) and located close to Aspen, are said to feature the most photographed spot in Colorado.
They are also referred to as "The Deadly Bells" in a U.S. Forest Service sign on the access trail, describing the "downsloping, loose, rotten and unstable" rock that "kills without warning."
HikingInTheRockies.com detailed a traverse to North Maroon, saying it was an 11-hour hike that was "long, dangerous, and very challenging mentally, physically, and technically."
It also said that once on the ridge, "the trail gets down to business. At this point we put the poles away and the helmets on."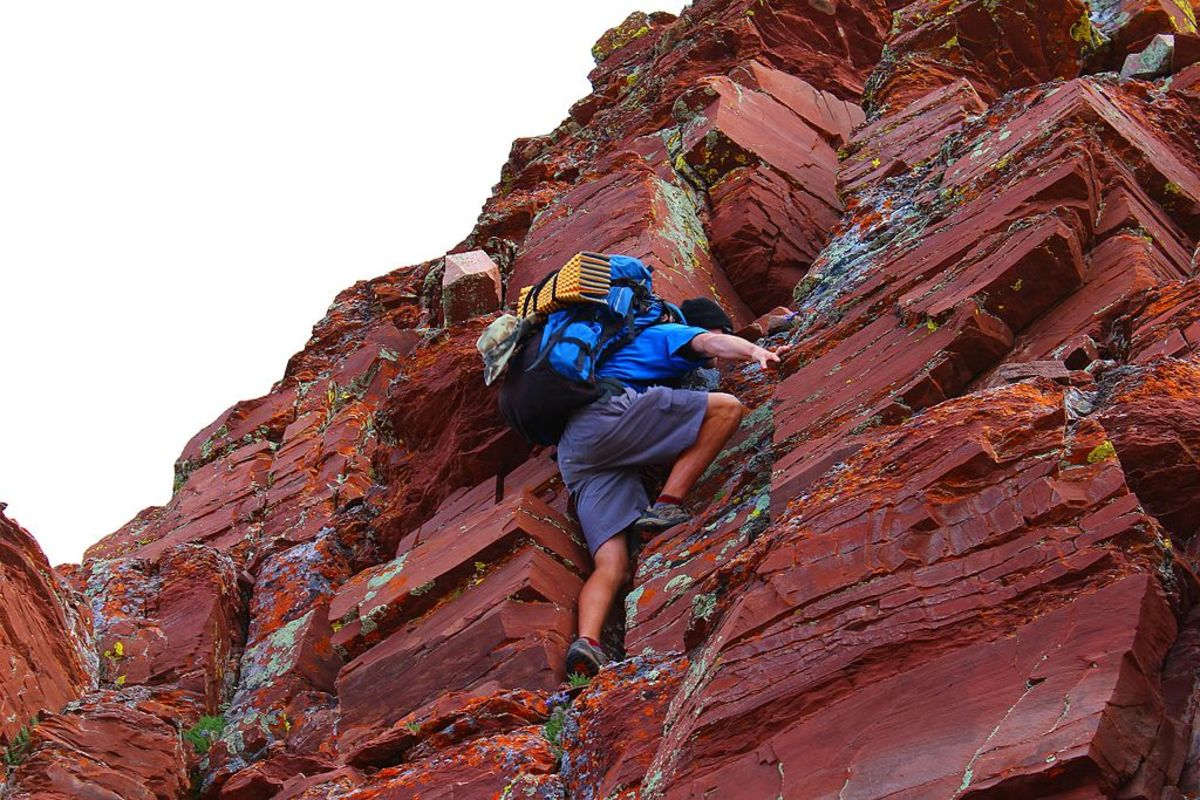 5. Huayna Picchu, Peru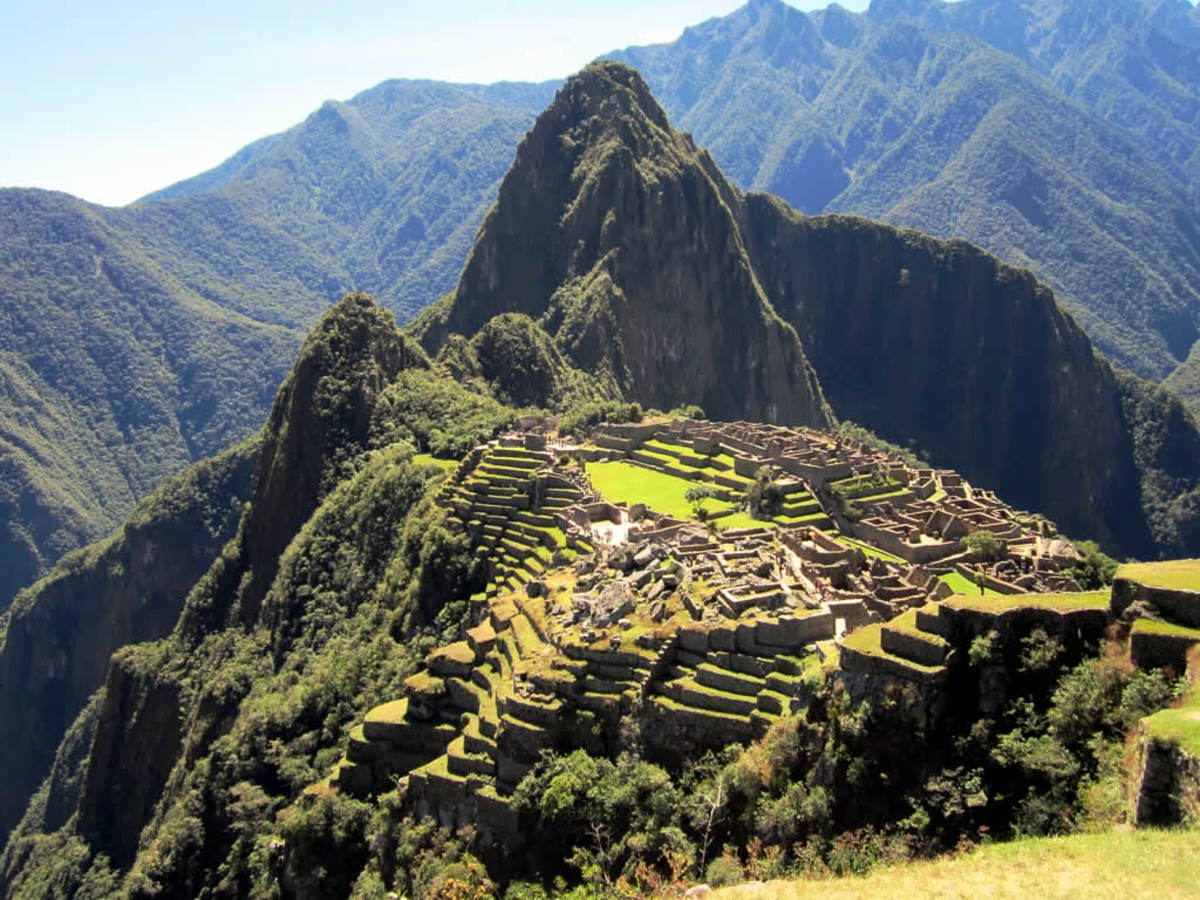 Huayna Picchu, also referred to as Wayna Picchu, is a tall peak that towers 1,180 feet over the ancient lost city of the Incas called Machu Picchu, which sits on a mountain ridge above the Sacred Valley in Peru. An ancient staircase climbs a reported 1,000 feet in less than a mile. It is steep and said to be treacherous in places—it's why some refer to it as the Hike of Death—but the payoff of making the one-hour climb is a spectacular view of Machu Picchu.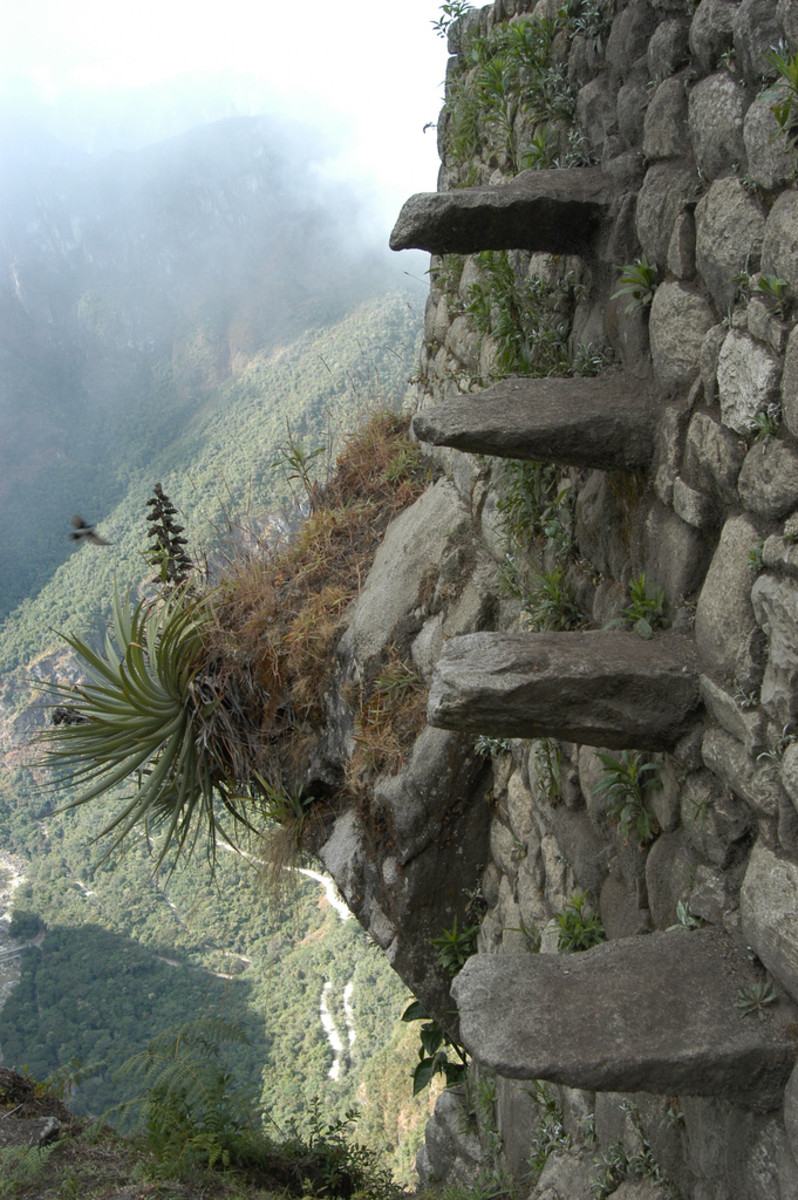 A YouTube video called Stairs of Death gives an idea of just how treacherous those stone steps are in the above photo.
The 26-mile Inca Trail, the most famous trek in South America and considered among the top five treks in the world, leads to Machu Picchu. Guided treks varying from 2 to 5 days are available, but advance reservations are required. The Peruvian governments allows only 2,500 visitors to Machu Picchu per day and only 400 each day on Huayna Picchu in an effort to prevent further erosion.
Chris Wheeler of 48 Hour Travel posted a video of Machu Picchu and part of the trail up Huayna Picchu, providing an excellent summary of Machu Picchu and Huayna Picchu:
Follow David Strege on Facebook 
More from GrindTV
6 rivers to visit before you die
5 stateside waterfalls to visit before you die
4 cool train rides to take this fall
For access to exclusive gear videos, celebrity interviews, and more, subscribe on YouTube!