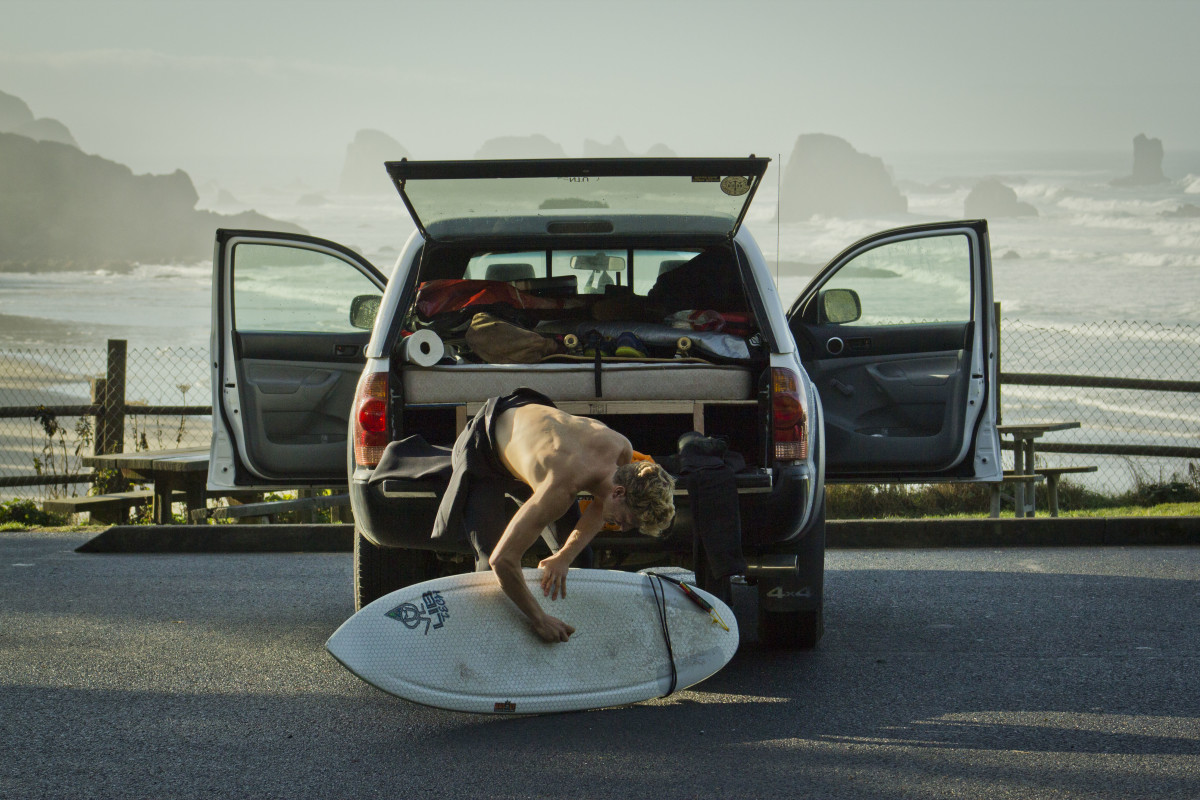 Call us the #wanderlust generation, but it seems like anyone and everyone is yearning for a life on the road these days. One of the latest trends of the Wandering Age has been living out of a tricked-out van or RV as you travel the world.
#Vanlife has especially caught on in North America, where large stretches of open highway hold a treasure trove of marked and unmarked adventures, now suddenly just beyond the steering wheel.
But that "van dream" can be pretty dang expensive, with many mobile van homes coming in around $50,000 before any of the custom additions.
The truth of the matter is that traveling and living out of your rig is no new phenomenon, and certainly doesn't require a specialty van or RV. Living out of your car might not be as glamorous as that Instagram account you've been following with the guy, gal and dog living out of their Vanagon and traveling California's Highway 1. But remember, the vehicle is simply the vessel for adventure, not the adventure itself.
To help facilitate the process, we threw together a quick and easy guide to sleeping in your every day car, just so (van or not) when the open road beckons, you're ready to heed the call.
Get your bed off the ground
Nights get a little cold out there on the road, especially if your travels take you through the mountains or out into the desert. A warm sleeping bag helps, but the real trick is to put a layer between you and your car bed.
In an ideal world, a custom-built platform would do the trick, but for those of us on the go and on a budget, an air mattress, camping pad, or even yoga mat will be the difference between a cold night's shiverfest and a good night's sleep.
Crack a window
No, cracking a window isn't just for your inevitable bubble belly after eating that last chili dog, it actually serves a practical purpose.
By getting some airflow, you'll eliminate the condensation buildup on the inside of your windows, helping the car dry out and making the next day's getaway a piece of cake. It might let in a little cold air, but nothing your sleeping bag and a layer of warm clothes can't handle. Note: This may be one of the most underrated tricks in the game.
Make curtains
For the homemakers out there, making a set of curtains is your chance to really set yourself apart from the rest of the dirtbags. It's also a really important way to ensure the smallest smidge of privacy while on the road.
Prevent nosey neighbors from disturbing your beauty rest by rigging up some small kitchen curtains on a bungee and placing them around your windows before bed. You can also cut out cardboard to the shape of your windows to block out the light and any wayward onlookers. A little privacy can go a long way.
Find a way to dry your gear
Car camping is all grand and dandy until you slip into a creek in your last pair of dry underwear before a six-hour drive between Moab and Salt Lake City.
Keeping things dry on the road is often the difference between an all-time excursion and a regrettable disaster. Have a way to hang your clothes, or prep to let things dry on your dashboard or back window. If you're in transit, jam your clothes in the window and give them a quick dry at 95 (err) … 65 mph.
Know where you can park
This one is key. The idea of the open road is a novel one, but doesn't necessarily apply to parking and sleeping in your car.
To avoid waking up to a fat ticket and a flashlight in your face, study up on overnight parking options along your route. Walmart typically allows overnight RV and traveler parking, as do many truck stops. Note: Truck stops are loud and will have large rigs coming and going all night.
BLM and other public lands are usually fair game for pulling off the road and taking a snooze, as well. And there's even a Public Lands app, that can help you figure out where to park it.
Storage is the key to a happy (car) home
Make your life easy and invest in your storage setup before hitting the road. It's amazing how much space you save with a few well-placed bins, and when space is in short supply, these bins are your best road buddies.
Rubbermaid makes a series of bin sizes that fit just about any car camping situation, and often lock to reduce the smell of your used gear. Just because you're car camping, doesn't mean you need to smell like it.
Bring Toilet Paper
This should go without saying, but where you're going, toilets aren't exactly in close proximity. Even if you do find a porcelain throne on your travels, chances are that puppy is not going to have the paper accoutrement you're used to. Bring your own TP. Or better yet, a box of baby wipes, to finish the job and keep you feeling fresh mile after mile.
Have a car kitchen setup
It doesn't need to be fancy, but be realistic about your cooking abilities on the road — there likely isn't going to be a Keurig around every corner. Simple propane burners and stoves are cheap and great for preparing anything and everything, whether it be the morning coffee or a quick pasta dinner.
Cut down on waste by having a reusable dining setup (most outdoors stores will have these pre-packaged) and use your cooking pot as your dishwasher post chow-down. Most importantly, find a setup that works for you and stick with it. It's a long road out there, and it's a whole lot more fun on a full stomach.
More from GrindTV
How to plan an Australia vacation without breaking the bank
Animated film 'All the Way to the Ocean' teaches kids about pollution
4 creative ways to stay hydrated
For access to exclusive gear videos, celebrity interviews, and more, subscribe on YouTube!