Numerous business trips to Spain in the late 1980s gave Jim Henry an appreciation for the olive trees that dominate the countryside. It grew his affection for superior olive oil.
Buoyed with enthusiasm, he planted trees in the fall of 1992 in Marble Falls, Texas, outside of Austin. A frost stifled any notion of harvest.
"I had no understanding of weather limitations or cold tolerance," said Henry. "I thought the trees were protected in the valley."
MORE: How to Find the Best Olive Oil
The following spring, he received a call from the Texas Department of Agriculture insisting there were olive trees in the backyard of a historic home in Asherton, which borders Carrizo Springs. This was something he needed to see firsthand. Making the 420 mile drive from his home in Dallas to Carrizo Springs, in Dimmit County, near the Rio Grande River, Henry was astonished to see four 30-foot tall trees in the yard of the Asher and Mary Isabelle Richardson House—a historic landmark built in 1911.
"The trees had produced fruit," said Henry. "It was the first evidence olive trees had grown and survived in Texas."
Always a visionary, the wheels started turning in Henry's head and pictures of ripe olives in the Lone Star state came into focus. "The Texas landscape reminded me of regions in Spain," said Henry.
Some of the highest quality olive oil comes from the Mediterranean basin, which runs from North Africa through Spain and Portugal. The skill and technology for harvests has been around for thousands of years. But in the past decade, buoyed by entrepreneurs like Henry, American olive oil production is gaining popularity—enough so that chefs and consumers in the U.S. are shirking the imports in favor of the homegrown.
"The domestic olive oil can compete with any imported oils," said Henry. "It's fresh and allows the consumer to purchase right after bottling."
Getting to a successful point though, came with difficult, according to Henry. After the failure of his first harvest, he searched for a farmer who had an olive oil ranch. He found Vito DeLeonardis and his family in Visalia, California, where he got a clear picture of the overall process.
"They're a very traditional Italian family and salt of the earth people," said Henry. "I felt like I was in Italy. There were no secrets; they showed me everything they did. I bought trees from them. If I ever had a question, they were always helpful.
In 2003, Henry's crew cleared the land in Carrizo Springs and planted 66 acres of high-density trees the next year. The first yield was in 2007 with 5,000 gallons. He called it The Texas Olive Ranch and said it exceeded expectations. But Henry and his crew learned, it takes time to build a brand.
"We were shocked at how good the olive oil tasted; it was very exciting," he said. Still, convincing people American-made oil is worth it required a marketing message.
"We couldn't get rid of it the first year," said Henry. "I had to sell it to a food distributor. Most of the people in Texas knew nothing about olive oil. So, he assembled a contingent of oil connoisseurs, placing them at farmers markets in Austin, San Antonio, Houston, Fort Worth and Dallas.
"We were shocked at how good the olive oil tasted; it was very exciting," he said. Still, convincing people his homegrown oil was better than imported goods proved a challenge. "We couldn't get rid of it the first year. I had to sell it to a food distributor. Most of the people in Texas knew nothing about olive oil.
Assembling a contingent of oil connoisseurs, he placed them at farmers markets in Austin, San Antonio, Houston, Fort Worth and Dallas and began informing the public every Saturday.
MORE: The Extra-Virgin Olive Oil Scam
"The farmers markets give us opportunity to educate people," Henry said. "It's our presentation to the public. There are so many things you can use oil with. You're talking to people for five hours at a time—25 percent had no idea there was olive oil made in Texas. Another 25 percent said 'What is really extra virgin?"
Henry is meticulous in weeding, pruning and caring for the trees. The olives are pressed within 90 minutes from picking, insuring a pristine peppery taste. Instead of bottling everything after the harvest, it's bottle by order. Consumers are noticing the quality.
Jimmy's Food Store has been in east Dallas for 51 years and is known for the best Italian foods in the area. Owned by brothers Mike and Paul DiCarlo, they're very selective for products allowed on the shelf.
"Texas Olive Ranch olive oil is as good as any Italian oil or any other oil from Europe," Mike DiCarlo said. "We've been selling it for ten years. You can taste the quality is pure."
Not content to just bolster his own brand, over the past decade, Henry has helped spark a boon in domestic olive oil production. From 2005-2010, he assisted a number of smaller ranches helping purchase trees and assisting with any issues from planting to harvest. He's brought over a half million trees from California to Texas and southern Georgia.
While small batch production from Europe is often very good, their standards are quite lax and majority of the oil sent to the United States is blended, frequently mislabeled and not their top quality.
"We send our samples to Bakers Wine and Grape testing lab in California twice a year for third party testing," said Josh Henry. "They test for polyphenols, peroxide, acidity and sensory. Our oils are consistently at 0.3 percent."
Roughly a decade ago, the public began digesting a combination of food network shows, details on the Mediterranean diet and learning the multiple health aspects connected with olive oil. This translates into a sophisticated buyer and sales increase.
In 2010, Henry met with the former Mayor Mark Bricker of Victoria, Texas, who saw the business potential of an olive oil ranch in the town. In 2014, Henry and his son, Josh, partnered with a group from Turkey, planting 100 acres in Victoria, which is 40 miles west of the coast. There are now four other farms in Victoria, each with 100 acres.
"The Victoria area is really the sweet spot," Henry said. "Scientists from the Texas Agriculture Life tested soil from across the state the past six years and said this spot is the ideal climate. There's no spike in temperature during the spring because of the gulf."
Hurricane Harvey blew all the leaves off rendering a fruitless first yield. The trees, however, remained intact. Henry expects 17,000 gallons for next year's harvest from Carrizo and Victoria and 50,000 gallons in three years.
According to Josh Henry, who manages the ranch in both locations, their oil varieties are in position for considerable growth. Since December they've been listed on Amazon. By the fall of 2018, they will be in all the Whole Foods, in the Southwest. Seventy percent of their sales are in Texas, 30 percent are national with 30 percent being infused oils.
"Five years ago, Texas olive oils were less than 20 percent of the Texas market, today, we're 50 percent," said Josh Henry.
Growth in Georgia
Innovative and entrepreneurial, the Shaw brothers, Sam and Jason and cousin Kevin, realized in the early 2000s a new crop was needed on their land in Lakeland, Georgia. An affection for exceptional olive oil, which began almost 20 years ago when Jason spent a semester abroad in Italy, led the trio to build burgeoning olive oil industry across southern Georgia and parts of northern Florida.
In 2009, they planted 18 acres of Arbequina, Koroneniki, and Arbosana olive trees in the Lakeland region. In 2011, they packed the yield into a refrigerated truck and drove all night to the mill in Carrizo Springs, Texas. for pressing.
"It was a big challenge," said Jason Shaw, whose family has farmed in the area for four generations. "We had no resident experts. Some was trial and error, but we had lots of support from Jim Henry, people in California, and the Universities of Florida and Georgia. So far, we've overcome the challenges."
Bringing over an Italian mill in 2014 allowed them to press everything immediately following the harvest, which is paramount to achieving natural flavor. Word spread, and farmers in the region would drop by to see the trees and sample the product.
Last year, they produced 15,000 gallons. Their Arbequina Extra Virgin has a rich buttery flavor, which is ideal for salads and dipping. The Chef's Blend has a pinch of pepper and works well with everything.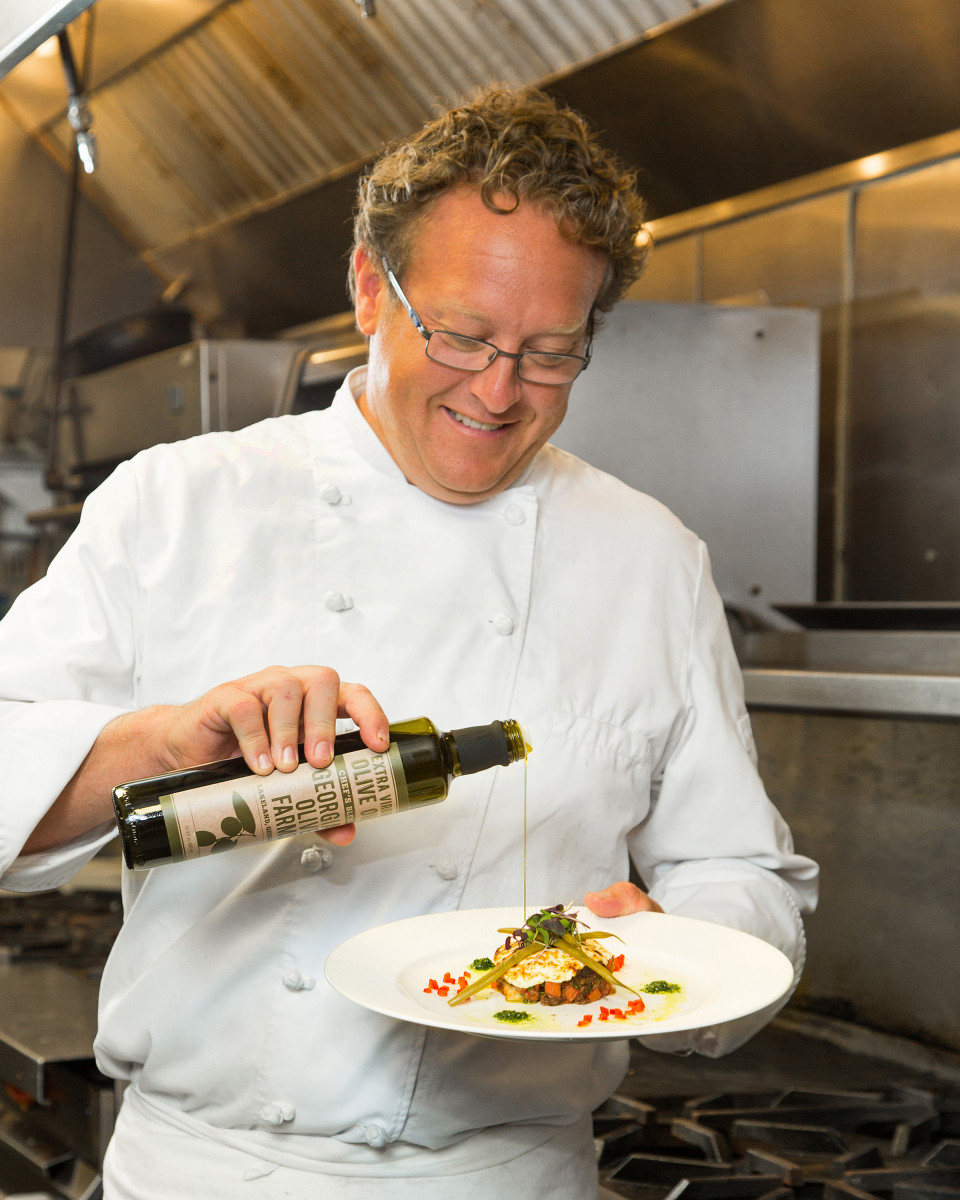 One tablespoon sample of golden green extra virgin oil has spawned a contingent of converts. Specialty stores, grocers, chefs and others have been eager to shelve the oil and are proud it's locally grown.
"Chef's Blend is the only olive oil we carry in house," said Chris Edwards, Executive Chef at Restaurant Eugene in Atlanta's Buckhead neighborhood.
"We have a lot of purveyors come by and talk about their Spanish olive oil and it's nice to tell them 'No! We use Georgia extra virgin olive oil.' The flavor is amazing and quite unique; it's got a deep aromatic flavor and nice peppery kick. We use it for finishing on a lot of dishes, for salads and emulsifications. It's not inexpensive, but if you want quality you have to pay for it and it's great that it's from Georgia. We have some of the best agriculture in the world and we want to be agents that support local farms and business."
Last March, a frost hurt the trees. In the fall, with Hurricane Irma barreling up the coast, Shaw began the harvest a week early in an attempt to beat the storm. Sustained winds of over 50 miles per hour for over a day put most of the olives on the ground. Shaw estimates they got less than half of last year's yield.
"We're still a boutique, but we're part of a big movement that encourages American made and we're growing at a good pace," Shaw said. "Our blends stack up against anything else out there."
For access to exclusive gear videos, celebrity interviews, and more, subscribe on YouTube!